Icecream Slideshow Maker
Dieses Programm wird Ihnen präsentiert von:
Icecream Apps
3, Kyriacou Matsi 3 Roussos Limassol Tower 6th floor
3040 Limassol
Cyprus
| | |
| --- | --- |
| Kategorie: | Audio & Multimedia / Präsentation Tools |
| Version: | 4.04 |
| Release-Datum: | 20.05.2020 |
| Größe: | 20 MB |
| Betriebssystem: | Win XP / Vista / 7 / 8 / 10 |
| Anforderungen: | 1.66Ghz processor; 512MB of RAM; 30MB to 300MB of free disk space |
| Sprachen: | Deutsch, Englisch, Sonstige |
| Downloads: | 0 im Mai / 676 insgesamt |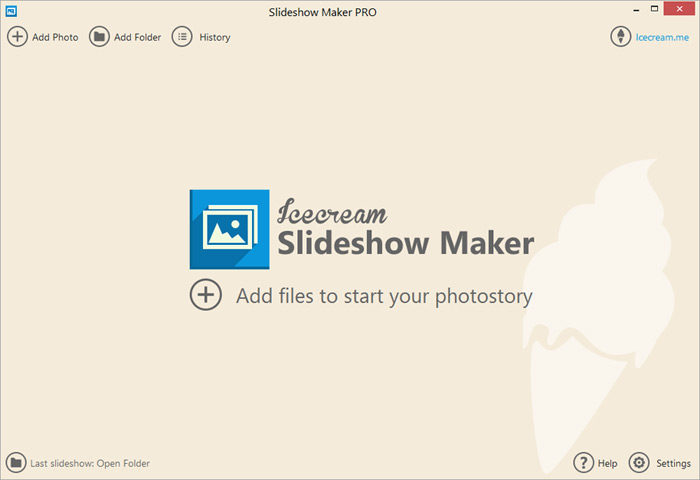 Icecream Slideshow Maker deals with JPG, JPEG, PNG and BMP images and helps you create stunning slideshows with zero experience. You do not need to spend hours to figure out how the software works as just a few clicks will help you create a slideshow presentation with audio which is close to perfect.
The program lets you set the desired resolution for images and adapt them for a slideshow even if all of them were uploaded in different formats, sizes and quality. Besides, you can keep an original aspect ratio of the images to prevent their stretching or distortion. Otherwise, choose the Scale to fit option to adapt the file for the size of your screen.
It is possible to set transition effects between the images to make the slideshow fancier. There are 26 effects available, for example Pixelate, Mosaic Spiral, Wipe, Zoom, and many more. If you do not care about the type of the effect, choose the Random option and the program will set a random effect. If you do not want to use any effects whatsoever, choose the None option and files will be displayed without transition effects. You can use different effects for each slide or set the same effect for all the files.
Unlike the majority of free tools, Icecream Slideshow Maker is beautifully designed and appears to be an eye candy. Coupled with intuitive interface, its design makes the program a pleasure to use.

Hier können Sie die Update-Infos für dieses Programm abonnieren. Sie erhalten dann zukünftig eine Benachrichtigung per Email, sobald ein Update zu diesem Programm eingetragen wurde.
Um die Update-Infos zu abonnieren, tragen Sie nachfolgend Ihre E-Mail-Adresse ein. Sie erhalten dann eine E-Mail mit einem Link, über den Sie das Abo bestätigen müssen.
Sie können die Update-Infos jederzeit wieder abbestellen. Hierzu finden Sie am Ende jeder E-Mail mit Update-Infos einen entsprechenden Link.
Dieser Service ist für Sie vollkommen kostenlos.

Kommentare zu Icecream Slideshow Maker
Bisher gibt es keine Kommentare zu diesem Programm.
Selbst einen Kommentar schreiben