Exult Professional for SQL Server
Dieses Programm wird Ihnen präsentiert von:
Novixys Software, Inc.
P.O. Box 4655
94040-0655 Mountain View
United States
| | |
| --- | --- |
| Kategorie: | Büro / Datenbanken & Tools |
| Version: | 2.0 |
| Release-Datum: | 08.07.2012 |
| Größe: | 13,72 MB |
| Betriebssystem: | Win XP / Vista |
| Anforderungen: | Windows 7/Vista/XP |
| Sprachen: | Englisch |
| Downloads: | 0 im Januar / 29 insgesamt |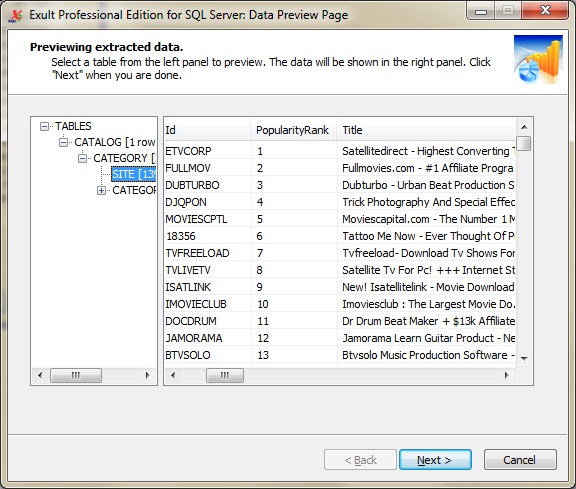 New! Import XML feeds from Web, FTP or local files. Easily keep it updated too!

Exult Professional Edition for SQL Server is an easy-to-use Wizard
Application for importing the data from one or more XML files into an
SQL Server database. XML files are shredded to a relational form,
tables and columns are automatically created from XML elements &
attributes. XML parent-child relationships also automatically created
using primary & foreign keys. Can process large, complex XML without
large memory requirements. Performs automatic mapping of XML Elements
and Attributes to tables and columns. Exult brings a new and
innovative approach to importing XML data into SQL Server, so after
Exult completes processing your XML file(s), you can use simple SQL to
query and manipulate the data. No need for complex XPATH or XQUERY
expressions to extract the data. Exult makes handling XML files so
easy that you will wonder how you got along without it! The software
includes 1) a command line program for batch processing and 2) a database
cleanup wizard in case you want to undo the changes made by Exult.
The Trial version performs partial conversion
of XML data. Upgrade to full version for complete conversion. We want
you fully satisfied, so your purchase comes with a 30-day money back
guarantee. You also get 90-days version upgrade protection with your
purchase. Check http://www.novixys.com/ for latest updates and more
information.

Hier können Sie die Update-Infos für dieses Programm abonnieren. Sie erhalten dann zukünftig eine Benachrichtigung per Email, sobald ein Update zu diesem Programm eingetragen wurde.
Um die Update-Infos zu abonnieren, tragen Sie nachfolgend Ihre E-Mail-Adresse ein. Sie erhalten dann eine E-Mail mit einem Link, über den Sie das Abo bestätigen müssen.
Sie können die Update-Infos jederzeit wieder abbestellen. Hierzu finden Sie am Ende jeder E-Mail mit Update-Infos einen entsprechenden Link.
Dieser Service ist für Sie vollkommen kostenlos.
Kommentare zu Exult Professional for SQL Server
Bisher gibt es keine Kommentare zu diesem Programm.
Selbst einen Kommentar schreiben