<b>Remove Duplicates</b> from Excel
Dieses Programm wird Ihnen präsentiert von:
Office Assistance LLC
Pacific Business Centre
P.O. Box 3 98124-1069
United States
| | |
| --- | --- |
| Kategorie: | Büro / Office Suites & Tools |
| Version: | 1.1.5 |
| Release-Datum: | 01.06.2010 |
| Größe: | 1,77 MB |
| Betriebssystem: | Win 98 / 2000 / XP / 2003 / Vista |
| Anforderungen: | Microsoft Excel 2013, 2010, 2007, 2003 2000/XP. Microsoft Office 365 (desktop Excel version). |
| Sprachen: | Deutsch, Englisch |
| Downloads: | 0 im Januar / 58 insgesamt |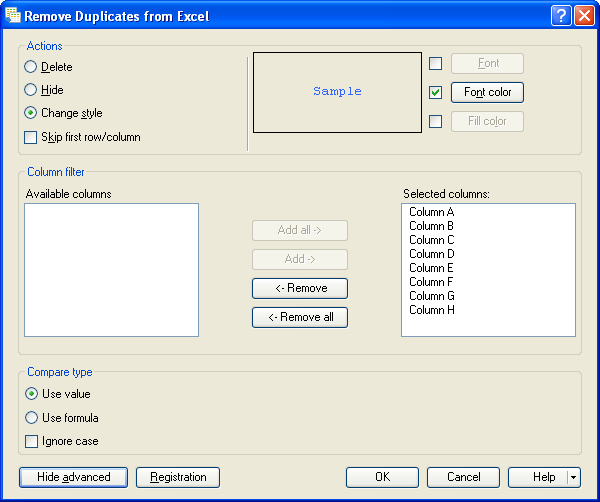 Remove Duplicates from Excel is designed for searching and processing duplicated cells in Microsoft Excel tables. Program key functions:
1. Search across columns and rows.
Remove Duplicates from Excel allows you to find duplicated cells in rows or columns. To choose the appropriate search mode, press the corresponding button on the Microsoft Excel toolbar.
2. Search across a table or a specified range of cells.
Remove Duplicates from Excel enables you to search for duplicates across the entire table or a specified continuous range of cells. Start the program for searching the duplicated cells across the entire table or specify a range of cells before launching the program.
3. Search across specified rows or columns.
Advanced mode of Remove Duplicates from Excel allows you to specify the columns or rows to be searched through for duplicates. By default, search is carried out across all rows and columns.
4. Choice of a type of comparison.
Remove Duplicates from Excel compares cells by values or by a formula. This option will allow you to find the cells which contain identical values as a result of calculations.
The following operations over duplicated cells are available: clearing of contents; change of formatting; removal of a row or column with a shift of the table; hiding of a row or column from the current view.

Hier können Sie die Update-Infos für dieses Programm abonnieren. Sie erhalten dann zukünftig eine Benachrichtigung per Email, sobald ein Update zu diesem Programm eingetragen wurde.
Um die Update-Infos zu abonnieren, tragen Sie nachfolgend Ihre E-Mail-Adresse ein. Sie erhalten dann eine E-Mail mit einem Link, über den Sie das Abo bestätigen müssen.
Sie können die Update-Infos jederzeit wieder abbestellen. Hierzu finden Sie am Ende jeder E-Mail mit Update-Infos einen entsprechenden Link.
Dieser Service ist für Sie vollkommen kostenlos.
Kommentare zu <b>Remove Duplicates</b> from Excel
Bisher gibt es keine Kommentare zu diesem Programm.
Selbst einen Kommentar schreiben