InstallAware Express MSI Installer
Dieses Programm wird Ihnen präsentiert von:
InstallAware Software Corporation
336 Guerrero Street
94103-3332 San Francisco
United States
| | |
| --- | --- |
| E-Mail: | shareware [at] installaware [dot] com |
| Telefon: | 1 415 358 4094 |
| Telefax: | 1 415 358 4094 |
| Website: | www.installaware.com |
| | |
| --- | --- |
| Kategorie: | Entwicklung / Installation & Setup |
| Version: | X6 |
| Release-Datum: | 20.02.2017 |
| Größe: | 55,27 MB |
| Betriebssystem: | Win XP / Vista |
| Anforderungen: | 32 MB RAM |
| Sprachen: | Englisch |
| Downloads: | 1 im Februar / 154 insgesamt |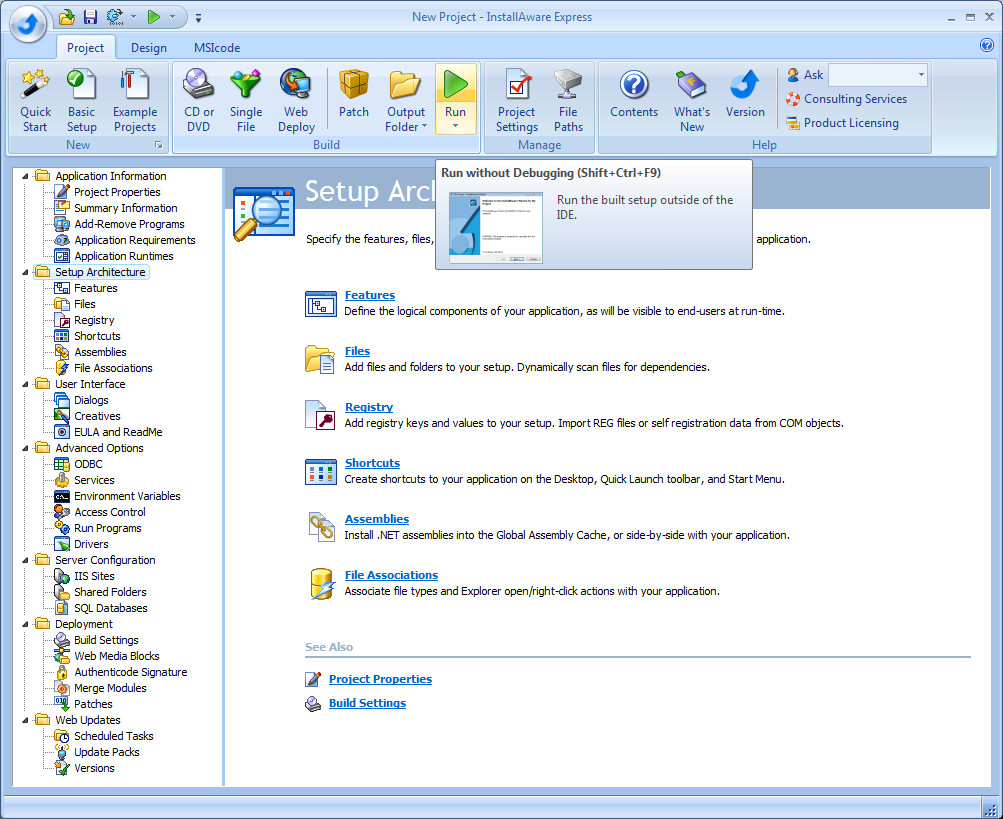 Exclusive! Set up 64 Bit and 32 Bit Systems with the Same Installer
Detect and support ia64 and x64 systems including Itanium, AMD64, and EM64T. Only InstallAware MSI builder allows you to ship a single hybrid MSI for both your 32 bit and 64 bit customers.

Exclusive! First to Support Windows 10
InstallAware X6 is the only installer with built-in Aero Glass setup themes that fully comply with the new Aero Wizard specifications found in Windows 7 and Windows 10. InstallAware X6 is the only installer that can directly pin shortcuts to the new Windows 10 Start Menu!

Exclusive! 1-Click Patching
Select your old and new setups, click Build Patch, and InstallAware automatically generates a native MSP-file that is packaged using advanced compression.

Exclusive! Refined User Interface
Deliver setups that display the latest visual themes. 17 unique dialog themes, non-rectangular setup windows, plus Flash and HTML billboards, make your setups more interesting and more interactive.

Exclusive! WebAware Installation Technology
Reduce download size by removing technology dependencies (such as the .NET Framework) or rarely used features from your main setup file. The main setup will download them seamlessly from the web as needed. Files required by the minimum configuration are included in the main package, which installs without a web connection.

Extend Setups with Custom Programs
Run any program as part of your setup, without requiring a particular program location or having to install the program together with your setup. Run before/after your install/uninstall, or even from the finish dialog.

Five Minutes to an Installer
Build setups in minutes using wizards, templates, and samples. Then make refinements using InstallAware's intuitive task-based views.

Java Installation Support
Build Java application installations, with support for preinstalling Java Virtual Machines and runtime environments on Windows systems. Complete project sample included.

Hier können Sie die Update-Infos für dieses Programm abonnieren. Sie erhalten dann zukünftig eine Benachrichtigung per Email, sobald ein Update zu diesem Programm eingetragen wurde.
Um die Update-Infos zu abonnieren, tragen Sie nachfolgend Ihre E-Mail-Adresse ein. Sie erhalten dann eine E-Mail mit einem Link, über den Sie das Abo bestätigen müssen.
Sie können die Update-Infos jederzeit wieder abbestellen. Hierzu finden Sie am Ende jeder E-Mail mit Update-Infos einen entsprechenden Link.
Dieser Service ist für Sie vollkommen kostenlos.

Kommentare zu InstallAware Express MSI Installer
Bisher gibt es keine Kommentare zu diesem Programm.
Selbst einen Kommentar schreiben