WiXAware for Windows Installer XML
Dieses Programm wird Ihnen präsentiert von:
InstallAware Software Corporation
336 Guerrero Street
94103-3332 San Francisco
United States
| | |
| --- | --- |
| E-Mail: | shareware [at] installaware [dot] com |
| Telefon: | 1 415 358 4094 |
| Telefax: | 1 415 358 4094 |
| Website: | www.installaware.com |
| | |
| --- | --- |
| Kategorie: | Entwicklung / Installation & Setup |
| Version: | 2.0 |
| Release-Datum: | 20.10.2008 |
| Größe: | 3,49 MB |
| Betriebssystem: | Win 98 / ME / 2000 / XP / 2003 / Vista |
| Anforderungen: | 32 MB RAM |
| Sprachen: | Englisch |
| Downloads: | 0 im Januar / 95 insgesamt |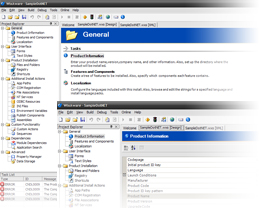 Rapidly build Windows Installer MSI installs
Our Windows Installer authoring tool makes it a snap to create professional MSI installs. No complex scripting or database knowledge required.

Microsoft Windows Standards Compliant
Create installs that fulfill the requirements for the Microsoft Windows logo certification process. Administrators can use your MSI setups to silently and automatically deploy packages onto thousands of corporate workstations.

Based on WiX (Windows Installer XML) Technology
Empower your setups using the same technology that Microsoft teams internally use to build world-class installers, such as the Office suite.

The Only IDE with Automatic WiX XML Code Generation
As you use the WiXAware visual designers to configure your settings like files, shortcuts, and registry keys, WiXAware generates the underlying XML code for you. Switch to the XML view to review the code that has been generated, with the ability to directly edit it. Switch back to the visual designers, and your latest changes are reflected. WiXAware even offers a visual dialog editor with automatic WiX code generation and two-way integrated editing.

Sign packages with Microsoft Authenticode Digital IDs
Recent operating system updates to Windows XP (Service Pack 2) and the new Windows Vista make it vital to use digital signatures in your MSI packages. WiXAware lets you create digitally signed MSI packages, not only complying with the latest security requirements, but also giving your users confidence in your product.

Build Windows Installer patches (native MSP files)
WiXAware offers a Patch project which creates Windows Installer patch files for updating your applications already on the field. Users download a small native MSP file which contains only the binary differential updates to your software, nothing more.
Hier können Sie die Update-Infos für dieses Programm abonnieren. Sie erhalten dann zukünftig eine Benachrichtigung per Email, sobald ein Update zu diesem Programm eingetragen wurde.
Um die Update-Infos zu abonnieren, tragen Sie nachfolgend Ihre E-Mail-Adresse ein. Sie erhalten dann eine E-Mail mit einem Link, über den Sie das Abo bestätigen müssen.
Sie können die Update-Infos jederzeit wieder abbestellen. Hierzu finden Sie am Ende jeder E-Mail mit Update-Infos einen entsprechenden Link.
Dieser Service ist für Sie vollkommen kostenlos.

Kommentare zu WiXAware for Windows Installer XML
Bisher gibt es keine Kommentare zu diesem Programm.
Selbst einen Kommentar schreiben