LanToucher Network Chat
Dieses Programm wird Ihnen präsentiert von:
| | |
| --- | --- |
| Kategorie: | Kommunikation / Chat & Instant Messaging |
| Version: | 1.2.11 |
| Release-Datum: | 13.07.2016 |
| Größe: | 1,63 MB |
| Betriebssystem: | Win 98 / XP / Vista |
| Anforderungen: | A computer connected to a LAN and another computer(s) to exchange messages |
| Sprachen: | Englisch |
| Downloads: | 0 im Januar / 112 insgesamt |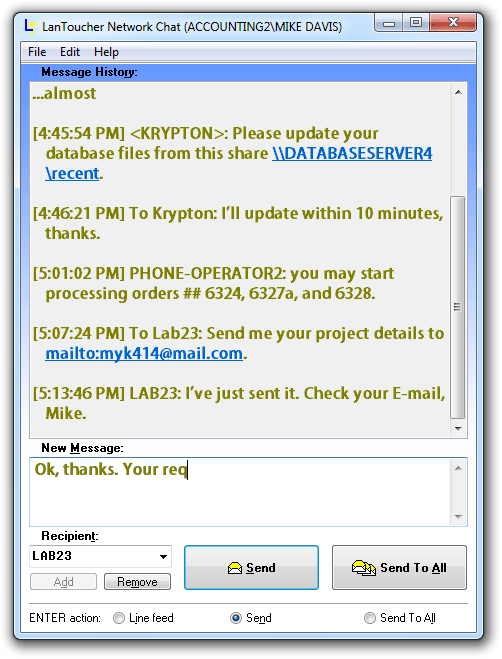 LanToucher Network Chat is small and easy-to-use chat software for your small office or home LAN (Local Area Network).

This easy-to-use LAN chat program with simple, intuitive user interface and a minimum of settings to adjust is an easy text communication solution for your small office LAN and a perfect chat application for your private home network or intranet. LanToucher? Network Chat software supports the system tray (taskbar notification area) and sound notification on new messages.

Based on peer-to-peer technology, LanToucher allows users to communicate directly with one another. No dedicated server or Internet connection is required. And it is absolutely FREE!

KEY FEATURES:

True serverless (peer-to-peer) messaging;
Proven cross-platform compatibility;
Supports All 32-bit Windows versions including Windows 95, Windows 98, Windows Millennium Edition, Windows NT 4, Windows 2000, Windows XP, Windows Server 2003, and Windows Vista operating systems;
Works over any available network transport protocol (TCP/IP, IPX/SPX, or NetBEUI)
No dedicated server or Internet connection is required;
Taskbar notification area (system tray) support;
and more...

LanToucher Network Chat is a quick and easy solution for communicating on your small office and home network. It is compatible with Microsoft WinPopup (Windows 3.x/95/98/ME), Messenger service / 'net send' command (Windows NT/2000/XP/Server 2003), Samba smbclient (Unix/Linux), and a broad range of compatible instant messengers based on the standard SMB/CIFS protocol.
Hier können Sie die Update-Infos für dieses Programm abonnieren. Sie erhalten dann zukünftig eine Benachrichtigung per Email, sobald ein Update zu diesem Programm eingetragen wurde.
Um die Update-Infos zu abonnieren, tragen Sie nachfolgend Ihre E-Mail-Adresse ein. Sie erhalten dann eine E-Mail mit einem Link, über den Sie das Abo bestätigen müssen.
Sie können die Update-Infos jederzeit wieder abbestellen. Hierzu finden Sie am Ende jeder E-Mail mit Update-Infos einen entsprechenden Link.
Dieser Service ist für Sie vollkommen kostenlos.

Kommentare zu LanToucher Network Chat
Bisher gibt es keine Kommentare zu diesem Programm.
Selbst einen Kommentar schreiben