WinFlash Educator
Dieses Programm wird Ihnen präsentiert von:
Open Window Software
1749 Falcon Dr - P.O. Box 324
80498 Silverthorne
United States
| | |
| --- | --- |
| E-Mail: | support [at] openwindow [dot] com |
| Telefon: | 520-299-9341 |
| Telefax: | 520-299-9342 |
| Website: | www.openwindow.com |
| | |
| --- | --- |
| Kategorie: | Lernen / Lehrer & Training Tools |
| Version: | 12.00.02 |
| Release-Datum: | 05.01.2012 |
| Größe: | 11,005 MB |
| Betriebssystem: | Win 98 / XP / Vista |
| Anforderungen: | Win95 or better |
| Sprachen: | Englisch |
| Downloads: | 0 im Januar / 459 insgesamt |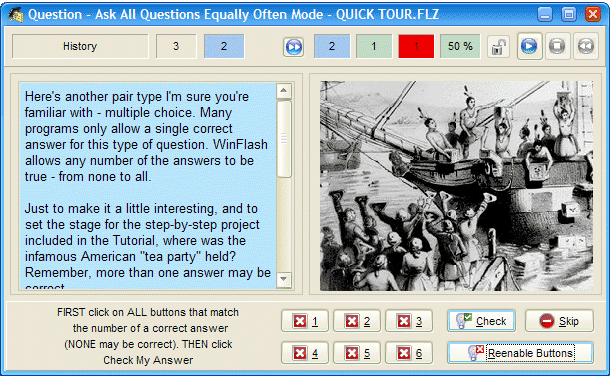 Award-winning Flashcard Study and Testing System - Whether you're an airline pilot looking for the most time-efficient way to prepare for periodic recertifications, a high school student hoping for a quicker way to master Spanish or a first grader who needs some help with her spelling words, this program is key to reaching your learning goals.

Educator offers powerful multimedia support while retaining its ability to quickly and easily turn out study files for last-minute use. Full Unicode and font effects support facilitates foreign language study and enhances general readability.

Master the program using the enhanced step-by-step tutorial. Study at your computer, export files to a Palm or PocketPC PDA or print them out in a variety of sizes for use on the go. Import existing data from multiple sources.

Educator's learning algorithms help you thoroughly master the study material. The program tracks your progress and focuses attention on those questions causing difficulty, while continuing to reinforce areas of strength. Build your enthusiasm with speed challenges, reverse-order passes and the entertaining Cheers and Jeers audio feature.

Support your basic content with audio files, graphics, video clips and embedded Windows objects. Choose from standard, fill-in or multiple choice question formats. Educator has multiple-required-answer capabilities for both fill-in and multiple choice. Programmable Glossary Buttons make it easy to enter accented characters needed for foreign language study, speeding both creation and study phases. Built-in spell-checking and thesaurus support can even import your existing Microsoft custom dictionaries. Additional foreign language dictionaries are available for free download.

WinFlash has been repeatedly recognized as the leading program of its type, winning the Shareware Industry Award for Best Educational Program, the ESC's People's Choice and 5-star rankings from many popular download sites.
Hier können Sie die Update-Infos für dieses Programm abonnieren. Sie erhalten dann zukünftig eine Benachrichtigung per Email, sobald ein Update zu diesem Programm eingetragen wurde.
Um die Update-Infos zu abonnieren, tragen Sie nachfolgend Ihre E-Mail-Adresse ein. Sie erhalten dann eine E-Mail mit einem Link, über den Sie das Abo bestätigen müssen.
Sie können die Update-Infos jederzeit wieder abbestellen. Hierzu finden Sie am Ende jeder E-Mail mit Update-Infos einen entsprechenden Link.
Dieser Service ist für Sie vollkommen kostenlos.
Kommentare zu WinFlash Educator
Bisher gibt es keine Kommentare zu diesem Programm.
Selbst einen Kommentar schreiben