Acritum Femitter HTTP-FTP Server
Dieses Programm wird Ihnen präsentiert von:
Acritum Software
Izmaylovskiy Proezd 6
105037 Moscow

| | |
| --- | --- |
| E-Mail: | web [at] acritum [dot] com |
| Telefon: | +7 9055863345 |
| Website: | www.acritum.com |
| | |
| --- | --- |
| Kategorie: | Netzwerk & Internet / File Sharing | Peer to Peer |
| Version: | 1.042 |
| Release-Datum: | 16.05.2011 |
| Größe: | 740 KB |
| Betriebssystem: | Win 98 / ME / 2000 / XP / 2003 |
| Anforderungen: | No specific requirements |
| Sprachen: | Englisch |
| Downloads: | 1 im Februar / 62 insgesamt |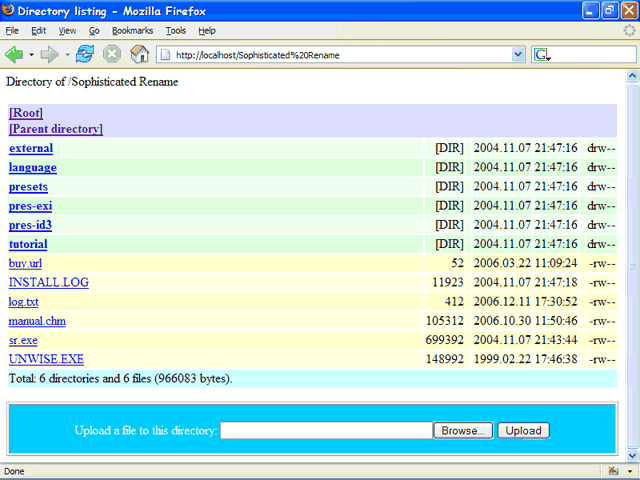 Have you ever wanted to share your files with your friends easily, without having to buy expensive hosting and spending your time on uploading gigabytes of files to the remote server? If your answer is "YES", this software is the right thing for you. You don't have to install any additional software to run the server and you don't have to spend hours configuring your server. As soon as you run the Femitter Server, it's ready to go. There are 3 common ways of using the Femitter Server:

1. As an ordinary simple web server. Just create a few HTML pages and put them into a shared folder, and these pages will be shown to anyone who connects to your server. This feature can be used as your own web-based Bulletin Board System (BBS). Even if you have a dynamic IP address, Acritum Software is proud to offer you a static URL like username.femitter.com which will always redirect your users to your computer, no matter what your current IP address is. The visitors to your website will be able to access your computer using any web browser, for example Microsoft IE, Mozilla Firefox, Opera, etc.

2. As a huge public file storage of your photo, music, video and other files. The total size of the storage is only limited by the size of your hard drive and this is often not less than 160 gigabytes! Your files may be accessible from the net not only using the HTTP protocol, but also using the FTP protocol, which ensures downloads are really fast and easy for your friends.

3. As a password protected storage of corporate information for small businesses. The access to the server may be protected according to highly customizable access rights. Create user groups and assign different rights to each of them. For example, your clients may have access to the info page with the possibility of uploading files to a certain folder, while your employees may access the whole system, browse all files, upload, rename or delete them.

*** It's free to try! ***
Hier können Sie die Update-Infos für dieses Programm abonnieren. Sie erhalten dann zukünftig eine Benachrichtigung per Email, sobald ein Update zu diesem Programm eingetragen wurde.
Um die Update-Infos zu abonnieren, tragen Sie nachfolgend Ihre E-Mail-Adresse ein. Sie erhalten dann eine E-Mail mit einem Link, über den Sie das Abo bestätigen müssen.
Sie können die Update-Infos jederzeit wieder abbestellen. Hierzu finden Sie am Ende jeder E-Mail mit Update-Infos einen entsprechenden Link.
Dieser Service ist für Sie vollkommen kostenlos.
Kommentare zu Acritum Femitter HTTP-FTP Server
Bisher gibt es keine Kommentare zu diesem Programm.
Selbst einen Kommentar schreiben