EtherSensor PCAP Edition
Dieses Programm wird Ihnen präsentiert von:
MicroOLAP Technologies LTD
Akara Bldg., 24 De Castro Street
VG1110 Road Town

| | |
| --- | --- |
| E-Mail: | submit [at] gf.microolap [dot] com |
| Telefon: | +74965249392 |
| Telefax: | +74965249392 |
| Website: | www.microolap.com |
| | |
| --- | --- |
| Kategorie: | Netzwerk & Internet / Netzwerk Monitoring |
| Version: | 5.0.3 |
| Release-Datum: | 02.06.2018 |
| Größe: | 101.964 KB |
| Betriebssystem: | Win7 x64,WinOther,WinServer |
| Anforderungen: | Microsoft Windows 7, 8, 10, 2008 R2, 2012 R2 and 2016. For any of the above OSes, the latest updates |
| Sprachen: | Deutsch, Englisch |
| Downloads: | 1 im November / 23 insgesamt |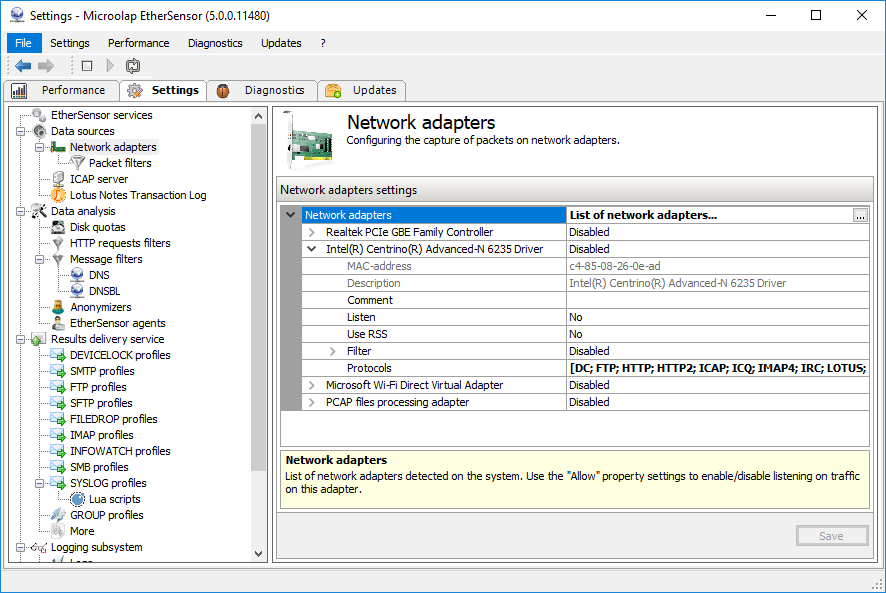 1. About Microolap EtherSensor PCAP Edition
Microolap EtherSensor PCAP Edition is an evaluation version of Microolap EtherSensor.
This distribution is intended for:
  - initial self-familiarization with the functionality of Microolap EtherSensor
  - maintenance of the full working version of Microolap EtherSensor (testing and debugging of filters, rules and detectors) without risk for its functioning in the production environment.

2. About Microolap EtherSensor
EtherSensor is a high-performance platform for extracting events and messages from network traffic in real time.
The main properties of the EtherSensor are:
 - A significant number (several thousand) of Internet services known to EtherSensor
 - High performance: streamed processing over 20Gbps+ links
 - Delivery of events, messages and metadata to any subsystems of SOC (DLP, SIEM, UEBA, etc.), as well as various Compliance Archiving/Enterprise Archiving and eDiscovery systems;
 - High uptime without maintenance;
 - Working on the off-the-shelf hardware, low footprint.

EtherSensor consists of several Windows services which interoperate to intercept and analyze application-level messages and metadata (normally network users messages). The resulting messages, message metadata or data extracted from them are delivered to consumer systems.

The common use of EtherSensor is in the following tasks:
- To prevent leaks of confidential data (DLP systems)
- Security information event management (SIEM systems)
- Enterprise Archiving/Enterprise Search (Compliance Archiving and eDiscovery).
Hier können Sie die Update-Infos für dieses Programm abonnieren. Sie erhalten dann zukünftig eine Benachrichtigung per Email, sobald ein Update zu diesem Programm eingetragen wurde.
Um die Update-Infos zu abonnieren, tragen Sie nachfolgend Ihre E-Mail-Adresse ein. Sie erhalten dann eine E-Mail mit einem Link, über den Sie das Abo bestätigen müssen.
Sie können die Update-Infos jederzeit wieder abbestellen. Hierzu finden Sie am Ende jeder E-Mail mit Update-Infos einen entsprechenden Link.
Dieser Service ist für Sie vollkommen kostenlos.
Kommentare zu EtherSensor PCAP Edition
Bisher gibt es keine Kommentare zu diesem Programm.
Selbst einen Kommentar schreiben