PartitionGuru Free
Dieses Programm wird Ihnen präsentiert von:
Eassos Tech
yufengli
066000 qinhuangdao
China
| | |
| --- | --- |
| E-Mail: | binnan_hao [at] eassos [dot] com |
| Telefon: | +86(335)3086009 |
| Website: | www.eassos.com |
| | |
| --- | --- |
| Kategorie: | System Utilities / Datei- & HDD-Management |
| Version: | 4.9.5.508 |
| Release-Datum: | 08.11.2017 |
| Größe: | 46 MB |
| Betriebssystem: | Win XP / Vista |
| Anforderungen: | Pentium II 400 MHz, 64 MB RAM, 10 MB Disk space |
| Sprachen: | Deutsch, Englisch, Sonstige |
| Downloads: | 0 im Dezember / 61 insgesamt |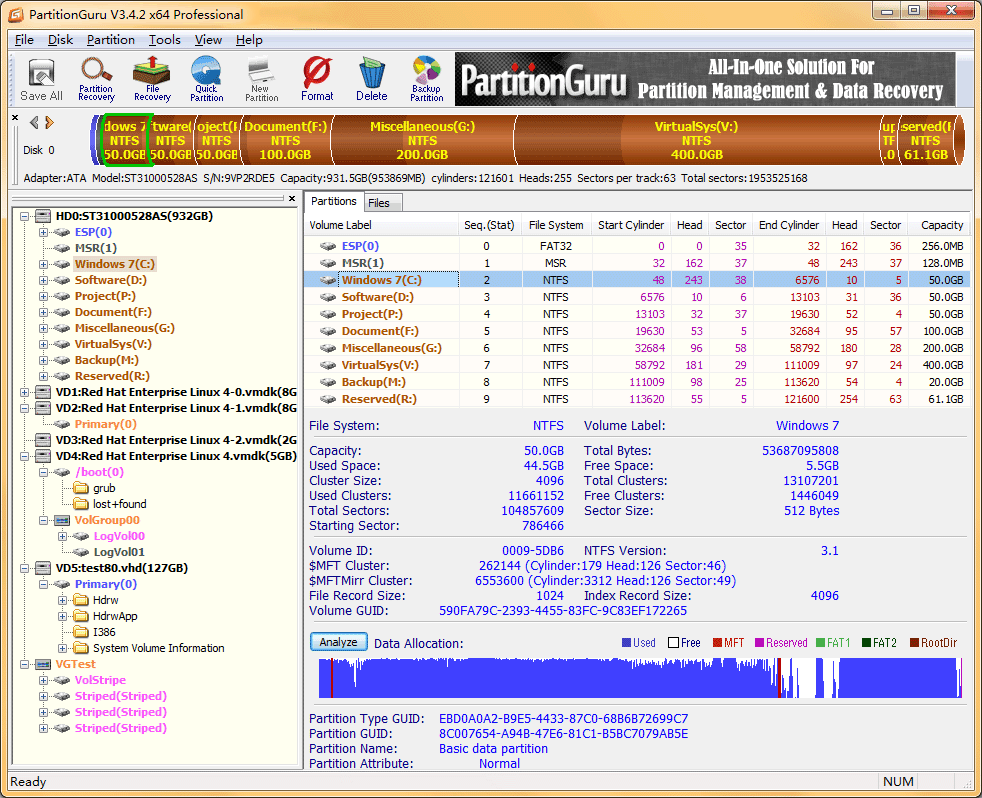 PartitionGuru is a powerful tool for data recovery, partition manager and partition backup, for it provides lots of functions.
Partition Management - It can create format, resize, extend, backup, split, hide and clone partition, both MBR and GPT are supported;
Disk and partition conversion - Convert dynamic disk to basic, convert virtual disk format and convert MBR to GPT, convert primary partition to logical, etc.
File recovery - It can recover files deleted or emptied form recycle bin, recover files from damaged partition or disk and recover files by file type and supports file preview and file filter;
Partition recovery - It is the best partition recovery program in that it can recover files from damaged, corrupted and RAW partitions, search for lost partition and recover files from it, besides, it can fix partition table;
RAID recovery - It can reconstruct Virtual RAID and recover files from it, and all RAID types are supported;
Sector Edit - It can edit the sector data just as WinHex;
Backup and Restore - It can backup and restore partition including system partition, hard disk and partition table.
Bad Tracks - It can check and repair bad sectors for all storage devices; check hard disk S.M.A.R.T. information.
Delete files permanently - It can delete files permanently so that they can't be recovered by any data recovery software;
Virtual Disk - It supports virtual disks, including VMware, Virtual PC and Virtual Box;
Dos - It includes a dos version PartitionGuru with same interface function and operation;
PartitionGuru is compatible with all versions of Windows system, both 32 bit and 64 bit; support FAT12/FAT16/FAt32/exFAT/NTFS/EXT2/EXT3/EXT4

Hier können Sie die Update-Infos für dieses Programm abonnieren. Sie erhalten dann zukünftig eine Benachrichtigung per Email, sobald ein Update zu diesem Programm eingetragen wurde.
Um die Update-Infos zu abonnieren, tragen Sie nachfolgend Ihre E-Mail-Adresse ein. Sie erhalten dann eine E-Mail mit einem Link, über den Sie das Abo bestätigen müssen.
Sie können die Update-Infos jederzeit wieder abbestellen. Hierzu finden Sie am Ende jeder E-Mail mit Update-Infos einen entsprechenden Link.
Dieser Service ist für Sie vollkommen kostenlos.
Kommentare zu PartitionGuru Free
Bisher gibt es keine Kommentare zu diesem Programm.
Selbst einen Kommentar schreiben