Machinist Calculator
This programme is presented to you by:
CNC Consulting
305-9299 121st. Street
V3V 7X8 Surrey
Canada
| | |
| --- | --- |
| Category: | Business / Calculators & Converters |
| Version: | 7.10.0 |
| Release date: | 2016-05-30 |
| Size: | 6.45 MB |
| OS: | Win XP / Vista |
| Requirements: | Win95b and up |
| Languages: | English |
| Downloads: | 0 in May / 246 in total |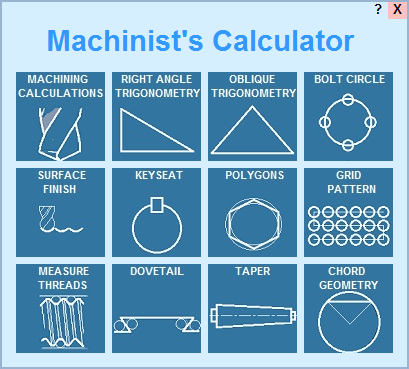 The Machinist Calculator has been developed to quickly solve common machine shop trigonometry and math problems at a price every machinist can afford!
As a machinist or CNC programmer, you often have to use trigonometry to calculate hole positions, chamfers, sine bar stacks, dovetail measurements, bolt circles, etc. You often have to leaf through reference books, drill charts, speed and feed tables, thread wire charts and so on to find the information you need. On the other hand, you can use the Machinist Calculator fast, easy and accurate and affordable.
Apps for Android, Apple iOS, Windows8 phone and BlackBerry also available.
NEW: a portable version on a dongle - take it anywhere and plug it in to any Windows PC.

Here you can subscribe for the update infos for this programme. You will then receive an e-mail notice each time an update has been submitted for this programme.
In order to subscribe for the update infos, please enter your e-mail address below. You will then receive an e-mail with a link, which you need to click in order to confirm you subscription.
You can unsubscribe from the list at any time. For this purpose, you will find a link at the end of each update info e-mail.
This service is completely free of charge for you.
Comments on Machinist Calculator
There are no comments to this programme.
Write a comment