Absolute Evil
This programme is presented to you by:
MyPlayCity.com
Pacific Business Centre
98124-1069 Seattle
United States
| | |
| --- | --- |
| E-mail: | info [at] myplaycity [dot] com |
| Phone: | +1-206-984-3919 |
| Facsimile: | +1-206-984-3919 |
| Website: | www.MyPlayCity.com |
| | |
| --- | --- |
| Category: | Games & Entertainment / Strategy & War Games |
| Version: | 3.1 |
| Release date: | 2007-03-05 |
| Size: | 8.91 MB |
| OS: | Win 98 / ME / 2000 / XP / 2003 |
| Requirements: | Windows 98/ME/2000/XP/2003 |
| Languages: | German, English |
| Downloads: | 0 in May / 101 in total |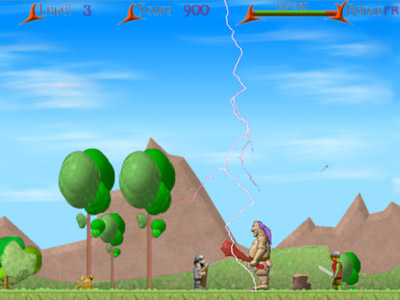 A long, long time ago, when magic was a common thing, people were not the only sentient beings on the Earth. There were also trolls, goblins, elves and more. Every so often, wars between the races broke out and chaos reigned. Some kingdoms would win over the others, and some would suffer defeat. The rulers were changing and enlighteners were born. This went on until a horrible creature appeared. The absolute evil was born amongst hostile countries. This creature consumed evil energy and grew up. When the rulers realized that it posed a threat for the countries, they decided to conclude an armistice and join forces. Every country and every race sent their best warriors to defeat the evil. You will travel through a great number of captivating levels, fighting against the evil forces. You'll face volcano eruptions, lava steeps, and other scary natural phenomena. You'll fight not only on earth, but repulse air attacks too. Magic spells could provoke natural disasters. Various bonuses will help you to continue the game. Download Absolute Evil and Play for Free!

Here you can subscribe for the update infos for this programme. You will then receive an e-mail notice each time an update has been submitted for this programme.
In order to subscribe for the update infos, please enter your e-mail address below. You will then receive an e-mail with a link, which you need to click in order to confirm you subscription.
You can unsubscribe from the list at any time. For this purpose, you will find a link at the end of each update info e-mail.
This service is completely free of charge for you.

Comments on Absolute Evil
There are no comments to this programme.
Write a comment