Able Multipage View
This programme is presented to you by:
GraphicRegion.com
Pacific BusinessCentre c/oGraphicRegion
V6H 4E4 Vancouver, BC
Canada
| | |
| --- | --- |
| E-mail: | support [at] graphicregion [dot] com |
| Phone: | 77-83-73 |
| Facsimile: | 206-984-3919 |
| Website: | www.graphicregion.com |
| | |
| --- | --- |
| Category: | Graphic Apps / Converters & Optimizers |
| Version: | 1.18.12.18 |
| Release date: | 2018-12-19 |
| Size: | 5,296 KB |
| OS: | Win2000,WinXP,Win7 x32,Win7 x64,Windows 8,Windows 10,WinServer,WinOther,Windows2000,Windows2003 |
| Requirements: | Pentium-400, 256 MB RAM |
| Languages: | German, English |
| Downloads: | 0 in May / 12 in total |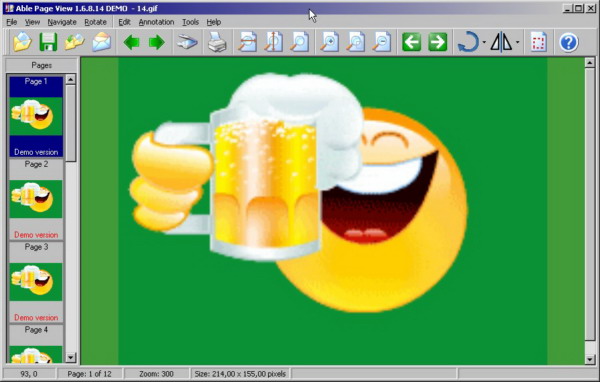 Able Multipage View is a tiff viewer and converter, offers you a full solution for viewing, printing, saving, converting.
Able Multipage View can show all kinds of TIFF images, multipage TIFF images (rev.6.0, Packbits, LZW, CCITT G.3 and G.4) with RGB, CMYK, B/W, animated GIF.
Also FAX (CCITT3), G3F and G3N (Zetafax) formats supported for loading.
Able Multipage View supports many TIFF file formats. Supported 4, 8, 16, 32, 64, 128 and 256 colors paletted images.
Images viewed on the screen can be sent directly to any printer supported by your operating system.
Size, area and position are adjusted using a comfortable printer dialog.
Able Multipage View can convert TIFF files to standard TIFF/FAX format, JPEG format (RGB, GrayScale, YCbCr, CMYK, YCbCrK),
PNG, BMP, PCX, GIF, DIB, RLE, TGA (TARGA, VDA, ICB, VST, PIX), Portable Bitmap PBM, PDF, PS.
Able Multipage View software is a small, fast and efficient viewer and converter for Windows.
You can send the fax by printing to "FAX printer" (Windows NT Fax Driver).
Supported the input image file formats: FAX, TIFF, GIF.
Supported the output image file formats: FAX, TIFF, GIF, JPEG, PNG, BMP, PCX, DIB, RLE, TGA, PBM, PGM and PPM.
Supported TIFF compressions: rev.6.0, Packbits, LZW, CCITT G.3 and G.4.
Supported color depths: 1 Bit (black/white), 4 Bit (16 colors/graylevels), 8 Bit (256 colors/graylevels) and 24 Bit (16,7 mio. colors), transparency.
View functions: Scrolling (using cursor control keys, scrollbars), zooming (+/- keys, menufunctions or drawing a rectangular area), antialiasing, rotation (90 and 180), flip, invert.
Print functions: Optimized to page size, arbitrary area/size/position, print preview.
Special functions: TIFF tag analyzer and editor (individual tags).
Twain Support for scanners and cameras.
Here you can subscribe for the update infos for this programme. You will then receive an e-mail notice each time an update has been submitted for this programme.
In order to subscribe for the update infos, please enter your e-mail address below. You will then receive an e-mail with a link, which you need to click in order to confirm you subscription.
You can unsubscribe from the list at any time. For this purpose, you will find a link at the end of each update info e-mail.
This service is completely free of charge for you.

Comments on Able Multipage View
There are no comments to this programme.
Write a comment