LastBit Money Password Recovery
This programme is presented to you by:
LastBit Password Recovery
1133 Broadway, Suite 706
10010 New York
United States
| | |
| --- | --- |
| E-mail: | software [at] lastbit [dot] com |
| Phone: | 877-684-2996 |
| Facsimile: | 877-684-2996 |
| Website: | lastbit.com |
| | |
| --- | --- |
| Category: | Security & Privacy / Other |
| Version: | 12.0.9123 |
| Release date: | 2009-03-01 |
| Size: | 1.74 MB |
| OS: | Win 98 / ME / 2000 / XP |
| Requirements: | A standard Windows PC |
| Languages: | English |
| Downloads: | 0 in April / 72 in total |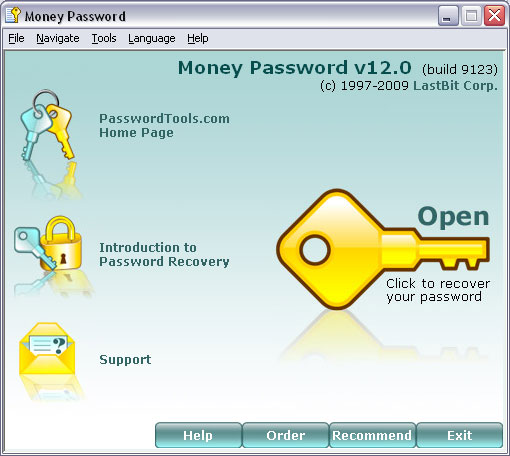 Money Password is a program to recover lost or forgotten passwords to MS Money files (*.mny, *.mbf). The new version of Money Password supports all MS Money versions including the newest one (MoneyPlus). Money Password instantly decrypts passwords for MS Money files version 2001 and earlier. In MS Money 2002+ the protection scheme was significantly improved, so universal recovery methods, such as Brute Force Attack and Dictionary Search, must be used. The new improved password recovery engine is optimized for multi core CPUs and allows to achieve the best possible performance. This may take a lot of time and even fail if the password is long and complex. This problem is of global nature - an industry-strength encryption algorithm is used In MS Money versions 2002+. The recovery methods used by Money Password: Instant Password Extraction (prior to Money 2002 only) , Brute Force Attack, Dictionary Attack , Smart Force Attack, Password Variation.

Here you can subscribe for the update infos for this programme. You will then receive an e-mail notice each time an update has been submitted for this programme.
In order to subscribe for the update infos, please enter your e-mail address below. You will then receive an e-mail with a link, which you need to click in order to confirm you subscription.
You can unsubscribe from the list at any time. For this purpose, you will find a link at the end of each update info e-mail.
This service is completely free of charge for you.

Comments on LastBit Money Password Recovery
There are no comments to this programme.
Write a comment