Category Audio & Multimedia / Audio Encoders | Decoders
SAM Broadcaster PRO
Version: 2022.4 | Shareware (USD 358.00)
Start your online radio station with SAM Broadcaster PRO - Advanced audio features (cross-fade detection, gap killer, volume normalization), makes you sound like a PRO while you can run 24/7 with automation. Organize large music libraries and stream in multiple formats. Have fun while sharing your passion for music and spread your message live! Watch your popularity grow in real time! The #1 Radio Broadcasting Solution since 2003, Download now!
More…
SAM Broadcaster Cloud
Version: 2021.4 | Freeware
Start your own online radio station with SAM Broadcaster Cloud - Powerful cloud Internet Radio broadcasting Solution. Automation scheduling, customizable web widgets and players, live source switching, multi DJ, multi stations, automatic failover & more features. You can run 24/7 with automation. See in real-time how many people are listening and watch your popularity grow to online stardom. Go from zero to pro in 10 minutes! Download now!
More…
Soft4Boost Audio Studio
Version: 5.5.5.427 | Shareware (USD 24.95)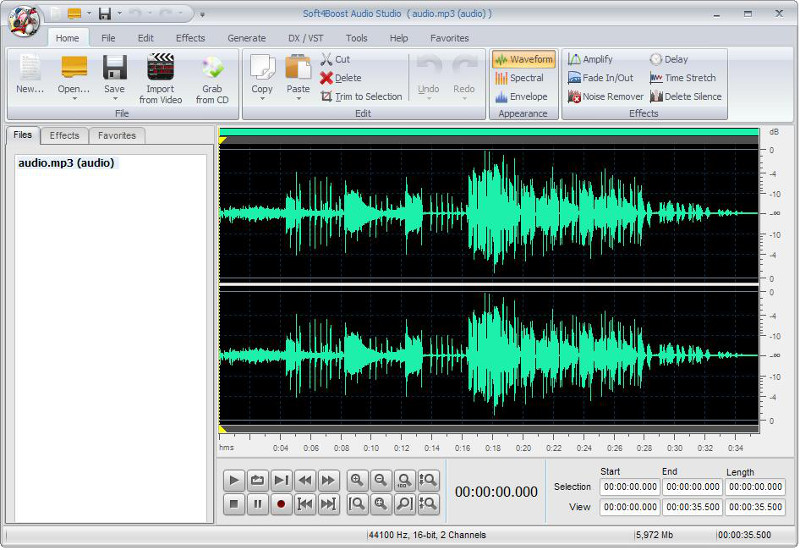 Edit, trim, cut, record, split, apply effects and filters. Manage your tracks in MP3, M4A/M4R, FLAC, SHN, APE, VOC, MIDI, etc. with Soft4Boost Audio Studio. Create a unique ringtone for iPhone! Soft4Boost Audio Studio is a part of Soft4Boost package. Register once and use all tools from the www.Soft4Boost.com. Subscribe for $24.95/year or $39.95/lifetime.
More…
Alvas.Audio.Core
Version: 2019.0 | Demo (USD 499.00)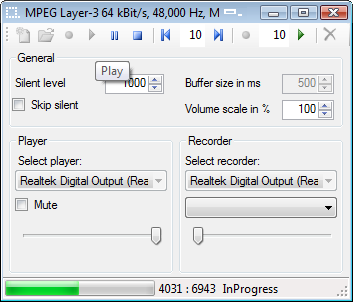 Alvas.Audio.Core for .NET Core 3.0 for Windows allows C# and VB.Net developers to create applications that play, record, edit and convert sound. Key Features: record/play uncompressed and compressed audio data; play mixed audio data; record/play data to/from the stream; set up mixer controls; get the current sound position; convert the audio data; view the level of the input sound signal. Encode and decode Dialogic .vox (adpcm) format data.
More…
Flamenco Metronom Graf-Martinez
Version: 4.0 | Demo (EUR 25.00)
Flamenco ist weder magisch noch mystisch. Flamenco ist eine strukturierte Musik mit vielen Gattungen (palos), die erlernt werden koennen. Mit der von Gerhard Graf-Martinez (int. erfolgreicher Flamenco-Autor und Preistraeger des Deutschen Bildungsmedienpreises) kreierten Software werden die scheinbar schwierigen Rhythmen verstaendlich und transparent.
More…
Xilisoft WMA MP3 Converter
Version: 2.1.77.0717 | Shareware (EUR 14.95)
Xilisoft WMA MP3 Converter is an exclusive MP3 and WMA encoder with easy-to-use interface and excellent output quality. It supports WAV, MP3, WMA, OGG, AAC, FLAC, APE, VQF etc. as the input formats and converts them to popular audio formats MP3 and WMA, and also can extract audio tracks from AVI, WMV, MPEG, ASF and save them as audio formats MP3, WMA and MP2. The software supports batch conversion and preserves ID3 tag during conversion etc.
More…
Xilisoft Audio Converter
Version: 2.1.78.1211 | Shareware (EUR 19.95)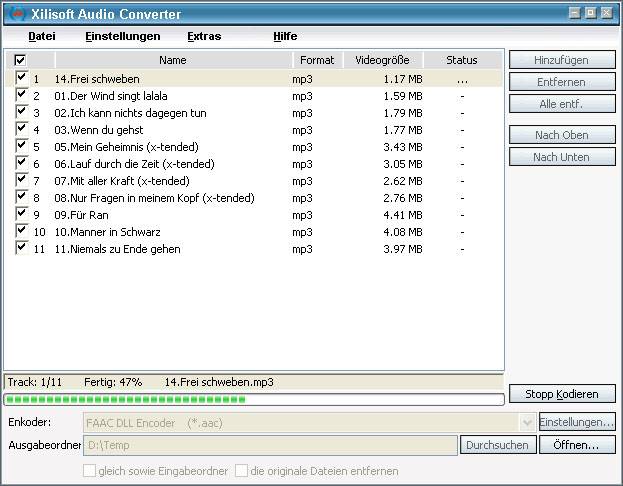 Xilisoft Audio Converter is a powerful MP3/MP4/WAV Converter. It can convert between many popular audio formats, such as MP3, WAV, WMA, MP4, M4A, MP2, VQF, APE, OGG, AAC and FLAC etc. One of featured function is that Xilisoft Audio Converter supports converting m4a to mp3, mp4 to mp3. In addition, you can also use it to convert video formats including AVI, MPEG, WMV, ASF to all popular audio files. All conversion processes are very easy and fast.
More…
Background MP3 Encoder
Version: 1.1.1 | Shareware (EUR 29.95)
Background MP3 Encoder encodes/resamples WAV and MP3 files to MP3 files in the background. The program monitors the folders you choose, and when a file appears in selected folders, Background MP3 Encoder gets to work. This can be useful when you grab an audio CD or when your downloaded MP3 files must be resampled to another bitrate/samplerate. You might also want to resample an MP3 podcast automatically when it is downloaded.
More…
Allok Audio Converter
Version: 1.0.8 | Shareware (EUR 19.50)
Allok Audio Converter is a powerful tool to convert audio formats between MP3, WMA, OGG, MP2, WAV( PCM, DSP, GSM, ADPCM ), G721, G723, G726, ALAW, ULAW, VOX. The very user-firenldy and easy-to-use interface lets you easily convert audio files in batch regardless of their source formats and target formats. Allok Audio Converter also supports playback with its built-in player.
More…
MP3Resizer
Version: 2.2.1 | Shareware (EUR 19.95)
You don't know how to reduce the size of your MP3 files?
MP3Resizer is designed to optimize the capacity of your portable music player by reducing the size of MP3 files. This is especially useful when listening to MP3 files or MP3 audio books on a mobile phone, MP3 player, Pocket PC, etc.
Portable MP3 players don't usually have much memory, and of course, it's a shame to waste precious megabytes.
Compress your MP3 with MP3Resizer.
More…
MP3 To Wave
Version: 1.3.0.4 | Shareware (USD 16.00)
MP3 To Wave is a friendly used tool to convert MP3 to wave file. With the build-in multimedia player, you can listen to the MP3 file, set the start time and end time, convert any audio section of the file without quality loss. MP3 To Wave can encode wav file with fast speed and high quality.
More…
4Musics WMA to WAV Converter
Version: 4.1 | Shareware (USD 17.00)
One-way WMA to WAV converting at high converting speed!
Main Features:
- converting in one click!
- high speed;
- setting resulting format options;
- automatic source deleting;
- drag and drop support;
- skin support;
- playlists support;
- editor of tags.
More…