Category System Utilities / Other
AD FastReporter
Version: 2.1.1.2 | Shareware (USD 79.00)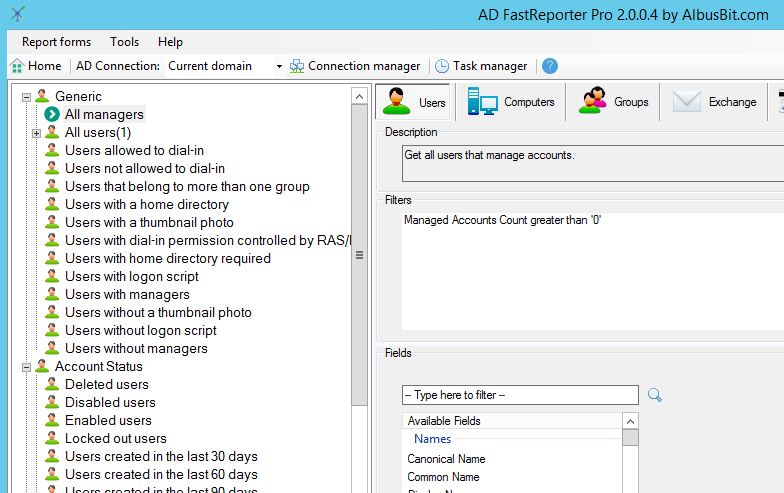 AD FastReporter is a great way to make generating, storing, scheduling and sharing AD reports easier and faster. Its straightforward to use so you don't need to be a scripting or LDAP expert. With our free version, you can use a range of built-in forms to generate reports, while our Pro version provides additional tools to help you create your own customized report forms.
More…
Export Exchange Mailbox
Version: 5.5 | Shareware (USD 199.00)
Export exchange mailbox from 2016, 2013, 2010 to PST Outlook file by downloading result-oriented SysInspire Export exchange database Tool that repair damaged, corrupted exchange database, mailboxes and export exchange mailbox EDB to PST, MSG, EML, EMLX and MBOX format. Export exchange database to PST from offline Exchange EDB.
More…
COM Port Splitter
Version: 5.0.119 | Shareware (EUR 79.95)
With COM Port Splitter you can split one real port into several virtual ports, join real ports into one virtual, and redirect the serial traffic from real port to another real or virtual. You can also share one real serial port among several applications so that they will receive the same data from one serial port simultaneously. You can also join several ports under one name and let applications switch among the free ones.
More…
CD Recovery Toolbox Free
Version: 1.1.18 | Freeware
Try CD Recovery Toolbox Free if you encounter the corruption of CD, DVD or Blu-Ray discs, this approach allows repairing the data on affected discs regardless the reason of corruption. You may encounter disc scratches and other issues, it is not really important for the sequence of user activities, the process is fully automated. Get the setup file of disc repair application and follow the guidelines of CD Recovery Toolbox Free.
More…
Flash Recovery Toolbox
Version: 1.1.17 | Shareware (USD 27.00)
Get Flash Recovery Toolbox for evaluation and test your chances of getting the data back by opening a flash drive of supported format, it is easy and you can repair FAT drives without additional instructions. It does not matter which contents is stored on the disk in question, you should simply follow the guidelines of flash recovery program and wait until the recovery is completed. Try to install Flash Recovery Toolbox on a powerful PC.
More…
@Kill
Version: 1.2 | Freeware
This freeware software allows you to list the opened windows (applications) on your Windows machine and to kill some of them by specifing their title. It works even with hidden and system windows (for example trayed applications) and you can specify only PART of the window caption. You can also export a list of all or some opened windows into a text file, so that an external app. can know in advance if a program is running before killing it.
More…
VG Data
Version: 2.8.1 | Shareware (EUR 4.95)
VG Data startet alte Anwendungen, obwohl diese eine Datumssperre eingebaut haben. Es setzt beim Programmstart das Systemdatum zur?ck, startet dann die eigentliche Anwendung und setzt schlie?lich das Systemdatum wieder auf den Originalwert. Das alles mit nur einem Klick! Die Features:
Freie Wahl des Kurzzeitdatums,
Freie Wahl der Anwendung,
Einfachste Bedienung,
Automatisches Beenden,
Starten mehrerer Anwendungen.
More…
Smart Data Scrubber
Version: 3.4 | Shareware (USD 29.95)
Do you know that after you have completely deleted information from your hard drive, it is still there? Smart Data Scrubber allows to wipe completely all the information about the file you were working with, ensuring total confidentiality of your work. You can be sure that after using Smart Data Scrubber no any other software will be able to undelete the files you were working with.
More…
PowerKey
Version: 4.12.7.1032 | Shareware (USD 24.95)
PowerKey is an advanced encryption toolkit designed to protect your most sensitive data. Thanks to its easy-to-use and flexible interface you can now fastly encrypt your files and not worry about your information anymore, cause now it's safe. PowerKey allows creation of SFX packages (like WinZip). It also features secure deletion (Wipe) option providing you with the powerful tool designed to avoid restoration of sensitive data.
More…
Remote Task Manager
Version: 3.8.2 | Demo (EUR 42.00)
The systems control interface that can be run from any remote Windows 2000/NT computer. This enables a Systems Administrator to control most aspects of a remote environment. The simple-to-use, tabbed interface separates applications, services, devices, processes, events, shares and performance monitor, making each of these very easy to control.
More…
WIDO Logbuch
Version: 1.3 | Shareware (EUR 9.00)
Registers number of working hours on your computer. Stores the time of boot up, shut down, standby and user change.It is resistant to manipulations and recognises the time manipulations. Shows detailed reports and totals of months.Is suitable for self-control, co-user-control and children-control. It uses nearly no system ressources (not a hookprogram). Uninstallation is possible only with a special code you see while installing.
More…
PCZeitLimit
Version: 1.04 | Freeware
Das Programm PCZeitlimit begrenzt die Zeit der einzelnen Benutzer am PC. Wenn die festgelegte Zeit abgelaufen ist, wird der Benutzer automatisch abgemeldet. Mit Vokabel- und Rechenübungen kann diese Zeit verlängert werden: für jede richtige Antwort gibt es eine Minute extra. Eine wirkungsvolle Begrenzung ist nur für eingeschränkte Benutzerkonten möglich. Die Hilfeseite gibt eine kurze Anleitung, wie solche Benutzer angelegt werden können.
More…