Category Business / Project Management
Teamplaner5
Version: 2.6.1 | Freeware
Mit Teamplaner5 können alle Arten von Abwesenheiten und Aufgaben (Planelemente) für Mitarbeiter in Abteilungs-, Gruppen- und Filteransichten, flach oder hierarchisch dargestellt werden. Es können beliebig viele Planelemente frei konfiguriert und mit Logik und Workflows ausgestattet werden. Email unterstützt die Workflows, z.B. beim Genehmigungsverfahren für einen beantragten Urlaub.
More…
TimeX Zeiterfassung
Version: 3.0.783 | Full version (EUR 59.00)
Unsere Software TimeX Zeiterfassung erlaubt es Ihnen, die Arbeitszeiten Ihrer Mitarbeiter einfach, effizient und zuverlaessig zu erfassen. TimeX Zeiterfassung bietet fuer alle betrieblichen Anforderungen die passende Loesung und bei Bedarf kann TimeX Zeiterfassung individuell fuer Sie konfiguriert werden. TimeX Zeiterfassung ist die optimale Loesung zur Arbeitszeiterfassung!
More…
TaskMerlin Project Management Software
Version: 5.0.0.8 | Shareware (USD 75.00)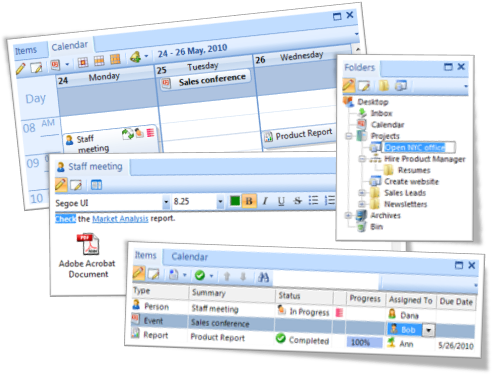 TaskMerlin is project management software, task management software, to-do list software, time management software, calendar software and Gantt chart software for managing your tasks and projects.
More…
Timeless Time & Expense Personal
Version: 2.60.21 | Shareware (USD 49.99)
An easy to use detailed project based Time and Expense tracker. An explorer style interface simplifies tracking even with many projects. Includes reusable customized detail, summary and invoice reports, To Do list, task timer, data archiving and exporting, plus other user customizations. Help, online tutorial and samples will get you up to speed quickly.
More…
Heiz und Nebenkosten für Excel
Version: 6.01 | Shareware (EUR 9.95)
Abrechnung aller Nebenkosten und Heizkosten einer Immobilie für Mieter und Vermieter mit der Berechnung einer neuen Vorauszahlung für Nebenkosten. Warmwasserberechnung sowie Heizkostenabrechnung über WMZ. Abrechnungen die nicht in einem Kalenderjahr liegen sind jetzt möglich.
More…
Appointment Scheduler - ScheduFlow
Version: 11 | Shareware (USD 99.95)
ScheduFlow Appointment Scheduling Software is a networkable Appointment Scheduling Software for managing schedules, calendars, contacts, and booking appointments. This Appointment Scheduling Software replaces your paper-based calendar and/or appointment book. In addition, it allows sharing of scheduling data on multiple computers. Appointment scheduling information can be entered from any computer and the data will immediately become visible at a
More…
TimeSage Timesheets - Pro Edition
Version: 2.3.1 | Shareware (USD 29.00)
TimeSage Timesheets is a flexible time tracking tool with easy start/stop clock to record time worked on different projects. It aims to make timesheet creation, usage, and project management for jobs easy. Supports multiple timesheets and notes. Includes features such as time collision detection when doing manual editing and automatic start/stop clock shortcuts that can handle timesheet work entries that spans across multiple days / midnight.
More…
Xpert-Timer
Version: 5.0 | Shareware (EUR 125.00)
Keep track of your time with Xpert-Timer. The networkable project time tracking software includes a stopwatch that automatically stopps your project times and floats on your desktop. Use the sync module to record your times offline. With Xpert-Timer you can assign projects to other users, send them tasks, export reports or create invoices directly out of the system. Add reimbursable expenses to your projects to calculate your profit/loss easier.
More…
Strategy2Act
Version: 1.2 | Shareware (USD 120.00)
Strategy2Act is a Balanced Scorecard (BSC) support software. It is designed to help build a Balanced Scorecard. Balanced Scorecard is a conception that transforms strategy to action. Balanced Scorecard is a set of principles that facilitate the understanding of business strategy and goals. BSC is a methodology that converts strategy into real action. Strategy2Act software is a tool that supports building a Balanced Scorecard system.
More…
CRPA
Version: 1.8 | Shareware
CRPA software is the successor of PMM, Personal Memory Manager. The most valuable feature is that it integrates your understanding without you even knowing it, when you re-use your own or other's cherished words, concepts or labels for the notes. Then it visualizes it for you from any angle. Free for any number of small projects!
More…
DRoster Premium - Scheduling Software
Version: 6.6.20 | Freeware (USD 249.00)
DRoster is a FREE FULLY FUNCTIONAL employee scheduling software. Easy to use: Planners adjustable views, Templates for recurring shifts and special days, Employee info, Calendars,Availabilities & absence reasons, Validate maximum hours worked. All in neat grid layout with 4 planners to make scheduling easy, reliable and you react instantly to changes in scheduling with email notification. 100% Customisable shifts. 11 exportable reports.
More…
mdPROJECTTIMER Pro
Version: 3.15.2 | Shareware (EUR 109.00)
The professional version of mdPROJECTTIMER is the team-solution for easy and comfortable time registration, designed for multi-user mode. Times and costs can be recorded and evaluated for arbitrary projects or project parts (jobs). Stamp comfortably via mouse or key combination and always have the overview of the current job data (e.g. by injection of the job data in the title of the active window).
More…