Category Audio & Multimedia / Audio File Recorders
Any Audio Record
Version: 6.6.7.327 | Freeware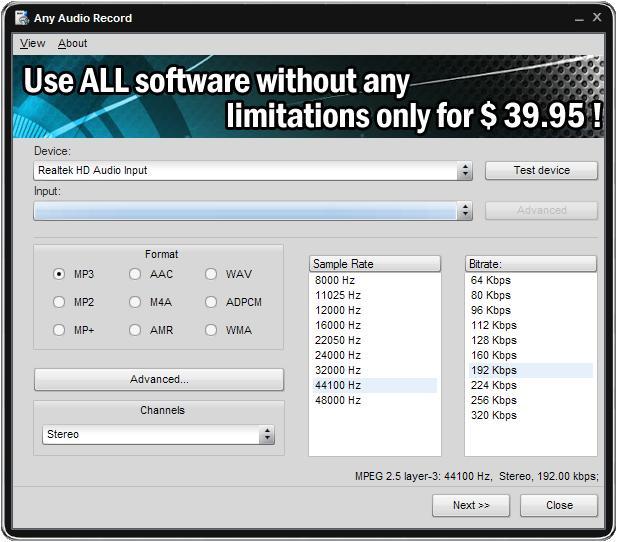 Soft4Boost Any Audio Record is a compact audio recorder utility that helps users to record audio data from various inputs like microphone, vinyl records, your favorite video games, programs like Real Player, Skype and other input lines on a sound card. Soft4Boost Any Audio Record has intuitive easy to work interface with various beautiful skins.
More…
SoundTap Streaming Audio-Recorder Pro
Version: 6.05 | Shareware (USD 29.99)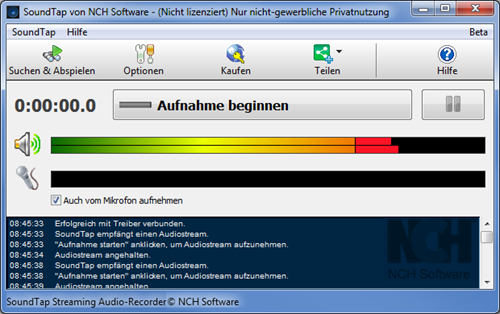 Mit SoundTap Streaming Audio-Recorder Pro auf dem Computer abgespieltes, digitales Audio aufnehmen. SoundTap kann den Mikrofoneingang aufnehmen und mit dem Stereoeingang mixen, um sowohl eingehendes als auch ausgehendes Audio aufzunehmen. Dieser Streaming Audio-Recorder Pro ist sehr gut geeignet, wenn man einen Audio-Stream aufnehmen oder Internetradio aufnehmen moechte.
More…
RecordPad Audio-Recorder
Version: 8.03 | Shareware (USD 34.99)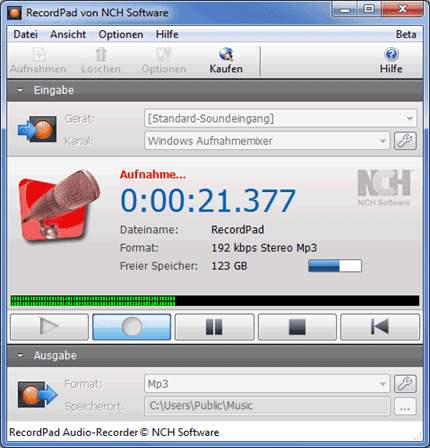 RecordPad Professional ist ein einfacher Audio-Recorder fuer Windows PCs. Mit RecordPad koennen Sie schnell und einfach Audionotizen, -nachrichten oder -ansagen in WAV, AIFF oder MP3 aufnehmen. RecordPad ist ausserdem einfach und intuitiv zu bedienen. Innerhalb von nur wenigen Minuten koennen Sie eine Audio-Aufnahme beginnen, speichern und die Datei wiedergeben.
More…
MX Skype Recorder
Version: 4.1.0 | Shareware (USD 14.95)
MX Skype Recorder is a tool that works in conjunction with Skype (and with other VoIP applications) for recording calls. It has the following advantages: can work in automatic or manual mode, automatically compressing to MP3/WMA formats, can save as WAV PCM format, record conversations either in single or dual audio track, all versions of Skype supported, Google talk, Yahoo Messenger and other VoIP applications, user-friendly interface, etc.
More…
MAGIX Audio Cleaning Lab
Version: 2013 | Shareware (EUR 49.99)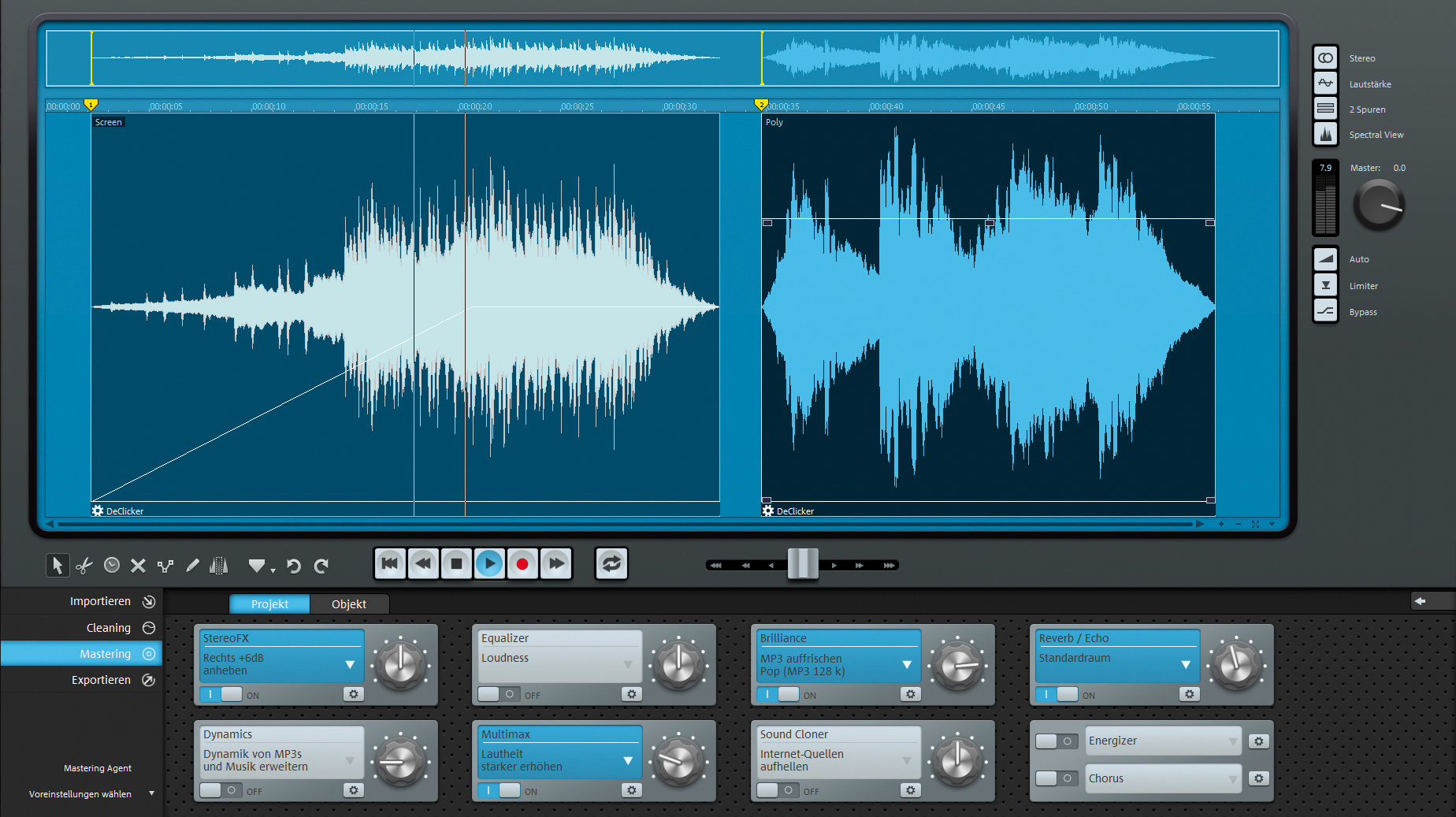 Einfach, schnell und professionell passen Sie Ihr Audiomaterial ganz individuell an und sichern alles problemlos auf Festplatte, Smartphone, MP3 Player oder CD / DVD ? in kürzester Zeit zum perfekten Sound mit der intuitivsten Audiobearbeitung! - Ideal zum Aufnehmen und Digitalisieren - Störgeräusche schnell und effektiv entfernen - Bearbeiten, schneiden und Sound optimieren - Mastern, konvertieren und sichern
More…
Replay AV
Version: 8.82 | Shareware (USD 49.95)
Replay A/V is a great way to capture & convert all kinds of Streaming Video and Audio, including Radio Shows, Online TV Broadcasts, video clips, audio archives, and Podcasts. You can record clips instantaneously, or schedule recordings to happen automatically later. Plus, the integrated Replay Media Guide lets you pick Radio Shows, Radio Stations, TV Stations and Podcasts to record with a single click. Also captures Sirius and XM Radio online.
More…
Alive WMA MP3 Recorder
Version: 3.3.2.8 | Shareware (USD 29.95)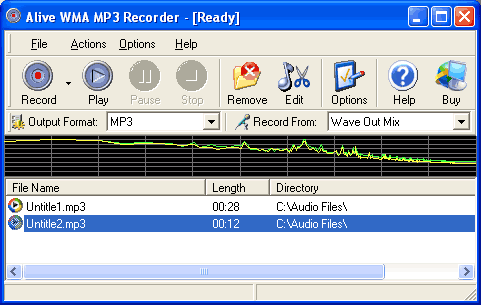 Alive WMA MP3 Recorder records any audio source from your computer into MP3, WAV, WMA, OGG, and VOX files. With Alive WMA MP3 Recorder you can record sound from microphone, line-in, streaming audio from the Internet, or music played by WinAMP, Windows Media Player, Quick Time, RealPlayer, Power DVD, VCD, Flash, Games, etc. Please click the link below to get the free trial version: http://www.alivemedia.net/mp3recorder.htm
More…
Easy MP3 Sound Recorder
Version: 3.0 | Shareware (USD 35.00)
Easy MP3 Sound Recorder can record any sound from sound card with MP3 format. It records the sound from Windows Media Player, Winamp, RealPlayer, QuickTime, Flash, games, and other Windows applications with high quality, It can grab streaming audio from the Internet, record Internet radio, music from CD, dialogs from movies, presentation from PowerPoint, MIDI (MID) file from player, and split any section of an audio file.
More…
Easy Karaoke Player
Version: 3.0.2.5 | Shareware (USD 29.99)
Easy Karaoke Player plays karaoke, records karaoke song to wav file. Easy Karaoke Player can play all kinds of multimedia files with a build-in powerful multimedia player. Easy Karaoke Player plays many audio formats such as MP3, MIDI, KAR, WAV, WMA, AC3, OGG, MPA, MP2, AU, AIF, SND, etc., and video formats VCD, MPEG, AVI, WMV, ASF, OGM, DIVX, DAT, SVCD etc. You can sing your favorite song and record it to high quality WAV file.
More…
Stepvoice Recorder
Version: 2.1.0 | Shareware
StepVoice Recorder is software for real-time recording with MP3 file format support. It allows recording from any sound source, such as a microphone, line in or any sound currently playing on your PC (Internet radio, movie sounds, etc.).
More…
Replay Radio
Version: 9.0.1.46 | Shareware (USD 29.95)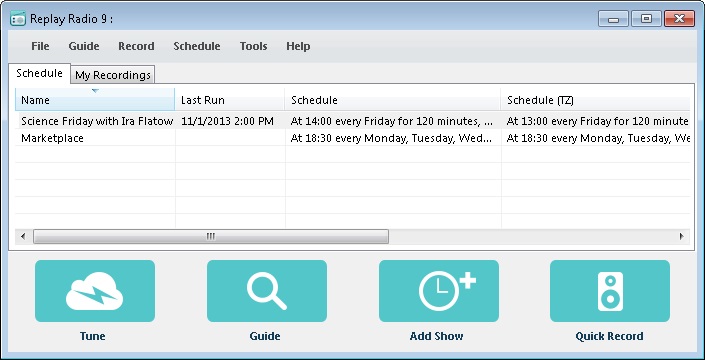 Automatically record radio shows, stations - including Sirius/XM, BBC, NPR and podcasts. Choose from 1000s of radio show/station listings in the Replay Radio Media Guide. The guide is updated regularly so all listings are current. Discover new shows or re-discover old favorites. Convert your recordings to all the popular formats and enjoy them when and where you like. Save your recordings to Dropbox and pick them up remotely. Try it today!
More…
Claudio
Version: 6.3 | Shareware (USD 29.90)
This audio recorder offers wide range of sound qualities (11-192 kHz, 8/16-bit, mono/stereo) and adds features like import/export to WAV, OGG and MP3, keyboard shortcuts, endless loop playback, simple editor, transcription mode and playback effects.
More…