Category System Utilities / File & Disk Management
Apeaksoft iPhone Eraser
Version: 1.1.8 | Shareware (USD 19.96)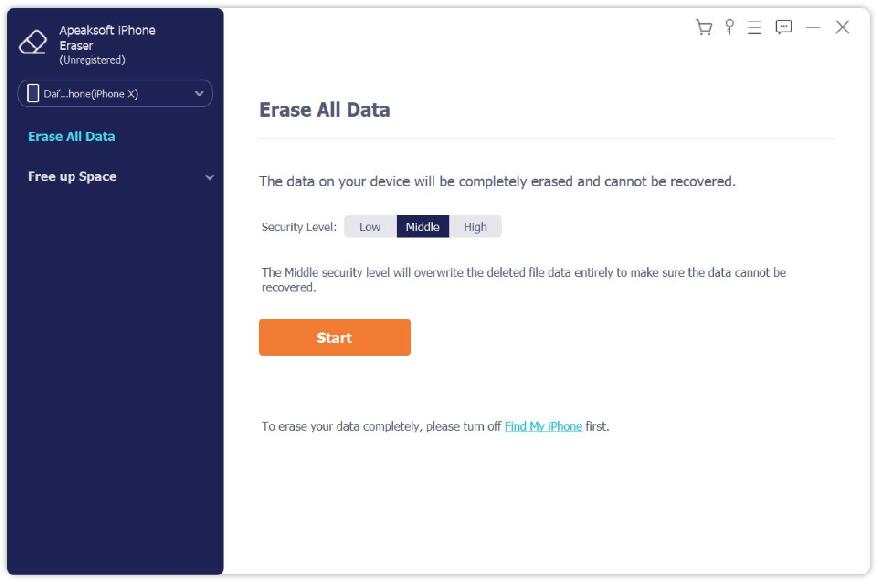 With Apeaksoft iPhone Eraser, you could clean up your iOS devices via deleting junk files, uninstalling apps you no longer use. In addition, you are able to delete large files, back up/compress your photos or export/delete your photos. Moreover, you could choose to erase all the data in your iOS devices.
More…
Apeaksoft Data Recovery
Version: 1.2.22 | Shareware (USD 31.96)
Apeaksoft Data Recovery is a comprehensive recovery tool which can recover data like photos, images, e-mails, documents and videos for you. Even your computer crashes, data system is damaged or virus attacks your computer, you can get your lost data back with this software easily. It is also compatible with Windows 11.
More…
Apeaksoft Data Recovery for Mac
Version: 1.2.22 | Shareware (USD 31.96)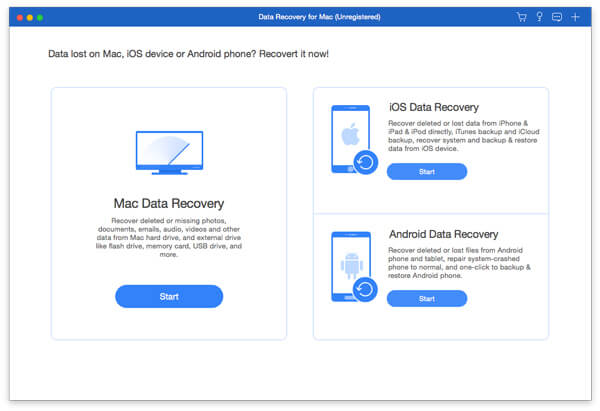 Whether you mistakenly deleted some important files or lost data due to hard drive formatting or system crash, data loss will no longer be your biggest nightmare. Apeaksoft Data Recovery for Mac provides professional solutions to handle various data loss issues. It can help you recover many types of data from recycle bin, hard/flash drive, memory card, etc. with ease.
More…
Operation Center 2021 Premium (Dateimanager)
Version: 17.2 | Shareware (EUR 26.99)
Operation Center ist ein bekannter Dateimanager mit zwei Dateifenstern und Dateivorschau. Der Commander ist mittlerweile seit ueber zwanzig Jahren auf dem Markt und wird stets weiterentwickelt.
Auch enthalten sind ein Editor sowie ZIP- und FTP-UnterstŁtzung, Dateien kŲnnen sogar direkt auf dem FTP-Server betrachtet werden.
More…
Apeaksoft Mac Cleaner
Version: 1.0.20 | Shareware (USD 19.96)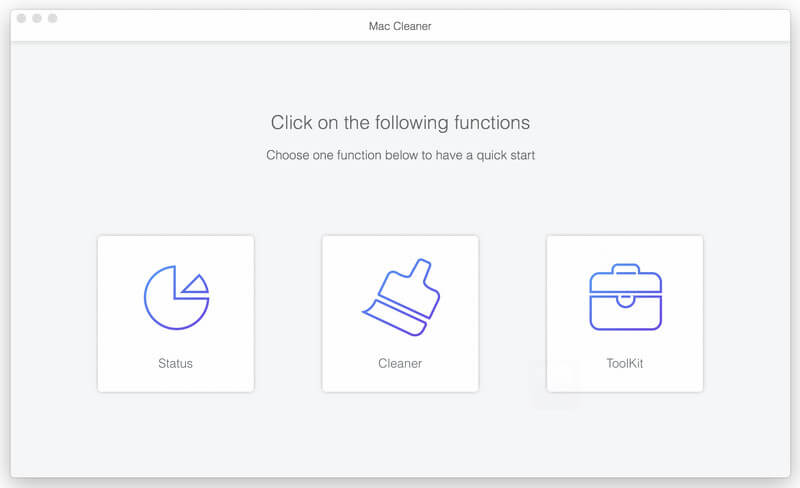 Do you have trouble in removing and managing your Mac files? Apeaksoft Mac Cleaner is your best choice. With this software, you could clean and remove any junk/unnecessary/old/large file caches and logs from your Mac. After this, the running speed of your Mac will be much faster. And it could also monitor your Mac performance.
More…
Car USB Play
Version: 3.0 | Freeware
Car USB Play software allows you to make USB flash drive, USB memory stick, USB thumbnail drive, USB pen drive, and other types of USB drives fully compatible with your car stereo for music and video playback. The software helps you decide the file system that best works for your car stereo based on the make and model year of your car. It helps upgrade car Apps or reprogram ECU and PCM. More than 50 car makes and thousands of models are included.
More…
Bootable USB Creator
Version: 1.01 | Freeware
Installing, reinstalling, repairing, or upgrading a PC is not a fun experience for most Windows users. It is time-consuming. The first task you should take on is to create a bootable USB drive to load Windows operating systems. Creating such a bootable USB drive from an ISO disk image file manually and step by step requires plenty of tech savvy, however, with the help of the Bootable USB Creator software, it only takes a few clicks of the mouse.
More…
USB Drive Factory Reset Tool
Version: 3.0 | Freeware
After having tooled around with a bootable USB flash drive using your raw image overwritten or multi-partitioned USB pen drive, you might find it necessary to revert it back to factory defaults. Essentially recovering or restoring the USB flash drive back to its original state with a single disk drive partition of FAT, FAT32, exFAT or NTFS file system is easy. It allows the USB storage device to be easily detected and used again by all computers.
More…
USB Formatter for Car Stereo
Version: 2.01 | Freeware
Format USB flash drive, USB memory stick, USB thumb drive, USB pen drive, and USB portable external hard drive to the file system desired by car stereo, car radio, car audio, car video systems for music, songs, video, movies, and software upgrade. More than 50 car makes and over 3000 models are supported. USB Formatter for Car Stereo software solves compatibility issues without looking up the media support information in the car owner's manual.
More…
USB Low-Level Format
Version: 5.01 | Freeware
The software allows you to rrase all data on USB flash drive and reset it to factory defaults by using low-level format process. In case you experience constant data corruption, virus intrusion, invalid Master Boot Record, hidden partition, startup issue, or bad sectors flags in USB storage device firmware controller, the software can reliably revitalize your malfunctioning USB drive and restore it to full capacity as well as create bootable USB.
More…
Smart Disk Checker
Version: 1.0.0.4715 | Freeware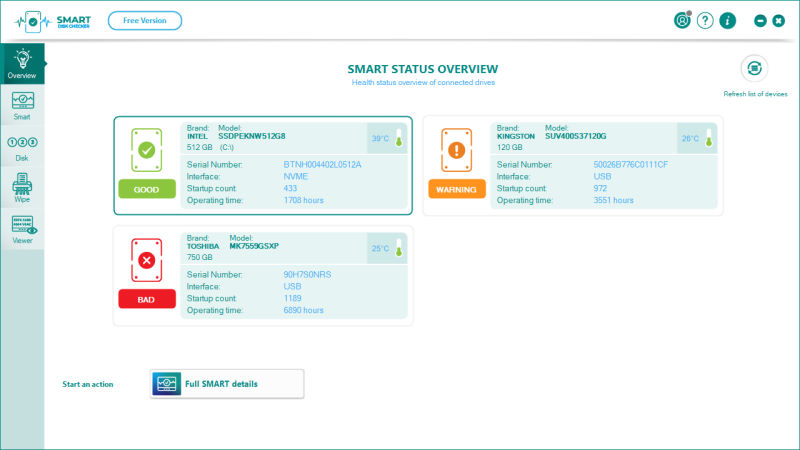 Smart Disk Checker is a free software that allows you to check the health of your storage devices (hard disks, SSDs, USB sticks, etc.) in order to prevent failures and data loss. SDC PRO is compatible with various storage standards (SATA, USB, NVME, IDE, etc.) and aims to be the most reliable software to check health status, especially on SSD.
More…
HDShredder Free Edition
Version: 6.0.0 | Freeware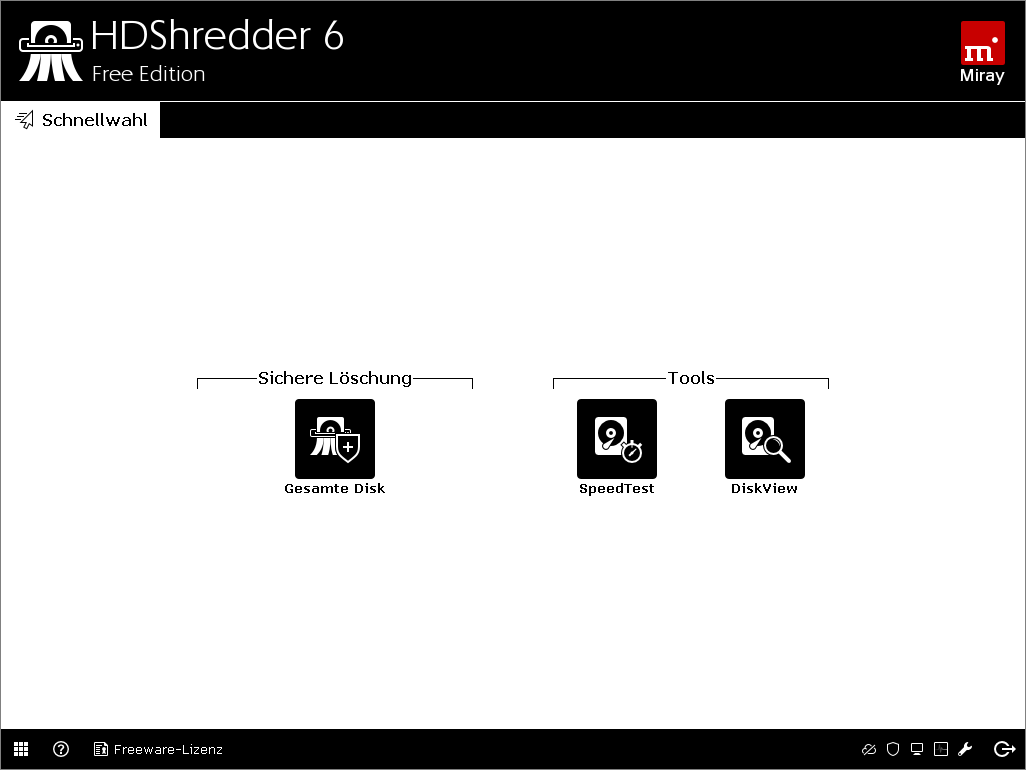 The Free Edition of HDShredder is the ideal tool to securely and easily delete data and to wipe/sanitize hard disks, SSDs, NVMe, eMMC, USB and disks. HDShredder deletes all types of partitions (MBR, GPT), file systems and OS. HDShredder has its own OS and can be started in Windows or self-booting, if the OS is damaged. The HDShredder editions Basic, Standard, Professional (Portable) and Enterprise (4x, 8x, 16x) offer extended features.
More…