Category Communications / E-Mail Clients
BriskBard
Version: 1.9.0 | Freeware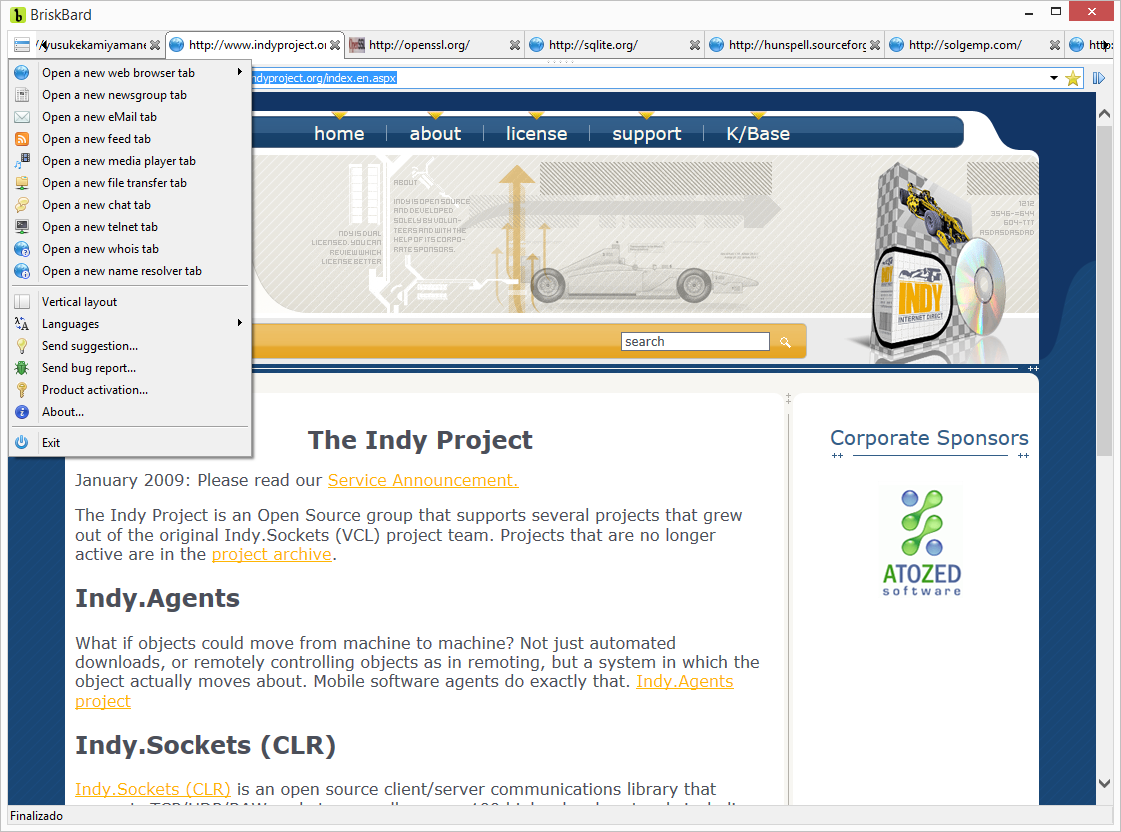 BriskBard is the new web browser for Windows program that simplifies many of the most common tasks in Internet integrating in one program a web browser, an email client, a media player, a news aggregator, a file transfer client, a newsgroups reader, a contact manager, instant messaging, and several web developer tools.
More…
Email Detail Litigation
Version: 1.0 | Shareware (USD 299.00)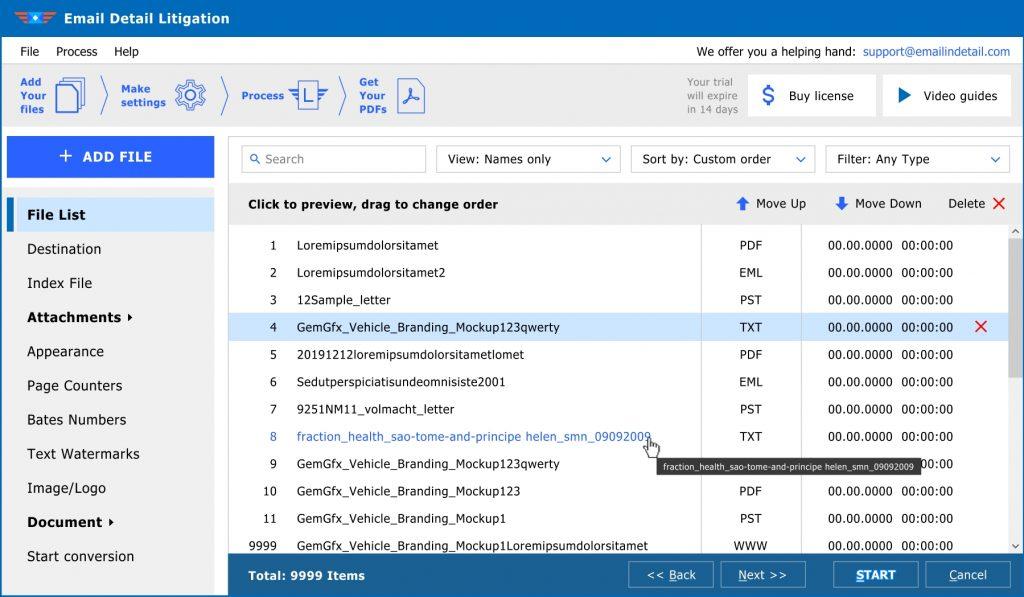 Accurate, fast and secure PDF production of emails for e-discovery and litigation. Process email files and attachments without any human errors. Tune PDF documents according to your court standards. Bates-number, stamp, watermark, or bookmark the resulting PDF its all included. Use Email Detail Litigation and dont worry about the security of your or your clients data on someone elses cloud server as everything is processed in-house.
More…
GcMail
Version: 11 | Shareware (EUR 21.95)
GcMail is a very flexible Mailclient which offers a great variety of configuration options, yet is easy to use.GcMail is a program which is suitable for the casual user, as well as the Power- User
More…
Personal-Office-Mailer
Version: 1.7 | Freeware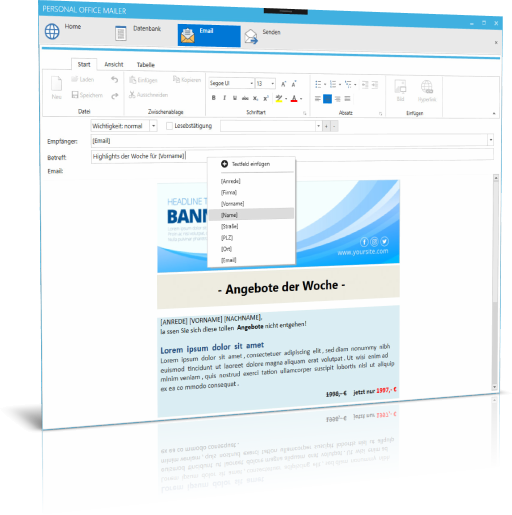 Personal (Office) Mailer creates for you professional serial e-mail to customers, prospects, club members and many more.
In a familiar working environment, which is similar to Microsoft Word, you create your newsletters without much training.
More…
btDeduplicateOLrecords
Version: 1.1 | Shareware (EUR 5.80)
The btDeduplicateOutlookRecords application removes duplicate data in MS Outlook files of the following types: -E-mail objects -Calendar objects, as well -Contact objects (only the real contact objects are supported, any distribution lists, etc. are excluded).-Duplicate domains and e-mail addresses from previously exported junk text file.
More…
btOLSynchronizeFolders
Version: 1.0 | Shareware (EUR 23.80)
The btOutlook Synchronize Folders application synchronizes data inside Microsoft Outlook [Outlook]. It supports the following folder types:
-Task objects
-Calendar objects
-Contact objects
-Email objects
-Journal objects
More…
Outlook PST Repair
Version: 7.10 | Shareware (USD 49.00)
DataInfoTools Outlook PST repair tool is designed to repair corrupted Outlook PST files. It has the capability to fix all error regarding PST file and it can convert damaged PST file into new and error free PST file.
More…
MONewsletter
Version: 2.61 | Shareware (EUR 15.50)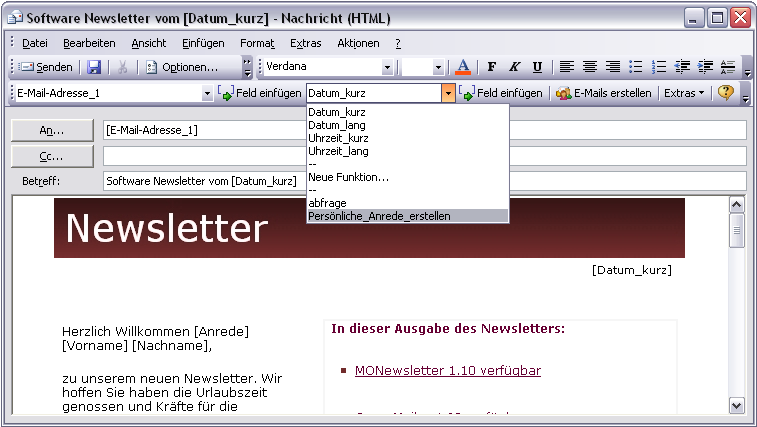 Mit dem Outlook Add-In MONewsletter können Sie einfach Newsletter, personalisierte Serien-Mails und E-Mails mit Kopien-Empfängern direkt in Microsoft Outlook im HTML- und Text-Format inkl. etwaiger Anhänge erstellen. Die Empfängerdaten können direkt aus den Outlook-Kontakten oder den öffentlichen Kontakten des Exchange-Servers übernommen werden. Die E-Mails lassen sich sofort, zu einem späteren Zeitpunkt oder nach und nach versenden.
More…
Public Contact After Reply für Outlook
Version: 1.2 | Freeware
Public Contact After Reply für Outlook ist ein Freeware Addon für Microsoft Outlook, dass nach dem Beantworten einer eingegangenen E-Mail automatisch einen Outlook Kontakt erstellt. Diese Funktion wird in Outlook-Express unterstützt, jedoch nicht in Outlook. Bei Outlook Express ist diese Funktion in den Optionen unter "Adresse beim Antworten in das Adressbuch übernehmen" zu finden.
More…
Public WEB PST für Outlook
Version: 1.4 | Shareware (EUR 48.69)
Public Web PST für Outlook ermöglicht den mobilen Zugriff auf Outlook ohne Microsoft Server und ohne speziellen Provider. Mit diesem Addon für Microsoft Outlook kann man von jedem internetfähigem PC die Daten in Outlook, live über das Internet bearbeiten. Der Zugriff erfolgt lesend und schreiben. Auch E-Mails können so über das Internet mit Ihrem Outlook verschickt werden oder ein Gruppenkalender im Internet veröffentlicht werden.
More…
Mac Mass Mailer
Version: 4.25 | Shareware (USD 97.00)
Full-featured mass mailer for the Apple Macintosh computer. It offers everything you need to create and maintain mailing lists for different needs and send mass messages directly form your Mac at a very high speed. It uses Apple Mail's message delivery framework to deliver your messages. This means that 100 percent of your email messages will get delivered properly to recipient mailboxes as if they were delivered by Apple Mail in a regular way.
More…
OutlookAddressExtractor
Version: 2.20 | Freeware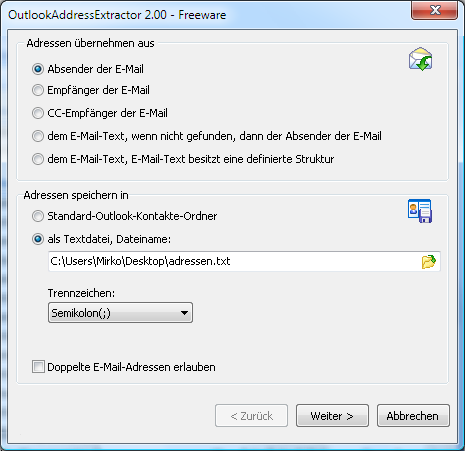 Das Outlook-Add-In, verwendbar ab Microsoft Outlook 2003, kann genutzt werden um E-Mail-Adressen aus empfangenen E-Mails (Absender, Empfänger oder CC-Empfänger) oder die kompletten Adressdaten aus z.B. Bestell-E-Mails zu lesen und in die Outlook-Kontakte als neue Kontakteinträge oder als Textdatei (CSV) zu speichern.
More…