Category Business / Calculators & Converters
Calculator for Belt Conveyors
Version: 3.02.0014 | Shareware (EUR 34.50)
Software for calculation of belt conveyors.
More…
PDF-Blizzard
Version: 1.6.2 | Shareware (EUR 20.00)
PDF-Blizzard, ein leistungsfähiges und einfach zu bedienendes Text-Extraktions-Tool, extrahiert den Textinhalt aus PDF-Dateien und speichert ihn als Textdatei. Das Layout des Originaldokuments bleibt dabei weitgehend erhalten. Besonderer Wert wurde auf die korrekte Wiedergabe des Spaltenlayouts eines PDF-Dokuments gelegt. Die Installation von PDF-Reader- oder Writer-Software ist nicht erforderlich.
More…
StatAssist
Version: 2.0 | Shareware (EUR 39.00)
Displays graphs and related properties of more than 40 probability distributions. With StatAssist, you don't need complex statistical tables - it saves you time by calculating moments, quantiles, and tail probabilities as you modify distribution parameters. In addition, it provides an efficient random number generator and a visual distribution gallery which make your work or study even more productive.
More…
EasyFit
Version: 5.0 | Shareware
Probability Data Analysis and Simulation: Fit more than 55 probability distributions to your data, select the best model, and apply the results to make business decisions. Reduce your analysis & simulation times by using EasyFit as a stand-alone application or with Microsoft Excel. Apply the advanced Excel integration to develop your custom solutions.
More…
CALCULATOR Pro
Version: 2.4.012 | Freeware
Calculator Pro is a scientific windows calculator which supports i.e. complex numbers, matrices, as well as several unit conversions. Furthermore, Calculator Pro can be used for plotting simple curves, 2d diagrams and simple animations. Basically, the Calculator Pro is based on a multi-line text box, which makes the handling very easy and transparent. Also, that text box allows for keeping all carried out calculations present.
More…
CONVERT
Version: 7.03 | Freeware
The freeware program CONVERT from KilletSoft converts databases and files between the dBase, CSV and SDF data formats and the character sets ANSI, ASCII, UTF8 and Unicode. Thus the import of the data in any data base management system or file system will be possible. A special feature of the program is the possibility to process CSV and SDF files that are larger then 4,3 gigabytes.
More…
Amortization Schedule Calculator
Version: 1.1 | Demo (USD 29.95)
The Amortization Schedule Calculator calculates the amortization, or loan repayment, schedule for a loan. The calculated amortization schedule shows the principal amount, interest amount, and remaining balance, as well as total interest, total payments, and final payment date. The Amortization Calculator is a tool for estimating your loan budget and understanding amortization schedules before you ever have to deal with a mortgage broker.
More…
DIN 276 Konverter
Version: 2015 | Shareware (EUR 99.00)
In the DIN 276 converter there are tables for HOAI-based cost calculation: Fee invoices by age HOAI (before HOAI 2009) are often not verifiable. The main reason is that this version of the HOAI refers (fees for architects and engineers) to the old DIN to determine the construction costs. Architects who charge by the HOAI before 2009 are, on the one hand requires the construction costs according to the current edition of DIN to create 276.
More…
Euro Calculator
Version: 3.5.9.1 | Shareware (USD 19.95)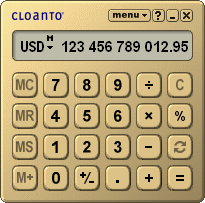 Euro Calculator is a calculator and currency converter with daily exchange rate updates provided by Cloanto, a leader in currency software and services. Features include support for past and future euro currencies, a spreadsheet interface annd translucent skins. Calculator and euro conversion functionality never expire (freeware). Custom licenses and support for agencies, web sites, redistribution and corporate deployment are available.
More…
Machinist Calculator
Version: 7.10.0 | Shareware (USD 19.95)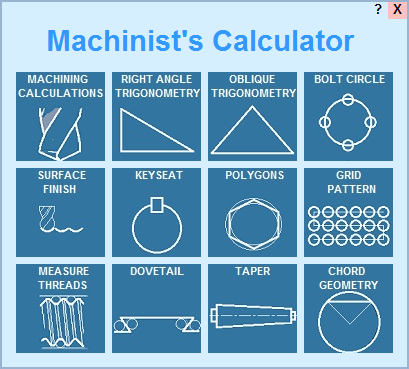 Machinist Calculator has been developed to quickly solve common machine shop math problems such as trigonometry, speeds and feeds and bolt circles. Also contains tap drill charts, metric conversions, thread measuring information and much more. Get your free demo now. Apps for Android, Apple iOS, Windows8 phone and BlackBerry also available. NEW: a portable version on a dongle - take it anywhere and plug it in to any Windows PC.
More…
Easy Date Converter
Version: 12.16 | Shareware (GBP 14.95)
Designed for easy performance of date calculations. Adds or subtracts a number of days or months to a date, calculates the number of days between two dates and converts among Gregorian dates, Julian dates, ISO 8601 Week dates, Hermetic Leap Week dates, Julian day numbers and ordinal dates of the form yyyy-ddd. Weekend days, and first and last days, may be included or excluded.
More…
WorldCalc
Version: 3.5.9.1 | Adware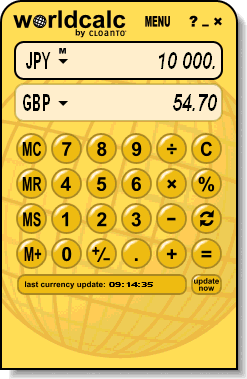 WorldCalc is a calculator and currency converter with daily exchange rate updates provided by Cloanto, a leader in currency software and services. Features include support for past and future euro currencies, a spreadsheet interface and translucent skins. The unregistered version displays an advertising banner. The registered version can use more than 100 different skins.
More…