Category Audio & Multimedia / Rippers & Converters
Audials Tunebite Platinum
Version: 2019 | Shareware (EUR 39.90)
Legally record streams, convert and enjoy protected music, movies and DVDs anywhere. Universal Converter for PC, Smartphone, Tablet, iPhone + Universal Streaming Recorder for Music-Subscriptions and Movies of VoD-Services + Auto tagging of Movies and TV Series + Internet Video Downloader+DVD Copy + Video to MP3 + CD-, DVD-Burner + Media Sync with mobile Devices, other PC & Clouds + Media Player with Playlists + Media Organizer + Auto-Tagging ID3
More…
Audials Moviebox
Version: 2019 | Shareware (USD 24.90)
+++Record, Convert and Enjoy Movies, Video Streaming and DVDs Anywhere+++ Recorder Video Streaming Internet Websites, Media Centers, Online Video Libraries + Auto Tagging & Manual Editor for Movies & TV Series + DVD Copier + Internet Video Downloader + Video Converter for PC, Smartphone, Tablet, Apple iPhone and iPad + Cloud manager + Player + WMV, M4V, MP4, TS, MKV, MPEG.
More…
Audials One
Version: 2019 | Shareware (EUR 49.90)
+++Find, Record, Download, Convert & Enjoy Music, Movies, Videos & Radios Anywhere+++Music & Video Downloader from Internet +Audio Streaming Recorder for Music Services + Video Streaming Recorder for Video-on-demand-Services + Auto-tagging of movies and TV series + Music TV & Podcasts. DVD Copier + Audio & Video Converter for all Media file for PC, Smartphone, Tablet, Notebook, Game Console + Music Universe +Cloud Manager + Media Player
More…
Audials Music Rocket
Version: 2019 | Full version (EUR 39.90)
+++Get music in MP3, WMA or AAC file format legally and free of charge+++ Audials Music Rocket is the fastest option of downloading directly with video-to-audio conversion from well-known audio & video portals. Top hits and new charts every month for free. Rock, Music Video, Pop Music, Dance, US Single & 80s Charts. Play your favorite music from among 100,000 of the best internet radio stations. Podcasts, Music TV, Media center included!
More…
Audials Tunebite Premium
Version: 2019 | Shareware (EUR 24.90)
++Music Streaming Recorder at High Speed and Audio File Converter.++ Records any Audio Stream to any Audio File Format for PC, Smartphone, Tablet, Apple iPhone and iPad + Convert DRM Protected Music Files & Audio Books + ID3-Tag Editor incl. lyrics and Album Cover + Media-Manager with Music Universe + Player with Visual Playlists + Cloud-Manager + CD-Burner + MP3, WMA, OGG, WAV, ACC
More…
Audials Radiotracker
Version: 2019 | Shareware (EUR 24.90)
Radio recorder & player with 100,000 internet radios records targeted music from radios of all recent songs and tags music automatically with ID3-tags, album cover and lyrics. Including music organizer, audio-editor. Connects your devices to a personal media cloud. Music universe finds similar music. Cloud-Manager. 360,000 of the best podcasts. All music-TV channels of the Internet.
More…
TS Video Converter
Version: 10.2.1 | Shareware (EUR 26.66)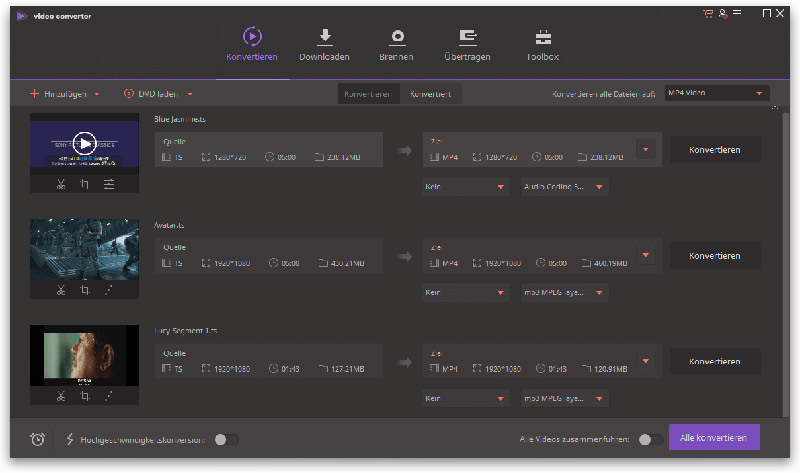 TS Converter is an easy-to-navigate TS Video Converter, which helps you to convert TS file to AVI, MPEG, VOB, WMV, 3GP, MP4, HD videos and more. It also accepts MTS, M2TS and other videos to TS file or something else. Besides, it provides some powerful editing functions to trim, crop, watermark, merge your videos according to your requirements. Moreover, it supports iPhone 6s/6s Plus, iPad Air 2, iPad mini 3 and Samsung Galaxy Note 3, etc.
More…
Generic File Converter
Version: 1.1 | Demo (USD 8.00)
Generic File Converter converts an enormous range of audio, video and image files, plus other types. Audio file types include: avi, aac, flac, gsm, mov, mp2, mp3, ogg, pcm, wav. Video file types include: flv, mpeg-1, mpeg-2, mpeg-4, QuickTime, RealVideo, wmv. Image file types include: bmp, jpeg/jpg, png, tiff
More…
AVS Audio Converter
Version: 8.5.1.584 | Shareware (USD 39.00)
Manage your music files efficiently. Convert MP3 WMA WAV FLAC OGG, etc. Automate routine work using ready conversion templates. Create audiobooks. Trim, delete parts, merge files, apply effects. Export audio from video files. Create individual ringtones for your iPhone. AVS Audio Converter is a part of AVS4YOU package. Register once and work with all tools from the www.AVS4YOU.com. Subscribe for $39/year or $59/lifetime.
More…
2plane rotor balancing calculator
Version: 1.0 | Freeware
2-plane rotor balancing calculator is used to calculate mass and angle of the correction weights to reduce vibration of rotating machines. 2-plane balancing calculator can transform any single-channel vibration instrument that is capable of measuring vibration and phase into a 2-plane balancing system. For a full-featured, dynamic 2-plane balancing system you can see inexpensive "Balanset-1" portable field balancer.
More…
Prism Plus Edition
Version: 4.03 | Shareware (USD 69.95)
Mit der Prism Plus Edition in Windows Videos konvertieren. Dieser Video-Converter kann Videodateien von AVI, MPG, VOB, WMV (Windows Media Videoformate) und mehr in MOV, MP4, WMV, OGG uvm. umwandeln. Der Prism Video-Converter ist nicht schwer zu bedienen. Einfach die zu konvertierenden Dateien zur Liste hinzuf
More…
Switch Plus-Edition
Version: 6.06 | Shareware (USD 29.99)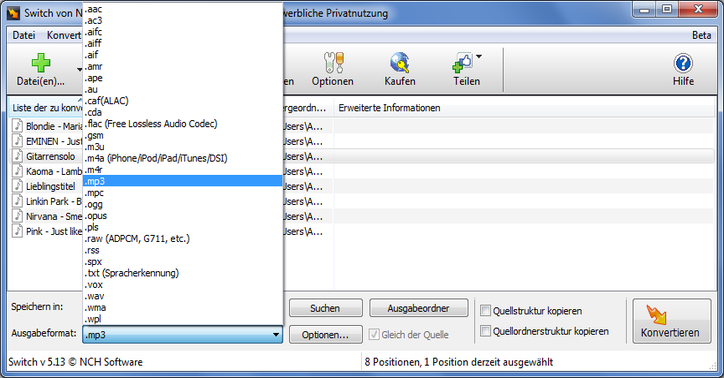 Switch Plus ist ein Audio-Converter f
More…