Category Audio & Multimedia / Multimedia Creation Tools
Burnova
Version: 1.3.12 | Shareware (EUR 59.00)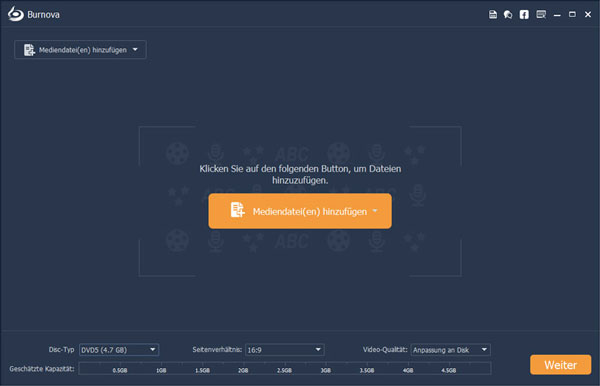 Die Burnova Software hilft den Benutzern, Video auf verschiedene DVD-Typen wie DVD-R, DVD+R, DVD-RW, DVD+RM, DVD-5, DVD-9 usw. brennen. Au
More…
AnyMP4 DVD Creator
Version: 7.2.6 | Shareware (EUR 39.00)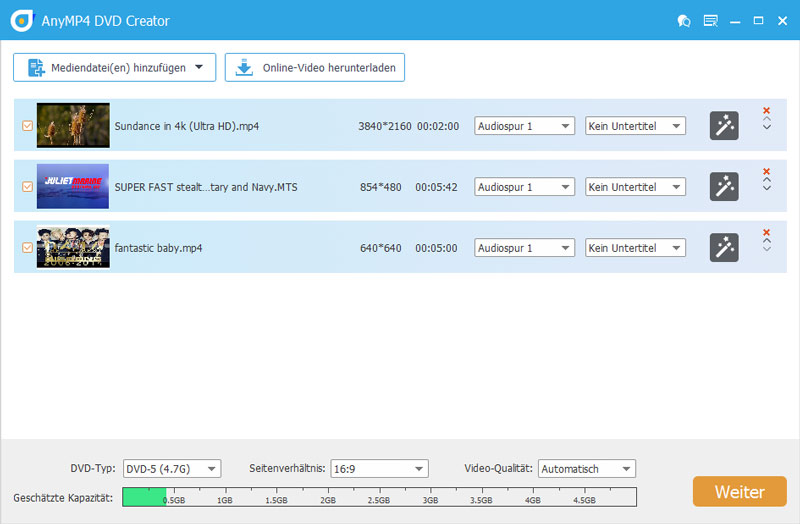 AnyMP4 DVD Creator, ein professioneller DVD Brenner, erm
More…
MAGIX Ringtone Maker
Version: 2007 | Shareware (EUR 17.99)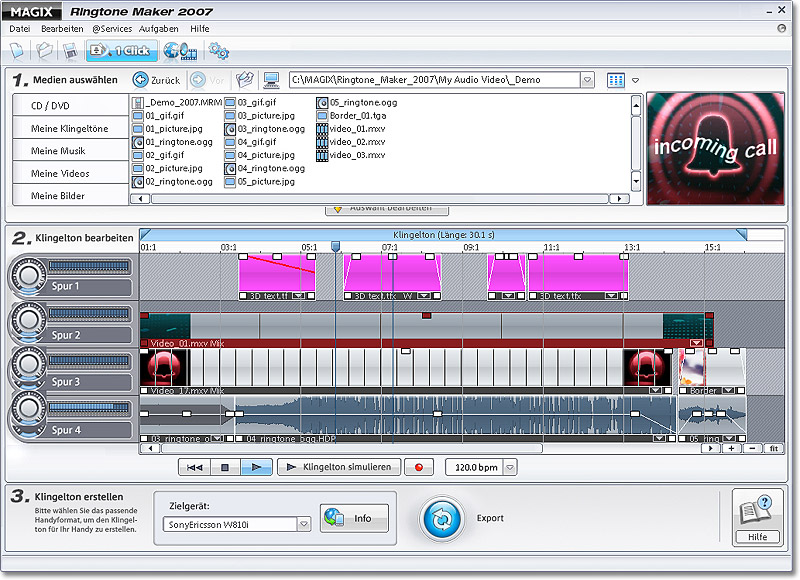 Das Klingelton ? Komplettpaket! MAGIX Ringtone Maker 2007 verwandelt Lieblingssongs im Handumdrehen in Klingeltöne - auch in komplette MP3-Songs. Perfekte mobile Unterhaltung: ohne Vertrag, ohne Abo-Gebühren & sonstige Kosten! Erstellen Sie mit nur einem Klick neue Songs, remixen Sie Charthits & Klassiker, wählen Sie aus über 400 mitgelieferten Klingeltönen und bearbeiten Sie Ihre Sounds mit hochwertigen Effekten!
More…
MP3-tag
Version: 2.5 | Shareware (USD 29.95)
MP3-tag is not just yet another audio file tag editor. It is a powerful music collection organizer, audio file search system, personal DJ and more. MP3-tag is a great tool for editing data tags in sound files of any format. You can work with several files simultaneously or change the tags for all files in a selected folder at once.
More…
Eltima Flash Optimizer for Mac OS
Version: 2.4 | Shareware (EUR 79.95)
Eltima Flash Optimizer for Mac is the only constantly updated and improving SWF compression tool for Mac OS on the net, which provides unique compression methods leading to profound optimization of Flash files with up to 70% size reduction. Advanced optimization settings let you customize every compression options, to use considerable compression of large Flash files and their parts and to preview SWF compression and compare with original file.
More…
AudioDeformator Pro
Version: 1.4 | Shareware (USD 17.00)
Simple audioeditor for who wants to edit audio files but who does not want to waste time on studying of complex programs. It allows to produce all basics operations of the audio montage, to change parameters of the audio files and to add different sound effects as well. One more feature is function allowing to process audio records so that these could render the certain influence on a brain.
More…
Pistonsoft MP3 Tags Editor
Version: 2.75 | Shareware (USD 29.95)
Pistonsoft MP3 Tags Editor is a powerful audio file tags organizer. It helps you organize large music collections. With MP3 Tags Editor, you can edit music tags, rename audio files, folders, export data to various formats, save music playlists and more. Thanks to our worksheets technology, you can edit audio tags directly in the list cells. It makes the MP3, OGG or WMA tag editing process similar to editing spreadsheets.
More…
McFunSoft Audio Editor
Version: 6.3.1.5 | Shareware (EUR 29.95)
Mit dem McFunSoft Audio Editor können Sie eigene Musik, Sprache oder sonstige Audiodateien aufnehmen oder konvertieren (WAV, MP3, Ogg etc.). Sie können Audiodateien bearbeiten und mischen oder mit Effekten (Delay, Chorus, Tonhöhenkorrektur etc.) und Filtern versehen. Dazu stehen Ihnen ausgereifte Zoom-Funktionen und die Darstellung als Wellenform oder Spektralansicht zur Verfügung.
More…
Podcast Studio
Version: 1.1.0.0 | Shareware (EUR 17.95)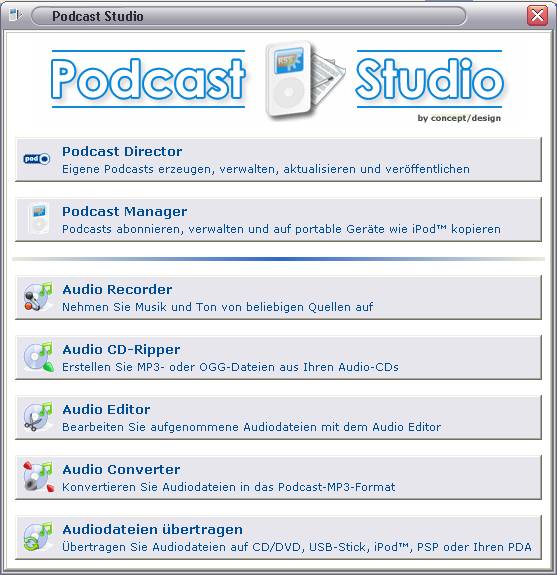 Making your own Podcasts is so easy with Podcast Studio. Record your own files with the Audio Recorder and make your own Podcasts with the Podcast Director. But it isn't much use if nobody knows your Podcasts. The Podcast Publisher will help you with the publication in Podcast archives. The Podcast Manager is a full Podcast client and copies Podcasts to USB-Stick, iPod, PDA etc.
More…
1st Autorun Express
Version: 3.2 | Shareware (USD 49.95)
Make autorun CD or DVD to start documents or display a menu without design or programming required! Just specify your documents in this easy step-by-step wizard, the rest is done automatically! Your autorun cd will ensure that your users can read your documents by auto-installing the required software or getting users to install it. Your menus will automatically adapt its look to user's operating system and font settings. Try this program now!
More…
Direct MP3 Splitter and Joiner
Version: 3.0 | Shareware (USD 29.95)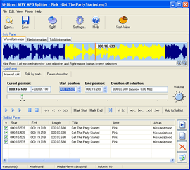 Direct MP3 Splitter Joiner is a simple software utility that allows any person with no technical expertise or special training join or split sound files (mp3 or wav) as well as perform basic editing, like trimming files or cutting silence out. ID3 tags and MP3 files with variable bitrate are supported. The program comes with automatic pause detection feature, which is especially handy for splitting recorded streaming audio files into songs.
More…
Direct WAV MP3 Splitter
Version: 3.0 | Shareware (USD 19.95)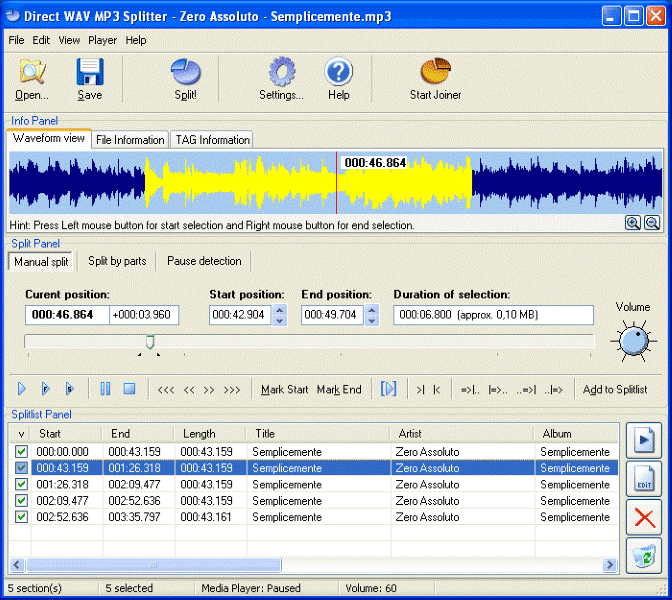 If you often record audio from old types of media such as records or cassette tapes, the tracks are going to be in a single file. To split them up, you can use Direct WAV MP3 Splitter, a WAV cutter and MP3 cutter utility that uses silence detection to separate a single audio file of any size into separate files with no loss of quality. There are many other configurable options as well as a built-in player.
More…