Category Business / Industries & Special
Bildverortung
Version: 2019 | Full version (EUR 249.00)
Mit Bildverortung 2019 k
More…
Brandschutzordnung
Version: 2019 | Full version (EUR 249.00)
Die neue Software Brandschutzordnung 2019 unterst
More…
BESTOPT - Zuschnittoptimierung
Version: 9.06 | Demo
Ideale Zuschnittsoftware f
More…
Orgasoft.NET Free
Version: 3.1 | Freeware
From ordering to incoming goods and to sales: Orgasoft.NET Free monitors your entire flow of goods and offers a closed inventory management cycle for free. Out-Of-Stocks thus belong to the past and your in inventory differences will be drastically reduced. Say goodbye to manual share investment. We deliver Orgasoft.NET Free including a fixed import format that allows you to import your products from an Excel spreadsheet into the merchandise
More…
DienstplanWP
Version: 1.11 | Shareware (EUR 48.00)
n Dienstleister (DL) werden m Dienstleistungs-Empf?ngern. (DLE) f?r eine w?hlbare Planperiode zugeordnet, jedem DL und jedem DLE kann ein Termin-Profil zugeordnet werden. (wann ist wer verf?gbar?)
Zuordnung von Teams ist m?glich.
Planungsaspekte sind variabel, k?nnen (auch negativ) gewichtet werden.
Ergebnis: F?r jeden Dienstleister: Wann gehe ich wo hin?
F?r jeden Dienstleistungsempf?nger: Wer kommt wann zu mir?
More…
Active Phone Server
Version: 9.18.1.5925 | Shareware (USD 39.95)
1. Answering machine plays back a greeting and records a message. Recorded messages are common wav-files.
2. Caller ID displays caller ID information when call is received. Customizable voice/melodies for each phone number.
3. ISP Dialer dials numbers one by one to your ISP until successful connection. When connection is established (or connection was broken) it will notify you by playing melody.
4. Email Checker will notify you about new email a
More…
Travel Promoter
Version: 1.0 | Demo (EUR 250.00)
Software zum automatischen Anzeigen von Reiseangeboten ?ber eine elektronische Diashow.
Das Programm besticht durch leichte Bedienbarkeit und einfachem Aufbau. Sie brauchen nur sechs Informationen pro Bild einzutragen. Sie haben individuelle M?glichkeiten der optischen Anpassung.
Das Programm kann erg?nzt werden durch die Reiseb?roverwaltung TRAVEL AGENCY und die Buchhaltung TRAVEL ACCOUNTANT. Der Preis ist im Verbund sogar noch g?nstiger.
More…
DebitPro
Version: 1.5 | Shareware (EUR 46.00)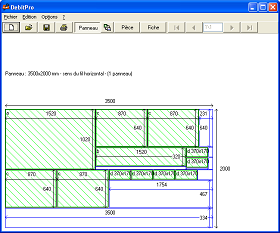 DebitPro for Windows operating system, developed by Patrice Rozet, is a software designed for the panel's sawing up calculations. It enables you to maximize the use of panels of plywood and lumber by generating the most optimized cutting diagrams. The use of DebitPro makes the wood panel's sawing up creation easier as well as those of the various materials (glasses, metals and so on ...).
More…
Reklamationsmanagement
Version: 2.3.1 | Demo (EUR 629.00)
Die Vorraussetzung für Ihre anhaltende Kundenbindung und die Zufriedenheit
Ihrer Kunden ist effektives Reklamationsmanagement.
More…
Focus On Salons
Version: 2017.25 | Demo (USD 99.95)
With Focus On Salons, salons can now operate with the same organization, efficiency and profit-making potential of the larger salons and chains. Automate your shop just like salons and spas by using software that is built specifically for you. Keep your business organized and running efficiently. Focus On Salons Software will organize your business by automating your: Waiting Lists, Clients, Employees,Appointments.
More…
HOAI mit Honorartafeln 1.03
Version: 1.03 | Freeware
Branchensoftware Bauwesen. Die HTML-Hilfedatei "HOAI mit Honorartafeln" erm?glicht Ihnen die Volltextsuche und das Abspeichern von Themen als Favoriten.
More…
allegro:Kart
Version: 1.0 | Shareware (EUR 48.00)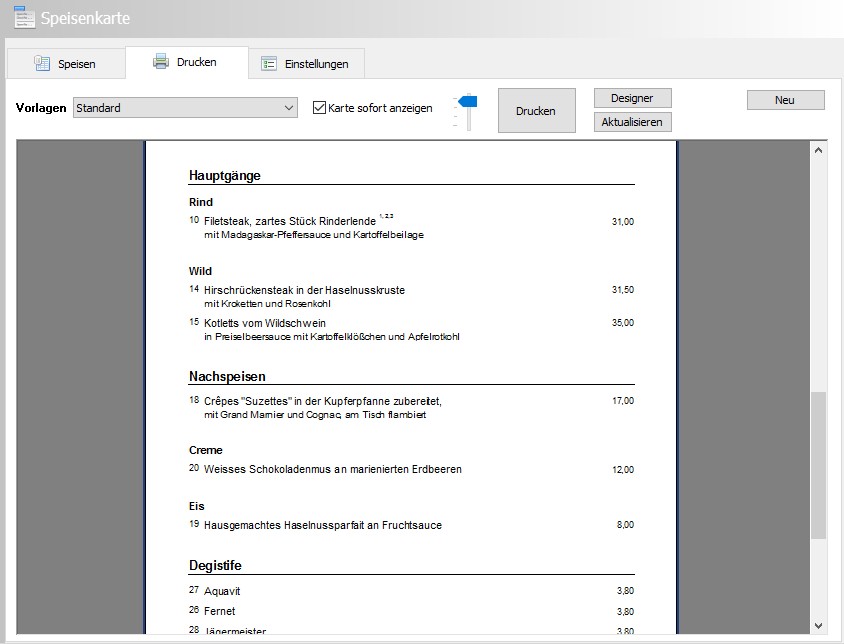 Mit allegro:Kart erstellt und verwaltete man Tageskarte, Wochenkarte, Speisenkarte, Getränkekarte. Die Speisen werden in einer Speisen-Datenbank abgelegt und stehen so für jeden Kartentyp und immer zur Verfügung.
Drucklayouts definieren das Aussehen der Karten. Mit wenigen Mausklicks sind die Inhalte zusammengestellt und die Karte gedruckt.
More…