Category System Utilities / Launchers & Task Managers
Gesten
Version: 1.0.1.0 | Shareware (EUR 23.80)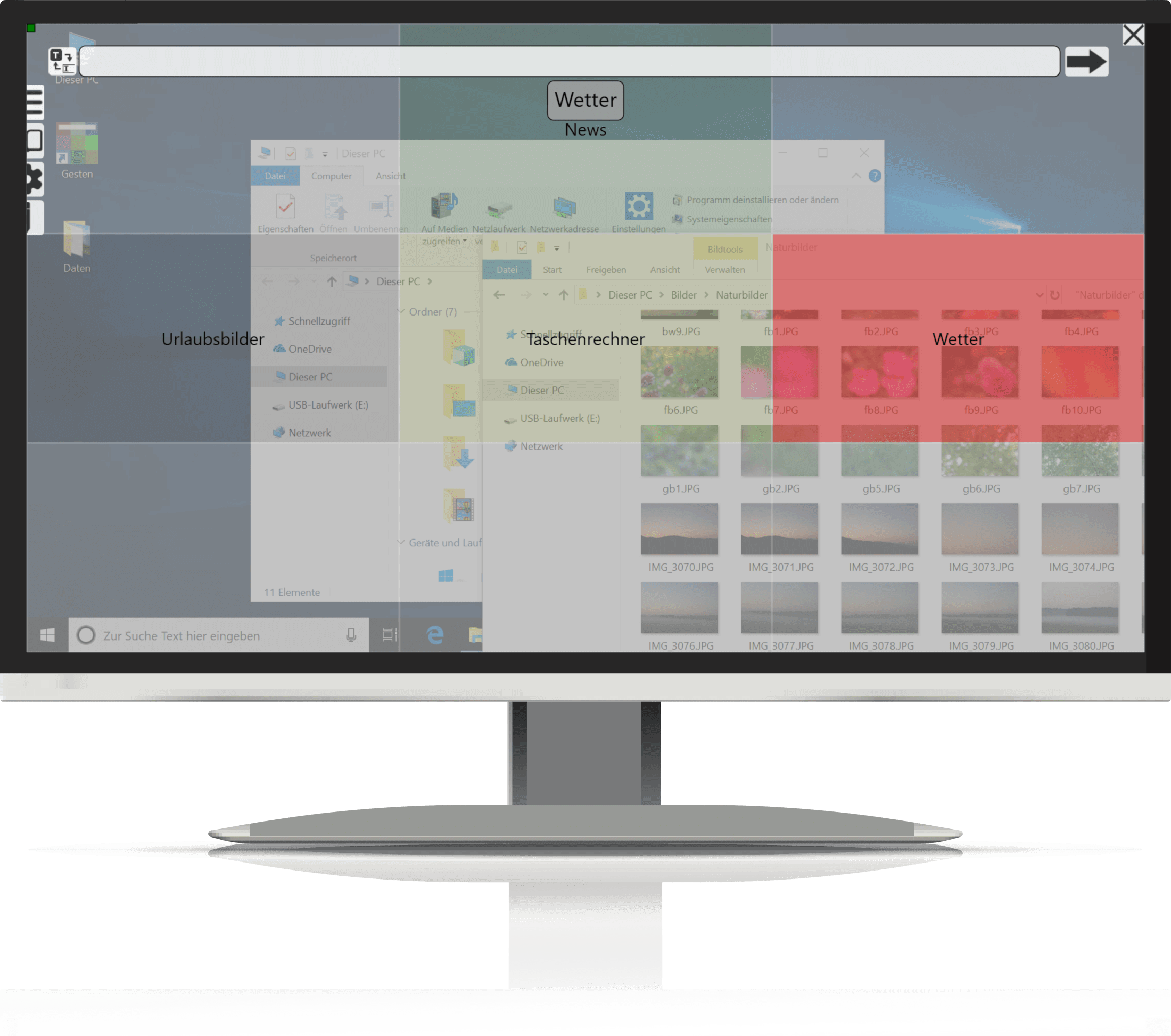 Durch duzende Unterordner klicken, nur um ein Dokument zu öffnen? In Zukunft ist das Geschichte! Egal wo du dich auf dem Computer befindest, mit Gesten erreichst du das, was du brauchst in Sekundenschnelle. Ganz ohne Ablenkung und Geklicke. Höre damit auf, Umwege zu gehen und lege den Fokus auf das, was zählt: Dein Ziel!
More…
Excel to Outlook Contacts
Version: 2.0 | Demo (USD 49.00)
Users have many queries related conversion of MS Excel file to Outlook contacts, so eSoftTools launched new wonderful Excel to Outlook Contacts converter software that provides extremely advanced process to convert XLS to Outlook contacts. Software has quite a lot of additional feature for convert and export Excel contacts to outlook file.
More…
Excel to vCard Converter
Version: 2.0 | Demo (USD 29.00)
Exceed to vCard Converter tool is extraordinary programming that makes it feasible for clients of Microsoft Excel to convert their file records to the VCF file formats. Software has one of the best features as there is none requirement of Outlook installation in the system during conversion.
More…
SoftKnoll NSF to PST Converter
Version: 1.0 | Shareware
Get this Softknoll NSF to PST converter software which help you to Migrate Lotus Notes NSF mailbox to PST conversion procedure and convert every details and file data like inbox, outbox, sent, draft, notes, emails, contacts, calendars, tasks etc in PST, EMLX, EML, MSG, MBOX format quickly. By the use of SoftKnoll NSF to PST converter tool. This tool will work with all version of MS Outlook and Windows.
More…
True Launcher
Version: 2.8 | Freeware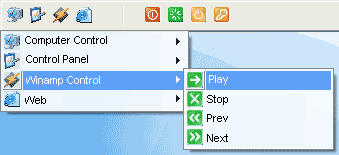 True Launcher is a simple, easy to use program launcher. True Launcher allows you to combine your shortcuts into groups, helps to free the desktop from numerous icons, folders, and files by moving them to the True Launcher start panel. This panel automatically hides when it is inactive and pops up when the user points to the area where it is located. Also you can start applications via tray menu and hotkeys.
More…
Control Runner
Version: 3.4 | Shareware (USD 29.95)
Control Runner is a program launcher and manager for Windows (95/98/Me/2000/XP) that can substantially increase your productivity. Control Runner presents installed applications in a powerful and convenient tabbed interface, allowing you to group together related items, whether they are applications, documents or Internet links. Selecting and launching the right one is a guaranteed two clicks tasks. No more guessing around.
More…
12Ghosts QuickStart
Version: 9.70 | Shareware (USD 12.99)
Unlimitted hotkeys and tray icons for each entry. Open programs, documents, websites, and special system folders like StartUp or SendTo, specific control panel pages, and even registry keys in RegEdit. With a variety of unrelated functions: quick resolution changing, shutdown or logoff, remove formatting from clipboard text, set task sequence, or changing the middle mouse botton click to a double-click.
More…
Active Keyboard
Version: 3.1 | Shareware (USD 29.95)
HotKey Program, Launch applications, documents, and URLs, and over 80 other actions to hot keys
- Control your Winamp player
- Hide application windows
- Open, Play and close your CD-ROM
- Change the volume, mute
- Logon and Power management
- Open dialup connections
- Empty recycle bin
- Create New Folder
- Lock/Unlock Desktop
- Show/Hide Windows
- Show/Hide Icons from Desktop
- Restart Explorer
- Lock/Unlock Mouse
- more...
More…
RLauncher
Version: 2.3 | Freeware
RLauncher is an easy to use application launcher. It is used to quickly launch applications, documents, and URLs with one mouse click and save your time. You can do it via main toolbar, tray menu, floating window, hotkeys and aliases. The software has Load at startup and Auto-hide options that should make your life even more easier. RLauncher is a free software and it does not contain any spyware.
More…
DE Launcher
Version: 2.2 | Freeware
DE Launcher is a desktop utility that provides an alternative method of launching your favorite applications, documents and URLs and starting common Windows tasks. It's easier to use than Windows Start menu, and neater than having large numbers of desktop shortcuts. Now you can launch your favorite tasks/programs using DE Launcher's toolbar, a system tray menu, a floating window or with keyboard hotkeys.
More…
getStarted!XP
Version: 4.5.6 | Shareware (EUR 19.90)
Add this fully customizable and animated Apple-Style-Launchbar to your desktop. getStarted!XP is a powerful replacement for the Startmenu, the Quicklaunchbar and the Office-Shortcutbar. Some of the features of getStarted!XP: Magnify Effect/Variable Icon Size/Support of Styles and Skins/Autohide/Hide Desktop Icons/Seperators/Directory Flyoutmenus/Dock on all Edges of Screen/all Shortcuts are fully customizable
More…
Vista Start Menu
Version: 6.11 | Freeware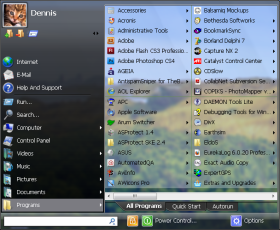 Do you have hundreds of programs in your Start menu? Do you waste time looking for the program you need? Try Vista Start Menu to instantly find what you need among the large amounts of information. Vista Start Menu is effective for advanced users and easy to use for beginners. Start working with pleasure!
More…