Category Desktop / Desktop Utilities
Funny Fly Screensaver
Version: 2.0 | Freeware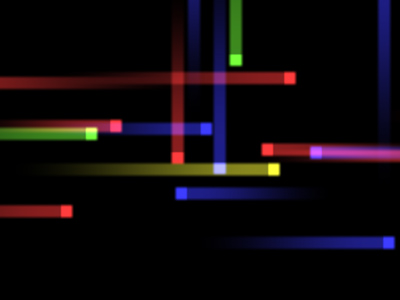 Funny Fly Screensaver is classic special effects screensaver build with modern OpenGL 3D support. It is compatible with all OpenGL videocards and any desktop Windows operaring system. You will see smooth boxes moving on your screen. Boxes have different colors, speed and direction. They move up and down, left and right. It will protect your screen pixels from burning - a real purpose of screensavers! Each box leaves fading trail behind it.
More…
Smart Eject
Version: 1.23 | Shareware (USD 20.00)
Smart Eject is an essential Windows utility which automatically ejects CD's and other removable media before your PC shuts down. You will never again forget and leave a CD in a drive. Smart Eject can be set to eject all removable media automatically on shutdown, or to notify you that media is present and eject it after your confirmation, depending on your preference.
More…
Personal Desktop Spy
Version: 2.10 | Shareware (USD 39.00)
Desktop Spy Agent is an easy-to-use PC activity monitoring tool that captures screenshots of the active application window or the entire desktop at the predefined time intervals and saves them to a specified directory on the disk. The captured images can be later viewed using any image viewer. This spy software works in the stealth mode unnoticed by the user and can be used for employee monitoring purposes or as a home security monitoring tool.
More…
Hide Master
Version: 1.82 | Shareware (USD 24.95)
Hide Master is powerful but easy to use tool for hiding windows and programs. Hide Master allows you to hide (and unhide) specified windows and groups of windows by pressing a combination of Hotkeys. Also it allows you to hide (and unhide) specified controls (buttons, comboboxses, listboxes, etc.) manually. You can specify
a lot of options for each registered program and group. Hide Master works in hidden mode.
More…
Desktop Notes
Version: 1.2.3 | Shareware (USD 14.95)
Desktop Notes is a program that will allow you to post notes on your Windows desktop. These notes won't intefere with your other activities on your PC cause they stick to the desktop. The fact that you can use various pictures as a background and special fonts that are supplied along with the program makes these notes not only a very useful but also a very attractive thing that will beautify your desktop.
More…
Zigzag Cleaner Plus
Version: 1.16 | Shareware (EUR 14.00)
This program lets you translate several onscreen mouse movements into commands to control your computer. Make a quick move with your mouse, a zigzag or a circle for example, and it will hide applications and documents. You can minimize or hide windows, execute commands such as copy-and-paste, scroll a window that contains the mouse cursor, start a screen saver, open and close a CD-ROM drive, or run the Explorer.
More…
EasyWallpaper
Version: 3.0 | Shareware (EUR 19.95)
EasyWallpaper is the ultimate wallpaper management tool. Inter alia, EasyWallpaper has the following features: change Windows wallpaper in specific intervals, display desktop calendar, make screensaver from your own photos, make full size slide show of your favorite images, make desktop icon labels transparent, organize images in categories, find new wallpapers on hard disk or internet, unique starfield wallpaper functionality, preview and more.
More…
ChildLock!
Version: 1.0 | Shareware (EUR 19.95)
With ChildLock! you can limit an user's log on or log off times. Define when users can log on to your PC. If a specified user is already logged on your system on a non-logon-time, it is possible to log him off automatically. The ChildLock! software program is ideal for parents, because they can control and limit the PC usage of their children.
More…
Instant Sleep
Version: 1.21 | Shareware (USD 10.00)
Either click on the Instant Sleep system tray icon, or right click on it then select Sleep on the popup menu appeared, or press a predefined hotkey on your keyboard to immediately hide your display of the unwanted eyes. Instant Sleep saves your time and protects your privacy. Move your mouse or press any key to turn the sleep mode off.
More…
Quick Hide Windows
Version: 1.8.7 | Demo (USD 9.55)
Quick Hide Windows by CronoSoft is great for hiding program windows with a press of a hotkey combination. You easily bring them back with another combo. Hiding the taskbar and desktop icons is just awesome. Password protection allows you to lock QHW to prevent intruders from trying to show invisible applications while you're gone. You can even lock your computer with QHW instead of a weak, easily hackable screensaver password.
More…
8Wands Desktop
Version: 2017.1 | Shareware (EUR 14.95)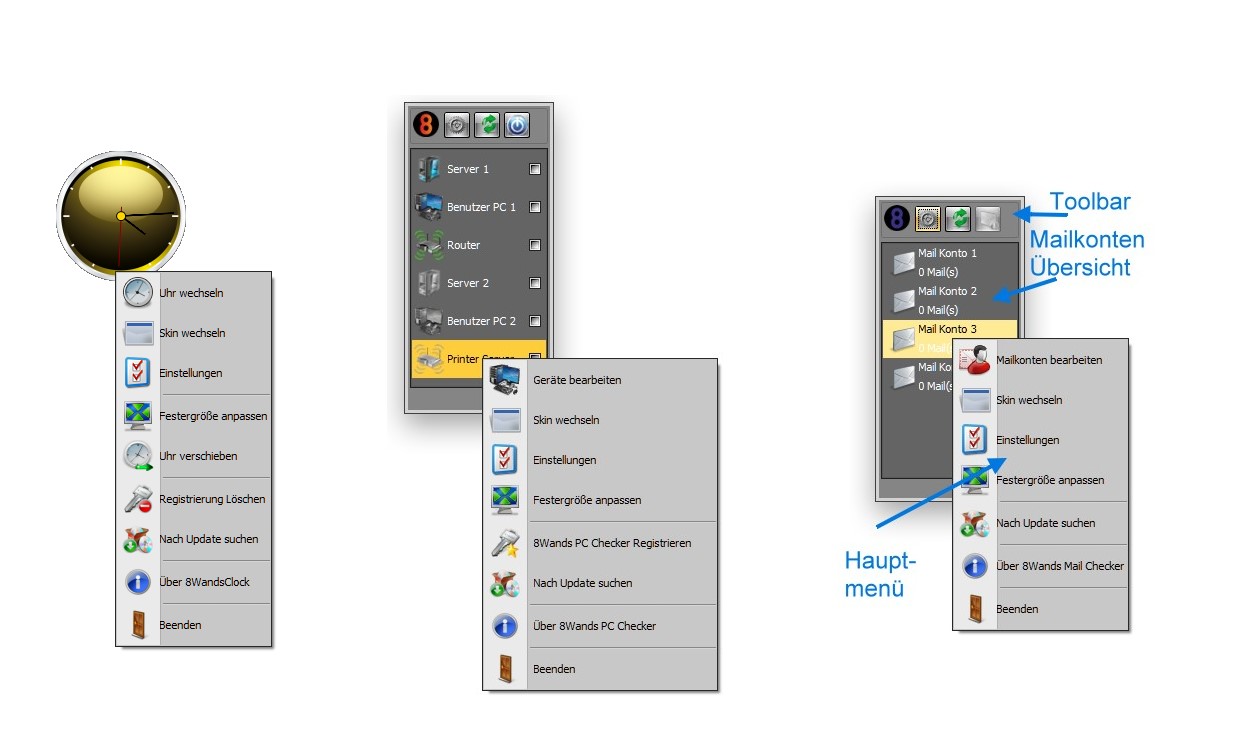 8Wands Desktop ist eine Suite aus Desktop Apps für Windows. Aktuell besteht 8Wands Desktop aus folgenden Apps: 8Wands Mail Checker, 8 Wands PC Checker und 8Wands Clock
More…
Uhrzeit & Nachrichten
Version: 1.0 | Freeware
Mit der Software "Uhrzeit & Nachrichten" verleihen Sie Ihrem PC nicht nur ein ansprechendes Erscheinungsbild, sondern haben wichtige Daten stets im Blick. Wählen Sie aus mehreren Designs und Farben. Abonnieren Sie einen RSS-Feed Ihrer Wahl und lassen Sie sich mit neuesten Nachrichten und Infos versorgen. Kann auch als Bildschirmschoner festgelegt werden und aktiviert sich, wenn Ihr PC eine bestimmte zeitlang nicht genutzt wird.
More…