Category Desktop / Clocks & Alarms
Tea Timer (NG)
Version: 4.1.59G | Shareware (EUR 1.00)
Tea Timer (NG) :: an easy-to-use timer! With this online tea timer you will not miss your tea break. Never drink cold and bitter tea again... -- It's tea time ! -- :: Needless to say, you could use the teatimer as egg-timer, kitchen timer, oven timer and for many other purposes as well. --- [[Online-Tea-Timer 3.2.08 is still available as freeware.]]
More…
Pendulum Clock 3D Screensaver
Version: 2.0 | Freeware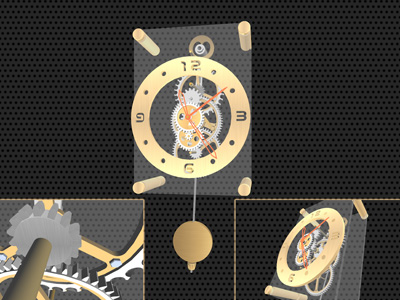 Realistic and unique Pendulum Clock 3D screensaver will impress everyone who likes screensavers, clocks and 3D effects. You will see analog clock mechanism from three different points of view. It is really working clock model with pendulum motion and yoke switching seconds. 12 gears made of copper and steel are rotating with hook. Clock face is gold with cutted numbers. Clock body is made of glass - to let everyone see its mechanism.
More…
Eieruhr (NG)
Version: 4.1.59G | Shareware (EUR 1.00)
Egg-Timer / Tea-Timer (NG) :: an easy-to-use timer! With this online tea timer you will not miss your tea break. Never drink cold and bitter tea again... :: Needless to say, you could use the egg-timer as teatimer, kitchen timer, oven timer and for many other purposes as well. --- [[Online-Tea-Timer 3.2.08 is still available as freeware.]]
More…
Online TeaTimer / Online TeeUhr
Version: 3.2.08 | Freeware
OnlineTeaTimer / OnlineTeeUhr so that the tea succeeds at the PC workplace, too! ------- Advantage of the used applet technology in relation to the already existing programs of this kind is the usefulness WITHOUT INSTALLATION, WORLDWIDE ON EACH COMPUTER WITH INTERNET ACCESS...... A download of this program is actually not necessary at all, since it is available at any time in the WorldWideWeb for simple and immediate use. Try beta release 4 now!
More…
Alarm Clock 4 Free
Version: 2.26 | Freeware
Wake up, remember weekly appointments, never miss a meeting with EIPC's amazing Alarm Clock 4 Free. Customize each alarm, by marking the weekdays and choosing your favorite song, rhythm or alarm sound for each appointment. You can also specify the snooze time that suits you.With its easy to use interface and its powerful features, EIPC's Alarm Clock 4 Free is a valuable addition to your desktop.
More…
12Ghosts ShowTime
Version: 9.70 | Shareware (USD 12.99)
Enhance your taskbar clock to show the date and a second time zone. You may display seconds smaller and the date in a different color, for example. Everything is configurable! An alarm can be set daily or at a certain date. The comfortable snooze function reminds you repeatedly until it is answered. With a list of 12 world times, chimes, hour signal, chronograph, and quickly accessible countdown the program is powerful and a pleasure to use.
More…
Atomic Alarm Clock
Version: 6.25 | Shareware (USD 14.95)
Atomic Alarm Clock is an application that comes to replace the standard Windows clock. Offers users a bunch of extra utilities, such as an alarm clock, skins for Windows clock, an atomic-time synchronizer, hourly chimes and more. The program is fully customizable, so you can show date or not, show the day of the week, show seconds, use 12 hour format, show the system uptime, the percent of memory in use and much more.
More…
Orga-Nicer
Version: 3.3 | Freeware
Vergesslichkeit liegt in der Natur des Menschen - doch Termine zu vergessen gehört jetzt der Vergangenheit an! Orga-Nicer ist die umfassende, einfach zu bedienende Lösung zur Terminplanung. Mit akustischen und visuellen Signalen erinnert die Software an wichtige Termine, verwaltet Ihre Notizen (optional direkt auf Ihrem Desktop), speichert Ihre Passwörter und sorgt mit einem virtuellen Kalender für den vollen Überblick über Ihren Tagesablauf.
More…
Clock Tray Skins
Version: 4.3 | Shareware (USD 19.95)
Clock Tray Skins is the advanced replacement for standard Windows tray clock. See the time, seconds, day, date, percent of memory in use and system UpTime in different skins. Displays the time for any of the time zones. Over 130 skins are included in the distribution. Support Longhorn clock style.
It's also an atomic-time synchronizer and Calendar.
More…
Talking Secretary and Reminder
Version: 2.08 | Shareware (USD 14.95)
Create automatic reminders that will notify you as dates and events approach, by saying the day and time out loud, reading messages to you, playing MP3 files, playing video reminders, and even displaying customized messages on your screen. You can set reminders based on days of the week, weekends, specific dates, or even monthly dates. Never forget birthdays, holidays, or meetings again. (Runs on ALL Windows systems).
More…
1st Clock
Version: 5.0 | Shareware (USD 29.99)
See the date as well as the time from multiple time zones in your taskbar clock in a way you want. Monitor your computer's performance with CPU and memory load indicators. Click the clock to open 1- or 2-months calendar view. Set reliable alarms (with unique unobtrusive notifications) and never miss important moments in your life! Have a super-accurate (up to 1/50s) time reference with atomic time synchronization.
More…
Round Clock 2014
Version: 4.0 | Shareware (USD 25.00)
Atomic alarm clock with digital or round interface. As event reminder it lets you conveniently manage your important dates and times. Supports user-selected clock skins in BMP, GIF, JPG, WMF formats, sends e-mail notifications and plays sounds. Displays animated alarm icon on the taskbar.
More…