Category Graphic Apps / Font Tools
Sib Font Editor
Version: 2.22 | Shareware (EUR 24.95)
Sib Font Editor allows you to create fully-fledged bitmapped fonts with ease. It works with .fnt and .fon bitmap font files. The tool can export and import font symbols, as well as modify font properties. The software is delivered in an intuitive interface and has a competently organized set of instruments, so you can start making fonts right away. If you look for a handy font-creation tool, then try out Sib Font Editor and you won'`t miss.
More…
FontCreator
Version: 6.5 | Shareware (USD 79.00)
This professional font editor allows you to create and edit TrueType and OpenType fonts. When you open a font, FontCreator displays thumbnails of all available characters. Simply select a character, and modify its appearance, or add missing characters. You can import (scanned) images of your signature, company logo, or make a font based on your own handwriting. Whether you're a type designer or a hobbyist FontCreator has the tools you need!
More…
MainType
Version: 4.0 | Shareware (USD 89.00)
This advanced font manager has all the tools you need to take control of your fonts. It works with TrueType, OpenType, TrueType Collections, and Postscript Type 1 fonts. You can preview fonts before installing them. Nice touches are drag and drop support and the ability to insert characters into background applications. MainType makes it fun to find, preview, organize, install, and print your fonts.
More…
FontExpert 2015
Version: 13.0 | Shareware (USD 59.00)
Font manager: allows you to preview and manage both installed and uninstalled typefaces and examine your system for font errors. You can display the list of installed font faces, customizable font samples and advanced font properties. Key Features: View and Preview Fonts, Search for Fonts, Manage Fonts, Print Fonts, View Advanced Font Properties, Examine your System for Font Errors, Missing Fonts Loader plug-in for Adobe InDesign and Illustrator.
More…
CharView
Version: 3.8.2 | Shareware (USD 15.00)
CharView allows you to type unusual characters from keyboard. It displays all of the symbols of a selected font, allowing you to quickly choose between the different character sets.
More…
Schrift 2 DXF und G-Code
Version: 3.5 | Demo (EUR 69.99)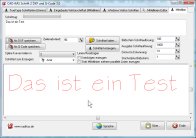 Erzeugen Sie schnell und einfach Schriftzüge in jeder beliebigen installierten TrueType-Schriftart oder einer Single Line Schriftart und speichern Sie das Ergebnis als DXF-Datei oder G-Code Datei ab. Ideal zum Ausplotten von Schrift für Schilder, Gravuren usw. Sie geben einfach den Text ein, wählen die Schriftart und klicken auf "Als DXF Datei speichern". Der Text wird dann in Form von Polygonzügen und Kreisbögen in der DXF Datei abgelegt.
More…
dp4 Font Viewer
Version: 3.3 | Freeware
dp4 Font Viewer for Windows - a small and installation free utility for showing all fonts of a given folder, without installation. High quality display of all fonts by use of our own render engine. Filtering by many parameters possible - OpenType ®, Panose, Unicode ranges. Displays all Unicodes and key codes. Basic font management functions and print function for single fonts and the complete font list are available.
More…
Typograf font manager
Version: 5.2c | Shareware (USD 35.00)
Computer users increasingly store libraries of type styles on their PC. This might be for home, or for work, but either way they can get very confused and disorganised. Typograf is an intelligent way to keep all of your typefaces in one single place, listed and easy to find. With all of your font in one location, you can view the different characteristics of each style, and find the one which is most suitable for the task at hand.
More…
FontTwister
Version: 1.5 | Shareware (USD 25.00)
Font Twister is a Windows application which allows users to stylize true type fonts and edit them in real time. Use this video thumbnail maker to create custom thumbnails for your YouTube videos or slick title effects in no time at all. It provides a collection of effects such as graphics, styles, textures, gradients, shadows, bevels, blurs and letter edges. Text can also be saved in the form of a vector Font Twister File for future editing.
More…
FontRenamer
Version: 1.0 | Freeware
FontRenamer is free and renames truetype font files (*.ttf) to the real name of the typefaces. Meaningful file names are best for easy management. Simply select a folder of font files and click Rename button. »Arial bold italic.ttf« instead of »arialbi.ttf« or »Brush Script.ttf« instead of »brushscn.ttf«. FontRenamer is available in English and German language (auto detect).
More…
CrossFont
Version: 7.2 | Shareware (USD 79.00)
CrossFont for Windows can convert TrueType and PostScript Type1 fonts between Macintosh and PC platforms and convert Type 1 to OpenType. Modify menu related names in TrueType and OpenType fonts. Features include Zip archive support, font preview, automatic file recognition, drag and drop, folder searching, font outlines and hinting are preserved, OS X dfont support. WOFF and EOT web font support.
More…
Advanced Font Viewer
Version: 5.15 | Shareware (USD 39.00)
Advanced Font Viewer is a program with the user-friendly interface that allows simultaneous viewing of all fonts installed on a system. An example text for each font is displayed alongside. The program allows managing and printing your fonts as well.
More…