Category Audio & Multimedia / Player
BriskBard
Version: 2.8.0 | Freeware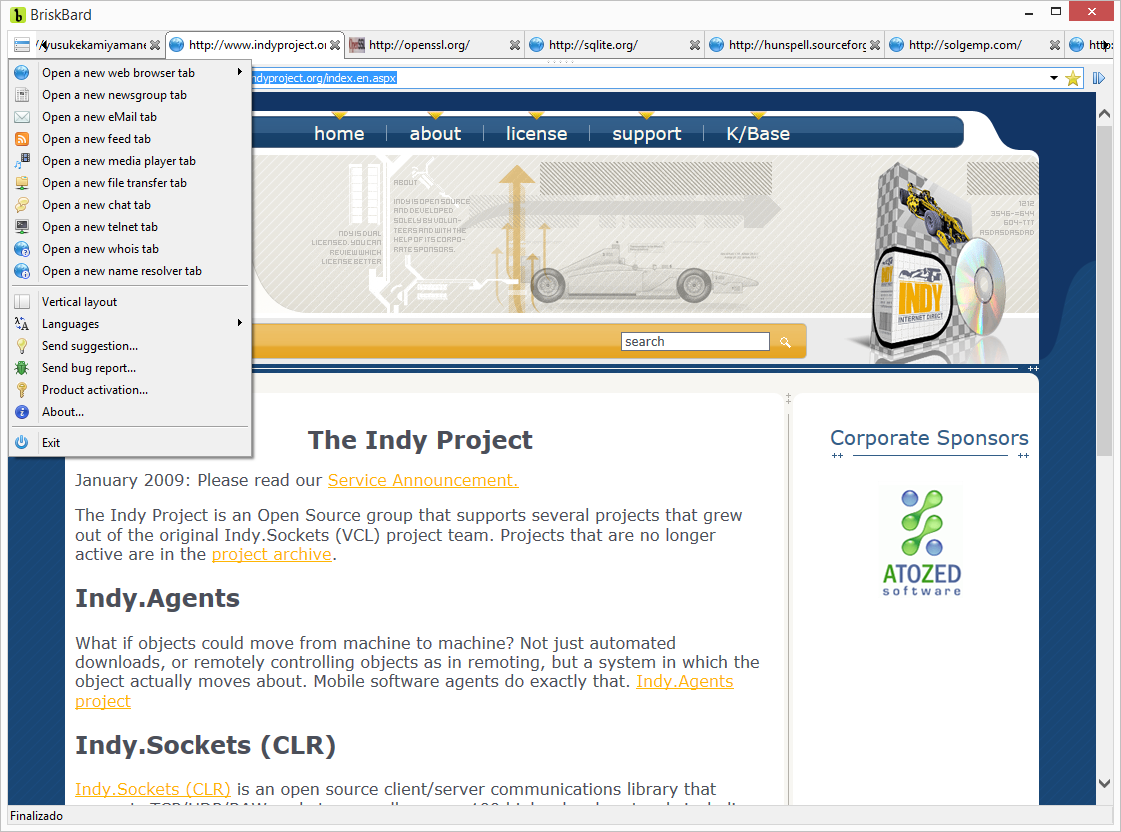 BriskBard is the new web browser for Windows program that simplifies many of the most common tasks in Internet integrating in one program a web browser, an email client, a media player, a news aggregator, a file transfer client, a newsgroups reader, a contact manager, instant messaging, and several web developer tools.
More…
ADC Sound Recorder
Version: 3.4 | Freeware
ADC Sound Recorder is freeware that you can use to record from all input lines available with your sound card. Recordings are automatically saved to a local hard drive and you can also export them easily to standard WAV sound file format.
More…
WinCD
Version: 2.71 | Shareware (EUR 15.00)
WinCD is an audio-player with a pitch control. It plays CDs, MP3, WAV, WMA and Ogg Vorbis-files. It supports freeDB and ID3-Tags. You can also grab from CD tracks and encode them into MP3.
More…
Leawo Blu-ray Player for Mac
Version: V1.9.1.4 | Freeware
Erleben Sie alle Filme auf Ihrem iMac oder Mac Book in höchster Qualität Sie möchten Ihre Blu-ray Disks auch mal auf Ihrem iMac oder Mac Book abspielen? Dafür haben Sie aber bisher noch keine passende Software gefunden? Leawo Blu-ray Player für Mac kommt Ihnen wahrscheinlich wie gerufen.
More…
Leawo Blu-ray Player for Win
Version: V1.9.3.5 | Freeware
Meanwhile, as free DVD player, it's not only a free DVD disc player, but also free DVD player to play back DVD folder and DVD ISO image file for totally free. It's also a free 4K video player to deliver extraordinary image and audio experience via 4K displays.
More…
Best Movie Player
Version: 1.55 | Freeware
Small and easy to use movie player with all basic functions + fullscreen mode and variable playing speed (0-300%, audio+video).
It plays AVI, DivX, MPEG, VCD, MP3, WMA, Vorbis Ogg, WAV and MIDI files.
More…
Leawo Blu-ray Player for Win
Version: V1.9.3.0 | Freeware
System Requirements:
1. Supported OS: Microsoft® Windows XP, Windows Vista, Windows 7, Windows 8 Windows10
2. Processor: 1 GHz or above Intel/AMD Processor
3. RAM: 512MB RAM (1024MB or above recommended)
4. Graphic Card: ATI Radeon HD 4000, Intel G45, NVIDIA GeForce 8-Series and newer recommended
5. Others: DirectX version 9.0c, Blu-ray drive, Internet Connection
More…
Leawo Blu-ray Player for Mac
Version: V1.9.1.4 | Freeware
As a comprehensive media converter suite, this Mac Blu-ray player software provides permanent free service for Mac users to play DVD discs, folders, IFO files and ISO files on Mac at no cost.
Besides playing Blu-ray and DVD movies, Leawo Blu-ray Player for Mac could also play back videos (up to 1080P included) and audios on Mac in various formats like MP4, AVI, FLV, MKV, M4V, MP3, AAC, etc.
More…
LCARS AudioPlayer
Version: 2.1 | Freeware
Player supporting mp3, wav, mod, xm, it, s3m, mtm, mo3 and CDs with different fully graphical Star Trek interfaces (Federation LCARS and Classic Movie, Klingons, Cardassians and Romulans). Additionally Features like different graphical visualizations (for example Spektra, Line Chart, Direct X Tornado), multiple playlists, MP3 tag editing, independent volume adjustment and a reduced interface (14 pixels high) are also included.
More…
GUZLE
Version: 1.0 | Shareware (EUR 14.90)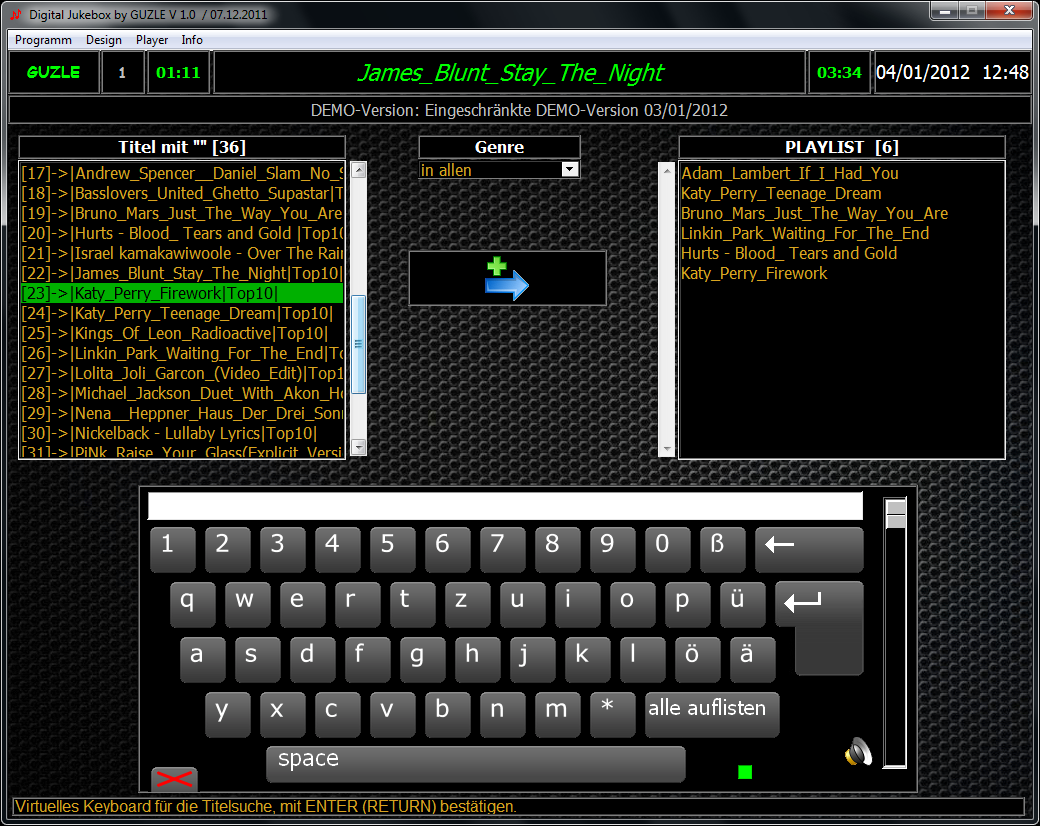 GUZLE is a digital jukebox that allows you to make your guests the choice of music of the evening itself.
The program is in cinema mode on a touchscreen, or a standard PC to run and offers many features such as event slogan, jingle, etc. import
GUZLE in bars, bistros, pubs, leisure or in your restaurant.
More…
ABC MPEG to DVD Pro
Version: 7.2.2 | Shareware (USD 29.95)
"ABC Mpeg/Mov/rmvb/DivX/AVI to DVD/VCD/SVCD Converter Pro" is easy to use and powerful for experts as well. It enables you to convert and burn any video file directly to VCD, DVD, SVCD, MPEG1 and MPEG2 format. Pro version included all the features of the lite version. In addition, it has embedded "DVD Author Express" and "DVD/VCD/SVCD Burner Engine". So it becomes an all-in-one VCD/SVCD/DVD Creator. And it has been optimized for 64 bit CPU
More…