Category System Utilities / Deletion & Recovery
DiskGenius Free
Version: 5.0.0.589 | Freeware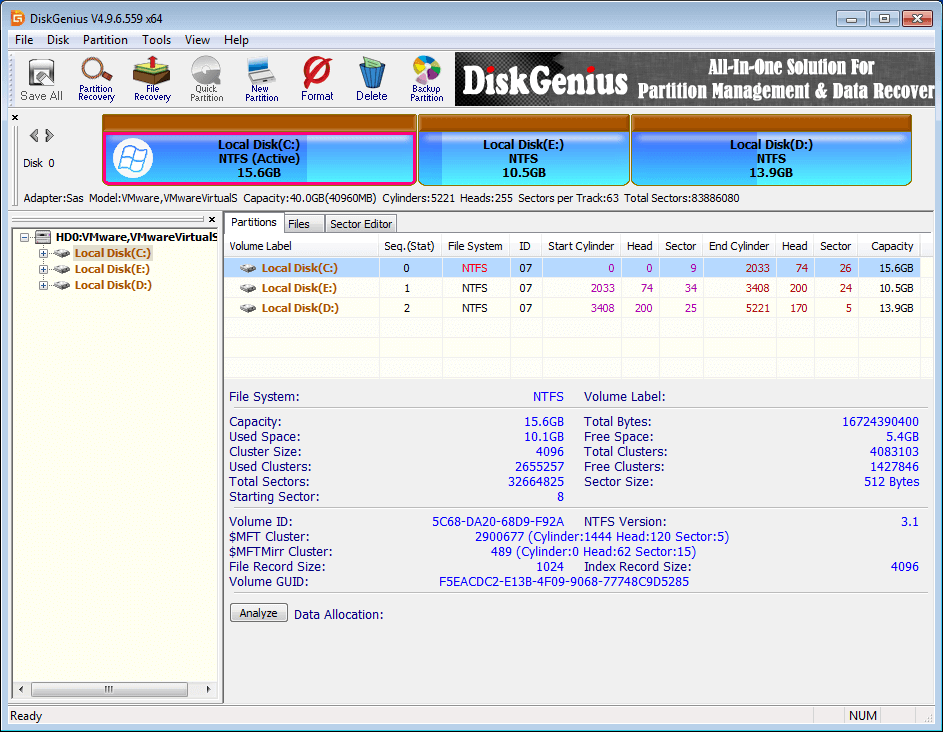 With DiskGenius, you can recover deleted and formatted files as well as recover missing or corrupted partitions. It supports RAID recovery and sector edit. Besides, PartitionGuru is a powerful partition manager program which can create, format, resize, extend, shrink and backup partition. Numerous disk utilities are provided by PartitionGuru, such as Quick Partition, Disk Clone, Permanent Deletion, etc. It's Windows 10 compatible.
More…
DiskGenius Standard
Version: 5.0.0.589 | Shareware (USD 69.95)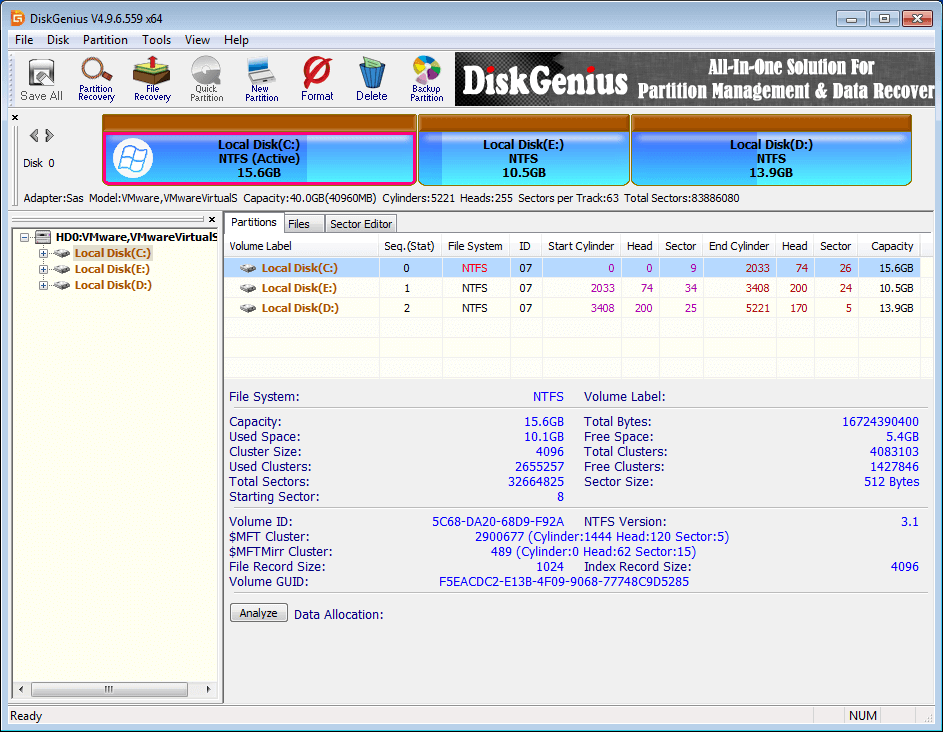 DiskGenius is an effective partition manager with particular focus on data recovery and data backup. It provides one stop solutions for your computer and server. With this tool you can recover deleted or formatted files, restore lost partitions, resize partition, rebuild MBR, backup operating system, clone disk, wipe hutilities are provided by PartitionGuru, such as Quick Partition, Disk Clone, Permanent Deletion, etc. It's Windows 10 compatible
More…
BackProtection Premium
Version: 2019 | Freeware
BackProtection gibt wertvollen Speicherplatz auf Ihrer Festplatte frei und steigert die Performance Ihres PCs. Löschen Sie sensible Daten sicher, wodurch eine Wiederherstellung mit Recovery-Tools nahezu unmöglich wird. Sie haben wichtige Daten auf einer CD oder DVD gespeichert, die aber zerkratzt ist? Sichern Sie sie mit der Datenrettung. Auch sind Dateimanagement-Funktionen, z. B. zur Dateisuche oder zum Ermitteln von MD5-Prüfsummen, enthalten.
More…
BackProtection Festplattenreiniger
Version: 12.0 | Shareware (EUR 9.99)
Im Laufe der Zeit belegen diese Dateien immer mehr Festplattenspeicher. Hier schafft der "BackProtection Festplattenreiniger" Abhilfe. Mit wenigen Klicks bereinigt er Ihre Festplatte und jedes beliebige andere Laufwerk von temporären und verwaisten Dateien, sowie auf Wunsch die Caches Ihrer Webbrowser.
More…
Leawo iOS Data Recovery for Mac
Version: V3.1.0 | Shareware (EUR 54.95)
☉ Multifunctional iPad/iPod/iPhone data recovery software for all Mac users.
☉ Extract up to 12 kinds of lost files in iPhone, iPad and iPod touch.
☉ Recover lost data from iTunes backup for all iOS devices!
☉ Get lost data back even the iOS devices are broken or damaged.
☉ Fully support iOS 8, latest iOS devices including iPhone 6/6 plus, etc.
More…
Leawo Tunes Cleaner for Mac
Version: V3.4.0 | Shareware (EUR 34.95)
☉ Detect and delete song duplicates on Mac.
☉ Get album artwork for iTunes and other music files.
☉ Download and add music tags like artist, album, title, etc.
☉ Allows manual editing of music tags.
More…
R-Wipe & Clean - Disk Wipe, File Eraser and PC privacy
Version: 5.0 | Shareware (USD 28.99)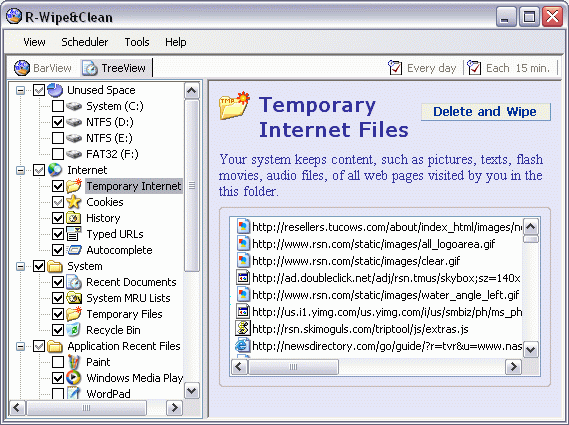 R-Wipe & Clean ist eine Lösung, mit der Daten unwiederbringlich gelöscht werden können. Mit diesem Tool können Sie Daten unwiederbringlich löschen so dass diese auch nicht mit inzwischen für Jederman erhältlichen Restore-Programmen wieder herzustellen sind.
More…
PC INSPECTOR? smart recovery
Version: 4.5 | Full version
PC INSPECTOR? smart recovery ist ein einzigartiges Datenrettungs-programm für Flash Card?, Smart Media?, SONY Memory Stick?, IBM? Micro Drive, Multimedia Card, Secure Digital Card und für alle anderen Speichermedien von digitalen Kameras.
More…
GERNOVA Clearit
Version: 1.1 | Shareware (EUR 12.00)
Mit GERNOVA Clearit können Sie Dateien vor dem Löschen mehrfach überschreiben. Auch der freie Laufwerksspeicher und komplette Laufwerke können so sicher gelöscht werden.
More…
DBScribe for Oracle
Version: 1.1 | Shareware (USD 159.00)
DBScribe ist ein Oracle Datenbankdokumentationswerkzeug, das genaue Entwicklerdokumentation jedes Details eines Datenbankdiagramms schafft. DBScribe unterstützt eine grosse Auswahl von Dokumentationsstilen und Produktionsformaten (HTML, CHM, MS Word), Meister und Interface-Linienschnittstellen, vollendet das Datenbankstruktur-Dokumentieren, alle SQL Objektarten, ihre Details und die Eigenschaften, das kundenspezifische Dokumentationsprofil.
More…
Data Cipher
Version: 1.2 | Shareware (12.00)
Data Cipher ist eine leistungsstarke, leicht zu bedienende Datensicherheitssoftware um Ihre Daten und Dateien schnell und sicher zu verschlüsseln, zu komprimieren oder zu löschen. Das Verschlüsselungsmodul beinhaltet 12 verschiedene Verschlüsselungsalgorithmen (u.a. Blowfish, Twofish, Rijndael, DES) und drei verschiedene Kompressionsalgorithmen (ZLIB, BZIB, PPM). Das Zusatzmodul "Data Shredder" überschreibt eine Datei mehrmals ...
More…
PC INSPECTOR? e-maxx
Version: 1.0 | Full version
PC INSPECTOR? e-maxx ist das neue professionelle Datenlöschprogramm von CONVAR. Durch die neuartige direkte DMA Unterstützung können Daten von Festplatten im Hochgeschwindigkeitsmodus mit Geschwindigkeiten von bis zu 3.3 GB pro Minute gelöscht werden.
More…