Category Network & Internet / Other
Total Software Deployment
Version: 2.1.0 | Shareware (USD 90.00)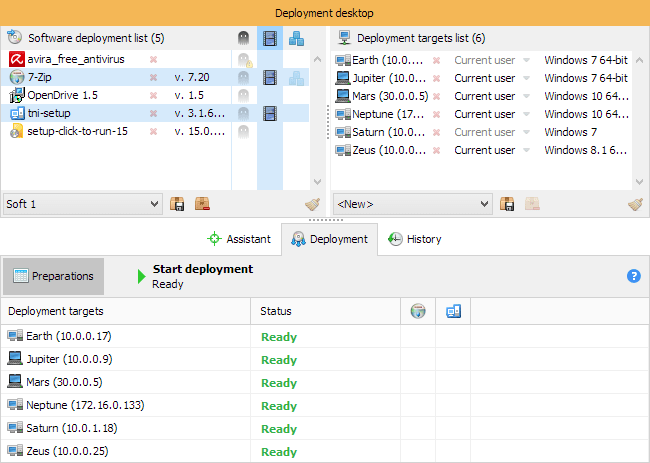 Managed software deployment for corporate networks. Total Software Deployment makes deploying software on any number of computers a blast. Software inventory management, automatic network scanning, and concurrent deployment of multiple types of installation packages make TSD a clear winner among remote deployment tools. Unlike competition, this tool supports advanced concurrent deployment, allowing to install multiple packages on multiple PCs.
More…
My WiFi Hotspot
Version: 5.0 | Freeware
The world smallest software to share your wired Internet connection from one PC to other PC or mobile devices without using a WiFi router. If you have a PC that has a wired Internet connection and a wireless network card, you can definitely let your other PC or phone or tablet access the Internet. My WiFi Hotspot software quickly turns your PC into a WiFi hot spot, and you can share your Internet connection with maximum 256 connected devices.
More…
Webcam Video Capture
Version: 6.731 | Shareware (USD 9.95)
Capture webcams, streaming video, full screen, part of the screen and even video with sound. Seeing is believing! Use it to make people witness what you want to convey through an audio-visual medium. Demonstrate product, create presentation with your own audio narration, make voiceover tutorial, or walk through a website review.There are times when sharing exactly what you see on your screen is the quickest and clearest way to communicate.
More…
Extreme URL Generator
Version: 1.4 | Shareware (USD 14.95)
Extreme URL Generator is an easy way to generate and save a list of similar URLs. It provides clean and intuitive user interface that lets you generate hundreds and thousands of URLs with just a few mouse clicks. After the URL list is generated you can save it into a text file or copy it into the Windows clipboard with another mouse click.
More…
Expired Domain Names Pro
Version: 12.0 | Shareware (USD 39.95)
Tap into expired domain names -- and grab yourself a great-sounding domain name, with existing targeted traffic, for just a few bucks! Download your copy of the program ALL the expired domain names sites use. Includes a scan-and-surf expired domain browser, short name searcher, automatic domain appraisal & more!
More…
AceaXe Plus Windows XServer
Version: 1.6 | Shareware (USD 199.00)
SSH X-Server for Windows, Secure way to run Linux and Unix on Windows Desktop. The AceaXe Plus XServer package contains both 64 and 32 bit programs that emulate the X terminal on your PC. AceaXe Plus is XServer implementation of the X11 R6 release of the X Window System. The XServer can run one or more X Window based client applications (X clients) that are resident on a host computer. The host can be any computer that supports the X protocol.
More…
BayGenie eBay Auction Sniper Pro
Version: 3.4.0.0 | Shareware (USD 19.95)
BayGenie ebay Auction Sniper Pro tracks eBay auctions and automatically places bids in the last seconds of auctions. Features: integrated browser * supports bidding groups * supports 16 countries of eBay global sites * eBay login integration * supports all time zones * Auto sniping lead time * SMS notifications to mobile phone * multi-user support * configurable columns * secure connections (ssl) * no spyware, pop-ups, or adware * free upgrades
More…
cFosSpeed
Version: 10.22 | Shareware (EUR 15.90)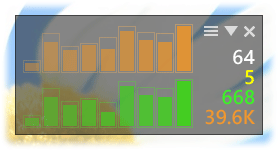 cFosSpeed - Internet Acceleration with Traffic Shaping + bandwidth management. Ping optimizer + packet prioritization. Maximum Download & Minimum Ping. For DSL, Cable, Modem, ISDN, Mobile, Filesharing (P2P), Online Games, VoIP, Streaming Media and Tuning More features: Prioritization - self-calibrating - Layer-7 Analysis - Firewall - auto router detection - optimal Dial-Up connections - VPN - WLAN - MTU-Optimization - Multi User Features - RWIN
More…
Email Spider
Version: 2.5 | Shareware (USD 69.95)
Advanced and powerfull tool for extracting email, page title, page URL from website, popular search engines (google, altavista, excite, yahoo, infoseek etc.) using keywords for targeted consumer, internet marketing, website promotion, list management and research.
More…
Briz RSS Reader
Version: 1.00 | Shareware (USD 19.95)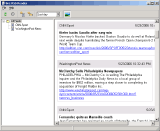 Briz RSS Reader is an easy-to-use news reader for MS Windows. It allows you to subscribe to, download and read desired RSS/Atom feeds. News feeds can be aggregated to display all the items in the one news line.
More…
OE Duplicate Remover
Version: 1.6.0 | Shareware (USD 19.95)
If you use Outlook Express for your personal or business mail you will, no doubt, have encountered duplicate email messages. The "Outlook Express Duplicate Message Remover" will automatically find and remove duplicate messages. The OEDMR will (a) find duplicate messages in any folder or group of folders; (b) match messages based on mulltiple conditions; (c) search by date or date range; (d) display, delete, or move the duplicates.
More…
WatcherBIN
Version: 1.04.24 | Shareware (EUR 19.95)
More…