Category Development / C | C++ | C#
C# PDF
Version: 5.2.0.1 | Shareware (USD 399.00)
The C# PDF Document gives code samples and directions on the most proficient methods to utilize the principle capabilities and settings of the IronPDF C# PDF Library. C# PDF is the creator / generator / convertor / editor library for C# or VB.Net. IronPDF enables you to create PDF documents from C# web, desktop or console .Net applications. Support and licensing information and questions https://ironpdf.com/docs/
More…
The C# PDF Library
Version: 5.2 | Shareware (USD 399.00)
IronPdf include a C# .Net HTML To PDF function which allows c# developers to generate PDF files from any HTML content - by URL or string HTML. This includes support for CSS, javascript and ajax. IronPDF also has a unique feature called ASPX to PDF. Used in a Microsoft Web forms web application this allows any ASPX webpage to export to PDF. Github examples. https://ironpdf.com/ for documentation and tutorials. Commercial Licensing available.
More…
jk-ware Multimedia-Projektworkspace
Version: 4.0 | Shareware (EUR 59.90)
We offer our Multimedia-Projectworkspace for Visual C# developers for the further development of their own products. The Workspace needs Visual Studio Community and contains all source files for the construction of a form administration for the Windows-CLR. The resulting program manages the forms of an application and a base program. The Workspace consists of five projects. The source code contains multithreading and the award of license files.
More…
Extensibility Studio
Version: 3.0 | Shareware (USD 699.00)
Extensibility Studio is a complete solution allowing to extend your .NET application with user-defined logic. It provides set of tools allowing users of your applications to write code for mini-programs (scripts) to enhance existing or define new logic by accessing and manipulating application objects, build visual user interfaces for these scripts and debug them with fully-featured debugging engine.
More…
EaseClouds Virtual File System SDK
Version: 2.1.1.2 | Shareware (USD 499.00)
Cloud-based completed virtual file system integrates cloud files with the local file system.Accessing the cloud file is fast and easy, is transparent to the users and applications, no modification needed, just like accessing the local files. Best Cloud-Based Disaster Recovery Solution,zero downtime for the disaster recovery, automatically fail over the local storage to the cloud storage if disaster strikes, your business won't be interrupted.
More…
Add-in Express 2007 for VSTO
Version: 2008.4.0 | Shareware (USD 349.00)
Use visual designers of this component set to create professional extensions for Microsoft Office in VSTO 2005 (SE) and VSTO 2008. Enjoy lots of advanced features: customize Office 2007 Ribbon UI and Office 2003 toolbars at design-time, add elements to Ribbon tabs, the Quick Access Toolbar and Office Menu and validate the resulting Ribbon XML in no time. C# and VB.NET are supported. Read more at http://www.add-in-express.com/add-in-vsto/
More…
Toolbar Controls .NET for Microsoft Office
Version: 1.0 | Demo (USD 199.00)
This component allows developers to add any visual .NET controls onto Microsoft Office applications' toolbars at design-time. You can create feature-rich toolbars of Outlook, Excel, Word, PowerPoint. Supports Visual Basic .NET, C#, C++ .NET, J# in Visual Studio 2003 and Visual Studio 2005. Toolbar Controls for Microsoft Office gives .NET developers new possibilities to create advanced GUI of Microsoft Office COM add-ins.
More…
ADX Extensions for Outlook
Version: 1.0 | Freeware (EUR 119.00)
It allows you to embed your .NET and VCL forms into Outlook custom forms and Outlook folder views. You can use any feature-rich .NET forms, controls and components (such as grids, editors and tree-views) and embed them into the Outlook Explorer and Outlook Inspector windows like form regions provided by Outlook 2007. It supports Outlook 2007, 2003, 2002 (XP) and 2000 with or without any service packs. Read more on http://www.add-in-express.com/
More…
MouseImp Pro Live! Source Code
Version: 0.0.0.0 | Freeware
Please feel free to download and use MouseImp Pro Live! source code. The source lacks MouseImp Pro?s copy protection and some other trialware/evaluation stuff from the commercial version. The source code can be compiled under Microsoft Visual C++ 6.0 SP5. Installation wizard is made with Wise Install Builder 7.04. Volunteer developers are highly welcome!
More…
Spices.Net Obfuscator
Version: 5.17.4.3 | Shareware (USD 399.95)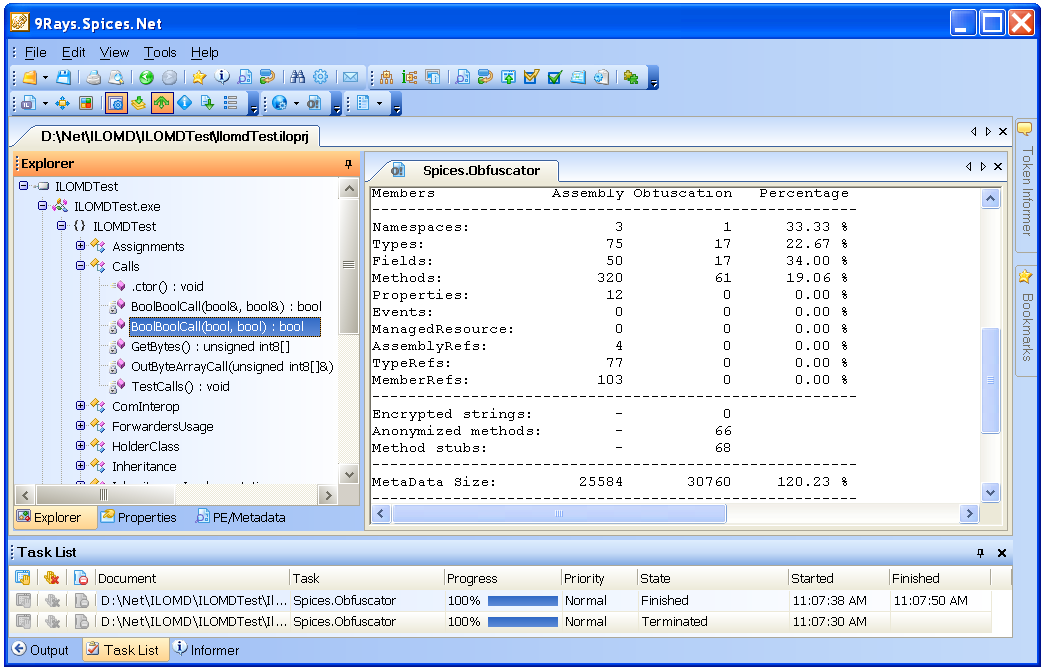 .NET Obfuscator - efficient and easy of use .Net obfuscation tool that protects your .NET software from hackers, competitors, and prying eyes by preventing unauthorized use, code tampering and reverse engineering.
More…
Install Package IronPdf
Version: 4.4.5 | Shareware (USD 299.00)
Install-Package IronPdf allows developers to generate, merge, split and read text & picture content from within C# / ASP.net applications and websites. https://www.nuget.org/packages/IronPdf/ The Iron PDF library makes it simple to make PDF documents by not relying upon bespoke APIs. 'Html-To-Pdf' renders PDFs utilizing open standard archive designs: HTML, JS, CSS, JPG, PNG, GIF, and SVG.
More…
MetaLib
Version: 5.0 | Shareware (EUR 59.95)
The MetaLib SDK includes functions for reading, writing, editing, inserting, sorting and deleting MetaStockTM price data. It is perfect for software developers wanting to create powerful add-on modules for MetaStockTM users. You have no complexities of accessing MetaStockTM data files from your program. As a result, your development time will be shorter.
More…