Category Security & Privacy / Covert Surveillance
BlazingTools Perfect Keylogger
Version: 1.99 | Shareware (USD 34.95)
Perfect Keylogger is a covert surveillance app created for everybody! With this key logger you can receive their keystrokes, chats, websites, screenshots, webcam snapshots and more directly to your email. Remote user activity monitoring - as easy as never before! Works great on latest Windows 11. Attention: you may need to configure your security software to approve this app by adding it to Exclusions. Password for the file = open
More…
Perfect Keylogger for Mac Pro
Version: 3.0 | Shareware (USD 46.95)
Perfect Keylogger is a new activity monitoring app for macOS. It will record everything user does on a Mac to review later. Updated for macOS Mojave!
More…
Perfect Keylogger for Mac Lite
Version: 1.6 | Freeware
Perfect Keylogger for Mac Lite is a high quality free keylogger for Apple macOS. It records user activity on a Mac (including keystrokes, chats, websites and screenshots) to review everything later. This free monitoring software for Mac would be very useful for concerned parents or spouses.
More…
TheOneSpy Windows Monitoring Software
Version: 1.0 | Shareware
TheOneSpy windows monitoring software is to spy on windows desktop computers and laptop devices. Install TheOneSpy to Track GPS location, keystrokes logging, and monitor browsing history, check installed apps, and take screenshots of targeted windows computer / laptops activities. The windows software is fully featured all the necessary monitoring needs of parents and corporate sectors. It is 100% compatible with the Windows 7,8.
More…
1st Email Security
Version: 5.261 | Shareware (USD 69.00)
When you send email messages, Internet Service Providers (ISP) usually store the messages on their mail servers before they try to deliver them. This can be a major risk for you because your relevant information can be viewed and printed on that end, and someday used against you. Email Security sends your email messages directly to recipient mailboxes without leaving any traces on the Internet.
More…
Classroom Spy Professional
Version: 4.2.2 | Shareware (USD 99.95)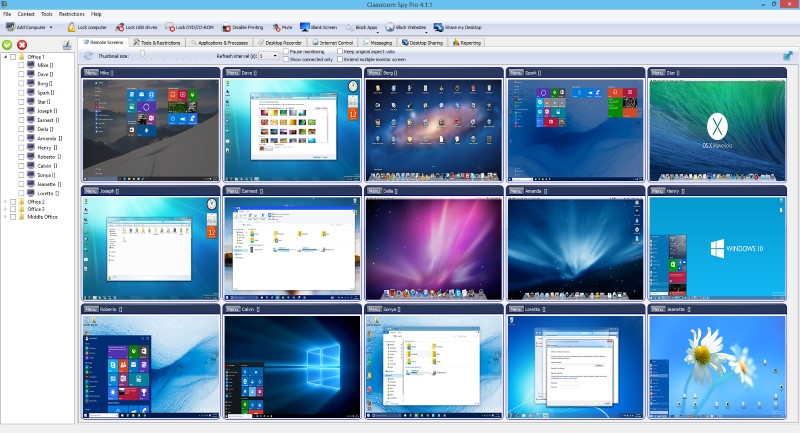 A simple and powerful classroom management software that allows you to see live screens of student computers or show you screen to students. You can take control of a remote computer by controlling the mouse and keyboard. Additionally you can also record student's screens. Several tools allow you to turn off, restart, hibernate.... remote computers with one click. Starting program on remote computers is easy.
More…
Wiretap Professional
Version: 6.0 | Shareware (USD 49.95)
Wiretap Professional Stealth PC monitoring software lets you capture and record virtually everything on a PC including: all keystrokes typed, passwords entered, incoming & outgoing emails, instant messages (AIM/ICQ/MSN/Yahoo), all websites visited, apps started and more! Screenshot feature let's you see exactly what the user's desktop looks like at any time! Plus, email or ftp the logs & screenshots to anywhere in the world. All in total stealth!
More…
LanAgent Standard
Version: 4.3.15 | Shareware (USD 49.90)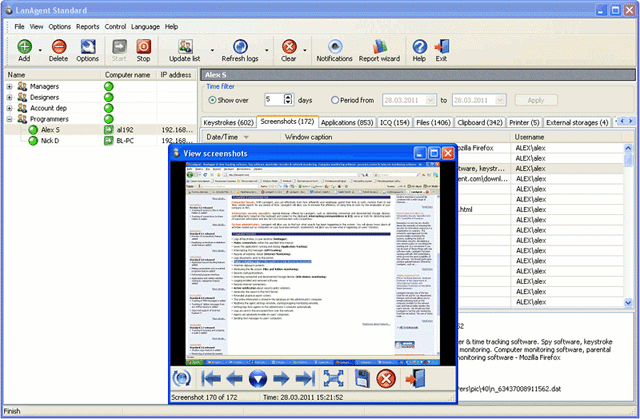 LanAgent is a smart tool to monitor all actions of a remote computer user. The program records various kinds of data, which will be sent to you on your first request: keystrokes; connections established; websites visited; programs, files or directories opened; clipboard contents and so on. A detailed report on a specified time period is always available to you, yet the program is absolutely invisible to this remote user.
More…
SpyMyPC PRO
Version: 5.6.21 | Shareware (USD 49.95)
An ideal spy software package to monitor online and offline computer activities. This computer monitoring software runs invisible and records what your employee, child or other users do on the computer. The completely invisible and hardly traceable key logger will tell you when, how and what they did on the Internet. The program can send you reports via e-mail. You will have access to all e-mail written by your kids and all their passwords.
More…
SpyMyPC
Version: 5.0.3 | Demo (USD 29.95)
SpyMyPC Keylogger is a covert surveillance tool made for everybody! With this key logger you can receive their keystrokes, IM chats, websites, passwords by email. Covert remote surveillance - as easy as never before! Some applications of the keylogger: parental control; stealth monitoring of your spouse, internet friends etc. It is virtually undetectable. SpyMyPC Keylogger can be used locally and/or remotely. Monitor any PC from anywhere!
More…
StatWin Professional
Version: 9.0 | Shareware (USD 59.00)
StatWin Professional lets you monitor and analyze all aspects of computer performance and user activity, such as system start and shutdown time, running processes and applications, visited websites, access to shared resources from LAN, printer usage. It can also capture keystrokes, mouse clicks and screenshots. Also the user can schedule time slots within which a user can run applications and also set the reaction to specific actions of the user.
More…
Secure Clean PC
Version: 2.4 | Shareware (USD 59.00)
When you work on your computer it records the information traces of all your actions which may be used against you. When you log in next time, you don't need to type again the user names, passwords, credit card information, and so on. The information that you may consider as confidential is kept on your computer unprotected and may be recovered by people with some minimal computer knowledge. Remove unwanted evidence from PC for security!
More…