Category Network & Internet / Browsers
BriskBard
Version: 1.9.0 | Freeware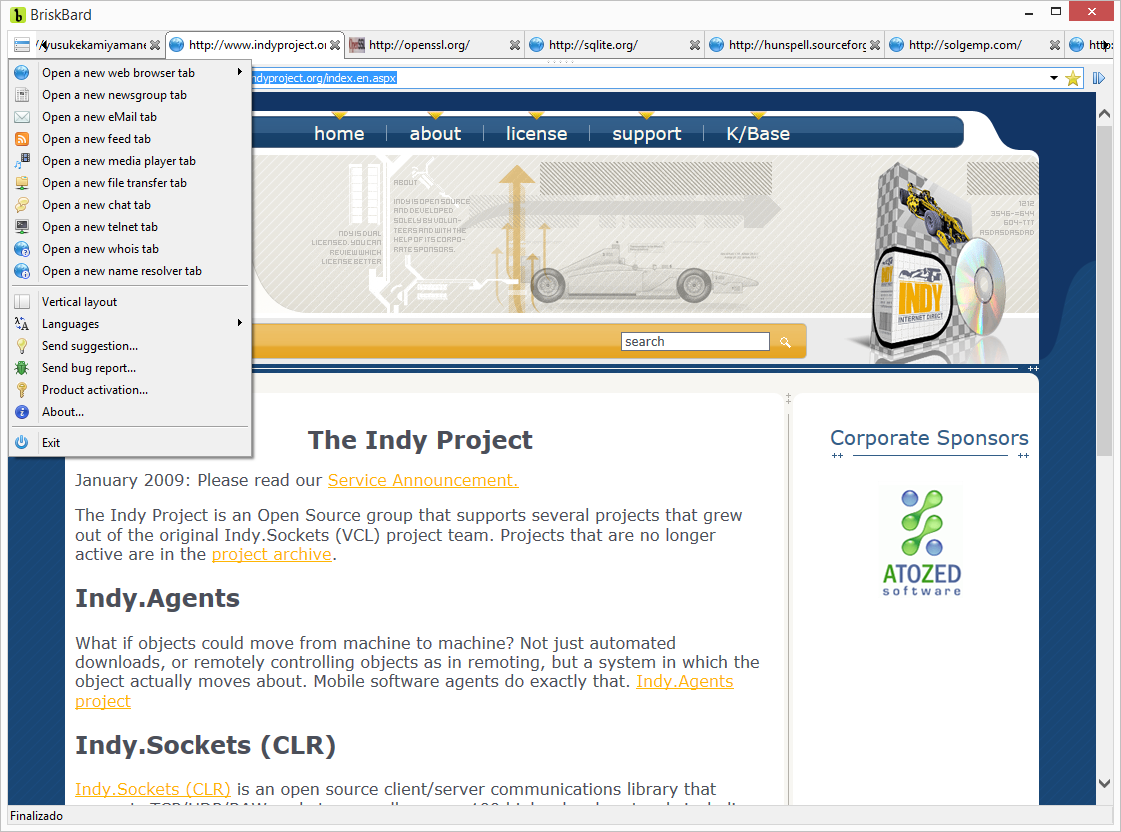 BriskBard is the new web browser for Windows program that simplifies many of the most common tasks in Internet integrating in one program a web browser, an email client, a media player, a news aggregator, a file transfer client, a newsgroups reader, a contact manager, instant messaging, and several web developer tools.
More…
Maiar
Version: 76.0.1.21.0 | Freeware
Maiar is a blazing fast, privacy first browser for the modern web. It loads major web sites 2 to 8 times faster than Chrome and Safari. Tired of online ads? Maiar can block ads for you without any add-ons or extensions. Privacy and security are something you should expect by default. Thats why features to help protect your privacy and keep you secure are built into Maiar. Maiar blocks the software and trackers that follows you around.
More…
Jobjob.org Job Sarch Toolbar
Version: 1.2 | Freeware
Find your dream job. The Jobjob.org Job Toolbar allows you to see jobs from multiple sources, all in one place. The Jobjob.org Toolbar also includes RSS Feeds for up-to-the-minute job listings and Podcasts for Career advice/Job Tips.
More…
VIWeb
Version: 2.0 | Demo (EUR 9.00)
- you can open and hold a lot of Internet Sites together;
- you can select a texts from any Internet Pages and save it to a realy MS Access Database as your Notes;
- every Note has a Date, Theme, Internet-address, Comment and Text fields;
- you can find all Notes in the Database by a part of phrase.
- you can add a "Theme" for every Note and than group the Notes by that Theme;
More…
Source Code Browser
Version: 2.1 | Shareware (USD 14.95)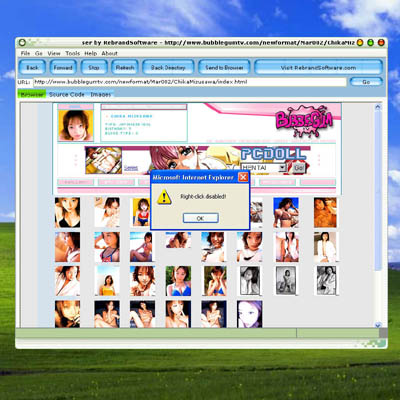 Don't you hate those webpages that try to prevent you from viewing their source code or saving images by disabling Right-Click? Now you can view the source of any webpage, as well as save any image from a webpage, using this source browser software!
More…
Link Commander Lite
Version: 4.6.4.1158 | Shareware (EUR 25.00)
With Link Commander, you can keep all your bookmarks in the same browser-independent collection. The program supports virtually any modern browser. Make searches through your collection of bookmarks, and synchronize your collection of bookmarks between different browsers and computers. Easily backup your collection and protect it with a password. Automatically validate links, check duplicates, retrieve icons and additional info from sites, etc.
More…
Forum Promotion Suite
Version: 2.3 | Shareware (USD 19.95)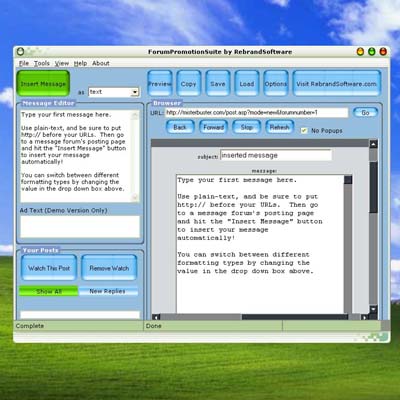 Help promote your website, product or service through messageboards. Automatically insert your messages into messageboard posting forms, formatted in any of several different message board posting formats. Even track your posts for new replies!
More…
27 Tools-in-1 Wichio Browser
Version: 5.10 | Shareware (USD 29.00)
Multi-page browser with built-in 27 utilities: Email Alert, Web Update Alert, Private URLs, Lyric Finder, Block pop-up, Screen capture, Download Manager, IP-URL Checker, Keep Connection Alive, Talking Reminder, Web Translator, etc. It is easy to use with 1 button for 1 utility, right-clicking it to set its options. If you install the MS speech engine, it will notify you (for the features that give notifications) by speaking anything you want.
More…
SurfOffline
Version: 2.2.0 | Shareware (USD 39.95)
SurfOffline is a convenient offline browser with easy-to-use interface and navigation. Capable of downloading up to 100 files simultaneously, this application can save a website to your hard drive completely or partially in just minutes. Another important feature is a wizard like interface that enables the users to quickly set up downloading rules. Importantly, the program supports HTTP, HTTPS, FTP, proxy servers, CSS, Flash and JavaScript.
More…
Online News Screensaver
Version: 1.50 | Shareware (USD 14.95)
Online News Screensaver is a unique and informative screensaver tool that delivers the latest news, weather forecast and stock quotes right to the screen of your computer. If you have a direct Internet access, the screensaver will keep bringing you the news reports continuously. And since Online News Screensaver is fully customizable, you decide what kind of information you want to receive - Top News, Entertainment, Technology, Sport, etc.
More…
AdBeGone
Version: 1.2.0 | Shareware (USD 19.99)
Eliminates annoying pop-up advertising from opening up on your computer as you surf the Internet. It integrates directly into Internet Explorer, and works in the background... increasing your productivity, and easing your frustration. Adbegone is full-featured with everything you would want from a pop-up blocker, while making sure it never gets in your way.
More…
Abolimba Multibrowser
Version: 6.01 | Freeware
Abolimba Multibrowser is a powerful web browser that can display many web pages within one window. The web pages are displayed in individual tab pages, which provides for a comfortable and clear surfing experience. Compared to other web browsers Abolimba Mutlibrowser ships with numerous additional features, such as Favorites Groups, Ad Blocker, URL Shortcuts, Meta Search and Popup Killers, Page Translation and many more.
More…