Category Security & Privacy / Access Control
Program Protector
Version: 4.11 | Shareware (USD 29.95)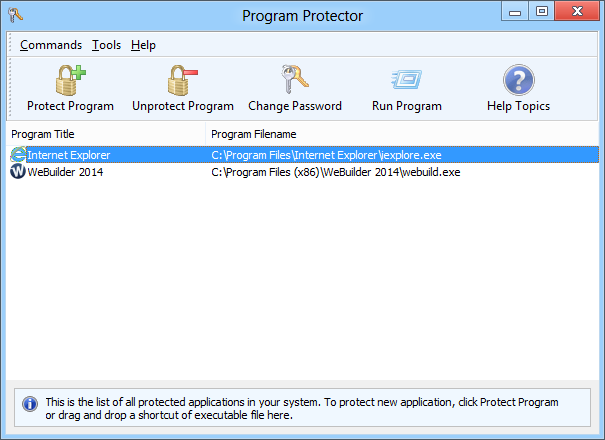 Program Protector is unique, state of art security utility that allows you to password protect programs. You can easily password protect any Windows application. Program Protector is very easy to use and does not require any special computer knowledge.
More…
Surfblocker
Version: 5.8 | Shareware (USD 39.95)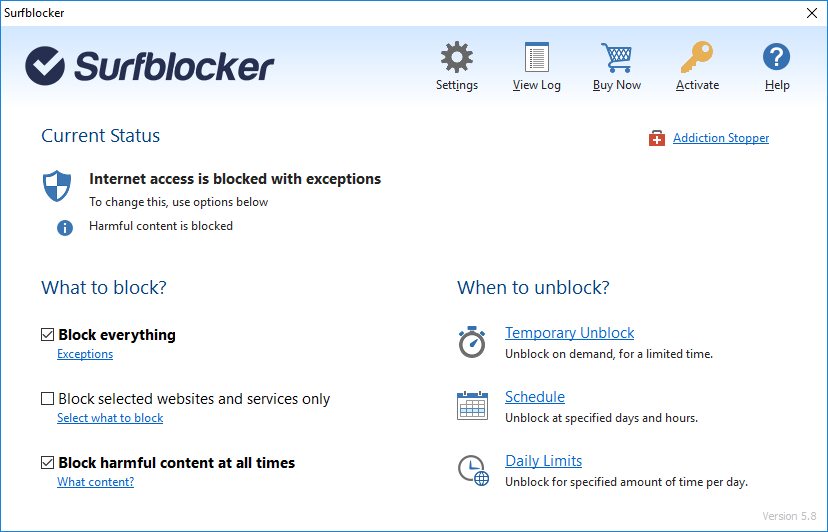 Restrict Internet access at specified times or on demand. Block harmful content, disable connection completely or limit Internet to work with allowed programs and services only! To fully enable or manage Internet access, a password must be entered. Easily schedule Internet availability. Timer allows you to disable Internet connection after specified amount of time. Keep kids away from Internet harms and employees away from online entertainment.
More…
1st Disk Drive Protector
Version: 10.0 | Shareware (USD 39.00)
Protect your PC from abusive use of removable media and enforce whether your users are allowed to use removable media or access your local drives. This software lets you hide, lock and prevent usage of local, network, Floppy and USB drives as well as disable the AutoRun feature for them. If you hide and lock all the drive letters you do not normally use, you will prevent any inserted removable media from appearing and being accessible in My Compu
More…
1st Desktop Guard
Version: 10.0 | Shareware (USD 39.00)
Tired to lose your desktop icons and get them rearranged? Tired to roll back your desktop wallpaper and screen saver after other users you share your PC with? Want to secure your public access computers? 1st Desktop Guard lets you save, restore, manage and lock desktop layouts including placement of desktop icons, wallpaper and screen saver.
More…
1st Security Administrator
Version: 14.01 | Shareware (USD 69.00)
Protect PC, restrict access to Windows applications, password-protect boot, apply access restrictions to PC, protect your privacy, deny access to Control Panel, disable interruption boot keys, context menus, DOS, Registry editing, Internet and network access. Hide desktop icons, disk drives, Start Menu items, taskbar, task manager, tray icons. Apply password protection to Windows, control Internet, spy on PC users.
More…
CD-DVD Lock
Version: 3.04 | Shareware (USD 29.00)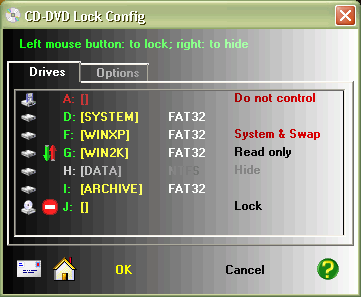 CD-DVD Lock is intended for restricting read or write access to removable media devices such as CD, DVD, floppy and flash, as well as for restricting access to certain partitions of hard disk drives. CD-DVD Lock will allow you avoid many of headaches connected with unauthorized software installations from any removable media, and also prevent data leak by removable media.
More…
1st Screen Lock
Version: 10.0 | Shareware (USD 69.00)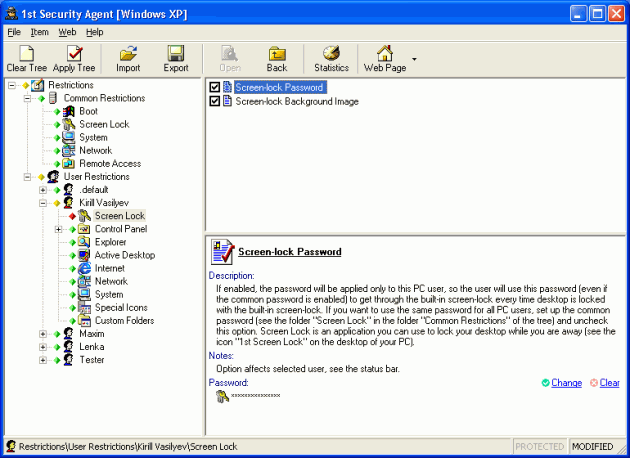 1st Screen Lock is a password-protected desktop security utility that lets you lock your desktop with a password on boot, or at the time you are leaving your PC. You can use the built-in spy utility that works in background and enables you to spy on your PC users by fixing all user moves in a log file. This is very useful, when you need to know what your children or personnel do at the time you are away.
More…
1st Network Admin
Version: 3.3 | Shareware (USD 59.00)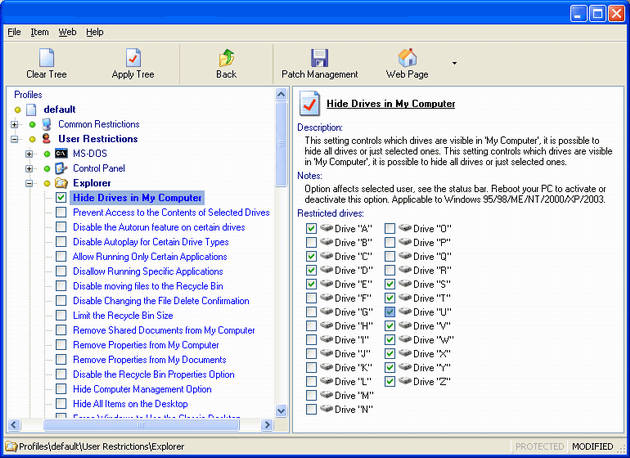 Comprehensive protection for Windows-based network workstations under a public environment. It lets you restrict access to every corner of PC workstation, apply executable patches remotely, and schedule reboots, shutdowns, and Windows Explorer restarts from a single administrator's computer connected to a TCP/IP-based network or Internet. In total, 1st Network Admin supports over 600 different security restrictions, options and tweaks.
More…
Internet Kiosk Pro
Version: 7.7 | Shareware (USD 69.00)
Internet kiosk public access PC software to restrict access to system; allow only certain applications and features such as Internet Explorer. Limit access to the PC desktop using authentication by username and password, time-locked serial number to allow user to access PC for a given period of time only or by a combination of both. The best solution for Internet cafes, public libraries, information terminals, home PCs to limit childrens
More…
Corporate Network Security
Version: 3.3 | Shareware (USD 59.00)
Network-based security software used for protecting PC workstations over a network. Impose access restrictions to network PC workstations, execute patches remotely, and schedule reboots, shutdowns, and Windows Explorer restarts. The software supports over 600 different security restrictions and tweaks that let you restrict access to almost every corner of Windows.
More…
Outlook Express Protector
Version: 2.394 | Shareware (USD 29.00)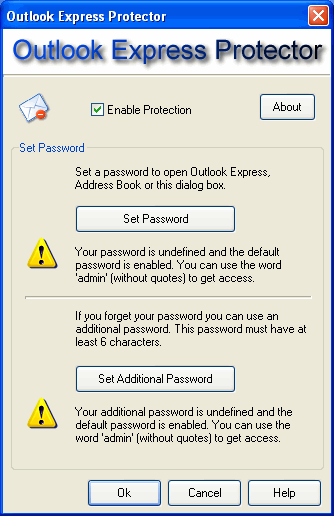 Control access to Outlook Express and its e-mail and address data bases with Outlook Express Protector. When it is active, no programs can get access to the files and nobody can steal or spoil your data. When you try to start Outlook Express or open Address Book, the program requests you to enter a password to grant access. If a user does not enter a valid password or cancels the authentication dialog box, OE will not be opened.
More…
Public PC Desktop
Version: 7.72 | Shareware (USD 69.00)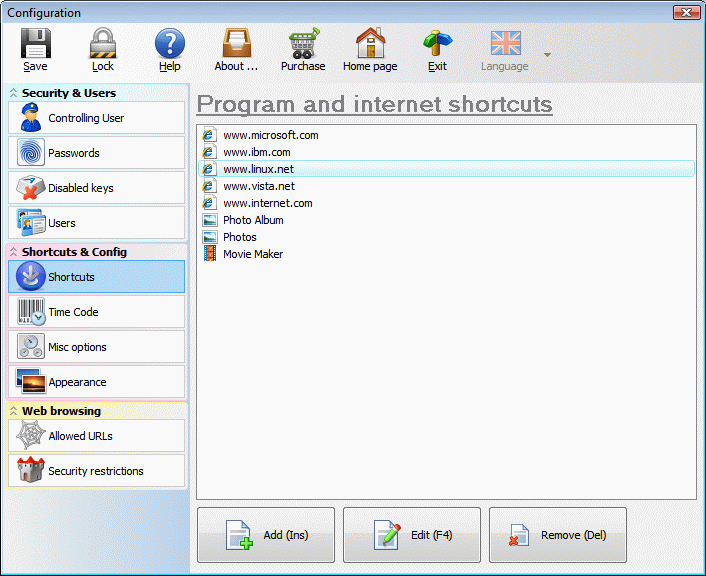 Setup an Internet kiosk or a public access PC; disable access to vital files and allow only necessary applications to be run including Internet Explorer. Lock access to the desktop using username and password authentication, time-locked code (allows users to access PC for a given period of time only) or a combination of both. The program is ideal for public libraries, Internet cafes, information terminals or homePCs to limit childrens
More…