Category Development / C | C++ | C#
Install Package IronPdf
Version: 4.4.5 | Shareware (USD 299.00)
Install-Package IronPdf allows developers to generate, merge, split and read text & picture content from within C# / ASP.net applications and websites. https://www.nuget.org/packages/IronPdf/ The Iron PDF library makes it simple to make PDF documents by not relying upon bespoke APIs. 'Html-To-Pdf' renders PDFs utilizing open standard archive designs: HTML, JS, CSS, JPG, PNG, GIF, and SVG.
More…
MetaLib
Version: 5.0 | Shareware (EUR 59.95)
The MetaLib SDK includes functions for reading, writing, editing, inserting, sorting and deleting MetaStockTM price data. It is perfect for software developers wanting to create powerful add-on modules for MetaStockTM users. You have no complexities of accessing MetaStockTM data files from your program. As a result, your development time will be shorter.
More…
Add-in Express for Office and .NET
Version: 2010 | Shareware (EUR 303.09)
All-in-one platform for developing any types of Office extensibility projects, including COM add-ins, smart tags, RTD servers and user-defined functions for Microsoft Office 2010 - 2000. Create application-specific plugins and shared extensions that work on all end-user applications: Outlook, Excel, Word, PowerPoint, Visio, Project, MapPoint, Publisher, etc. in C#, VB.NET, C++ and Delphi Prism. More info: http://www.add-in-express.com
More…
TRichView for C++Builder
Version: 16.15.7 | Shareware (EUR 310.00)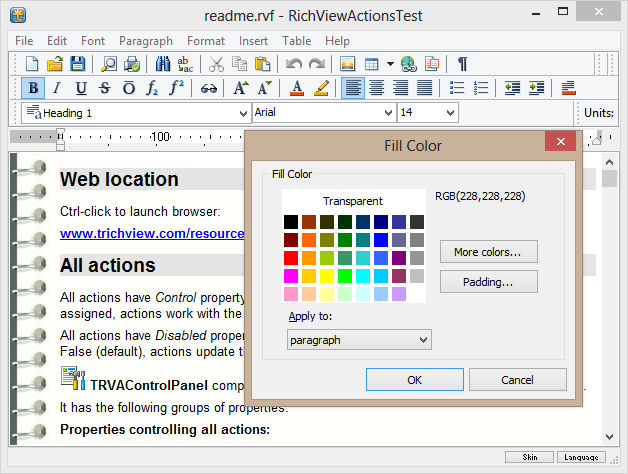 Delphi/C++Builder components for displaying, editing and printing hypertext documents. Documents can contain text with various character attributes, tables, pictures, any Delphi controls. Left, right, center or justify alignments of paragraphs, custom margins and indents, background images, print preview, export to DocX, HTML, RTF import and export, live spell, data aware versions and more. + WYSIWYG and reporting add-on components.
More…
Turbo-Locator x86
Version: 6.01 | Shareware (EUR 29.90)
Code relocator for processors x86, NEC V25, V40, V50, Am486, AMD SC400 etc. Uses output of Turbo/Borland C++, Turbo/Borland Pascal and TASM. Suitable for x86 compatible embedded systems und industrual / flat / raw / ROM / BIOS PC applications.
More…
C# CSV Reader
Version: 1.0.0 | Shareware (USD 89.00)
C# CSV Reader is a .NET library that allows c# and vb.net developers to add csv parsing capabilities to .NET solutions rapidly. CSV Files are still a popular way of exchanging data, and this library will allow you to read a variety of different formats in a breeze, saving you the time of developing and debugging from scratch. http://datamigrationlab.com/
More…
Oxetta Report Generator
Version: 1.4 | Freeware
Report generator for C/C++ applications with printing and print preview support. Includes nice graphical report builder, compact runtime that should be distributed with your application and a sample application with full source code. Supports both ANSI and Unicode programs, can retrieve reporting data from your database thru ODBC and directly from your application by using a callback function. Free for commercial and non-commercial use!
More…
Lingobit Extractor
Version: 1.1 | Shareware (USD 195.00)
Lingobit Extractor extracts hardcoded strings from C++ sources. It replaces hardcoded strings with a code template that loads them from resources and creates resource file with extracted text. For example, printf(L"Hello, world!"); will be automatically replaced with printf (_LS(IDS_HELLO)); where _LS is a function that loads string from resources, IDS_HELLO is an automatically generated ID for string that were placed into resource script file.
More…
Graybox OPC DA Auto Wrapper
Version: 1.3 | Freeware

The fundamental design goal is that OPC DA Auto interface is intended to work as a 'wrapper' for existing OPC Data Access Custom Interface Servers providing an automation friendly mechanism to the functionality provided by the custom interface. Graybox OPC Automation Wrapper is the DLL-module, in which all of the needed OLE-objects are implemented.
More…
Falco Free XLS Library
Version: 9.2 | Freeware
Free Excel Library for Saving/Loading. VC++. Delphi.
More…
Visual Studio 2003 Makros
Version: 1.0 | Freeware
Eine Sammlung von Makros für die Visual Studio 2003 - 2008 Entwicklungsumgebung. Diese Makros habe ich ursprünglich für Visual Studio 2003 entwickelt und sind 'C++ lastig'. Die meisten funktionieren im Prinzip ebenso mit Visual Studio 2005 bis 2008. Allerdings sind die meisten Funktionen durch Standardfunktionen von Visual Studio 2008 nicht mehr erforderlich. Wenn Sie eigene Makros schreiben möchten, könnten diese als Ideengeber helfen.
More…
Visual Studio Makro Code Duplication
Version: 1.0 | Freeware
Trotz guter Unterstützung bei Routinearbeiten durch moderne IDEs bleiben zeitintensive Arbeiten, die von Hand zu erledigen sind. Z.B. jede Art von sich wiederholenden Codessequenzen. Das geht einfacher mit meinem Makro. Schreiben Sie in Ihrem Modul ein 'Vervielfältigungsmuster' und den Code für das erste Element, markieren Sie die Zeilen und führen Sie den Makro aus. Heraus kommt eine vollständige Codesequenz für alle definierten Elemente.
More…