LastBit Password Recovery
TrafMeter
Version: 8.4 | Shareware (USD 69.00)
TrafMeter is a powerful traffic accounting and Internet sharing tool for Microsoft Windows. Using TrafMeter, you can make flexible and precision measurement of the traffic by any condition (for example, IP address of source/destination, protocol, port and etc) in real-time with immediately output of the collected statistic to graph or other reports.
More…
Absolute Password Protector
Version: 1.0.547 | Demo (USD 29.00)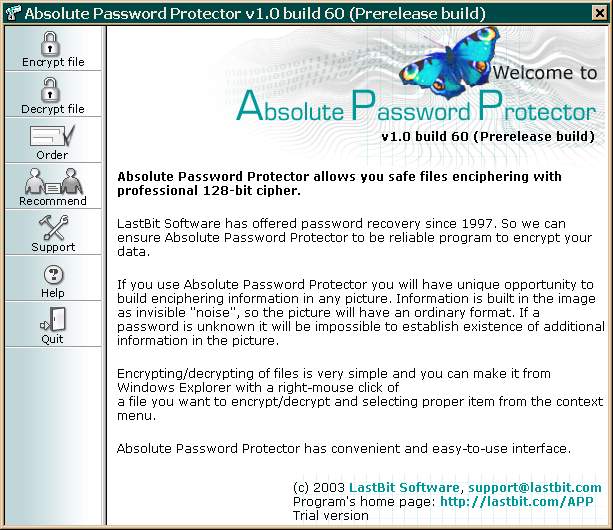 There are a lot of password protection utilities on the market today that promise a secure storage for your files. Unfortunately, simple password protection techniques do not guarantee safety and passwords are easily recovered. Absolute Password Protector offers a brand new level of security using strong encryption algorithms to encrypt your files. Program hides sensitive data in pictures and encrypted files can be safely transferred via e-mail.
More…
Alien Registry Viewer
Version: 3.6.660 | Shareware (EUR 49.00)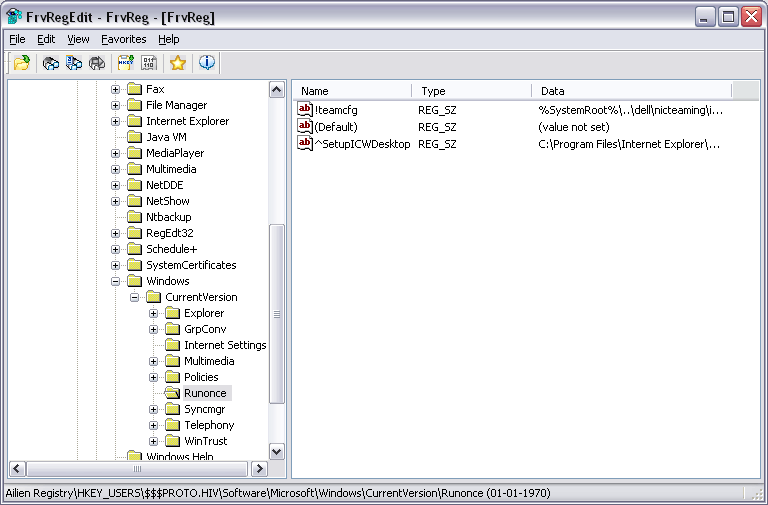 Alien Registry Viewer is similar to the RegEdit application included into Windows, but unlike RegEdit, it works with standalone registry files. Alien Registry Viewer works with registry files copied from other computers. Program is as fast as possible searching through the entire registry takes just 2 sec compared to RegEdit, which takes minute and can be extremely useful for system administration and forensic computer examination purposes.
More…
CovertMail
Version: 2.0.384 | Shareware (USD 29.00)
CovertMail for Outlook Express helps keep your emails private. It provides complete privacy of your message store, protecting it from anyone who may want to access your correspondence without authorization. CovertMail hides the identity you specify (it won't be visible through Outlook Express anymore) and encrypts message store. You can get yourself two identities, a usual one and a secret one - the latter totally hidden from anyone.
More…
Excel 2007 Password
Version: 1.0.243 | Demo (USD 49.00)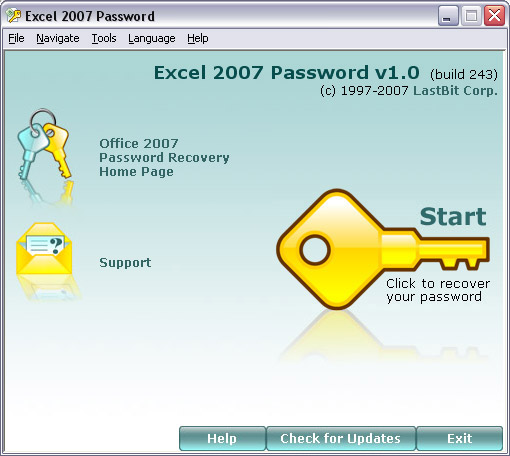 Passwords to open are extremely hard to break in Excel 2007. To recover the password, a brute-force attack and a dictionary search must be used. You can use Excel 2007 Password program for free to recover the password. If the password cannot be found, you pay nothing. If the password is found, the program informs you and asks you to pay a Service Fee. After payment is completed, you will receive the password.
More…
Find Password Protected Documents
Version: 7.0.387 | Shareware (USD 39.00)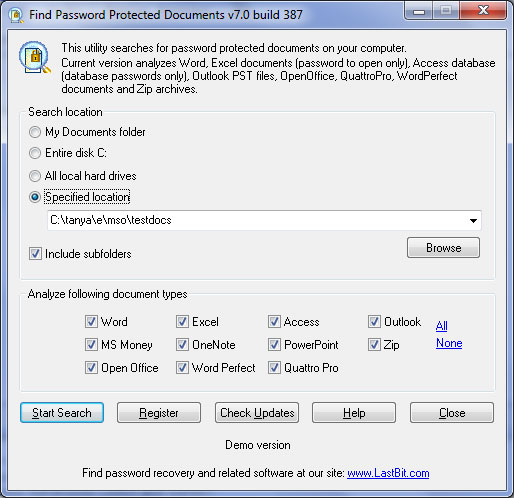 Find Password Protected Documents searches for password protected files on your computer. Current version analyzes Word, Excel documents (password to open), Access databases, Outlook PST, OneNote, PowerPoint, MS Money files (Office 2007/2010 is also supported), WordPerfect, Quatt Pro, Open Office, Zip archives. Find Password Protected Documents generates reports and could be used for forensic computer examinations.
More…
Internet Explorer Password
Version: 3.0.189 | Demo (USD 25.00)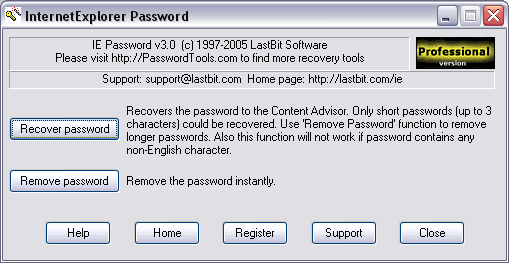 Internet Explorer Password recovers passwords for IE Content Advisor. Content Advisor was initially designed to prevent minors from accessing adult websites. Since ratings never became widespread, this feature may effectively block the usage of IE. You will be unable to use IE without Content Advisor password, since most websites are not rated. With Internet Explorer Password, you may recover a password and turn off the Advisor.
More…
LangAgent
Version: 2.1 | Demo (USD 69.00)
Increase your revenues, localize your applications with LangAgent! LangAgent automates all localization tasks, so programmer will be free from performing extra operations connected with localization. LangAgent generates tasks for translators, supports version control and tracks changes. You can use LangAgent not only for localization but also for proofreading. Add-in for MSVC enables you to apply LangAgent to your projects easily.
More…
LastBit Access Password Recovery
Version: 15.0.9219 | Demo (EUR 39.00)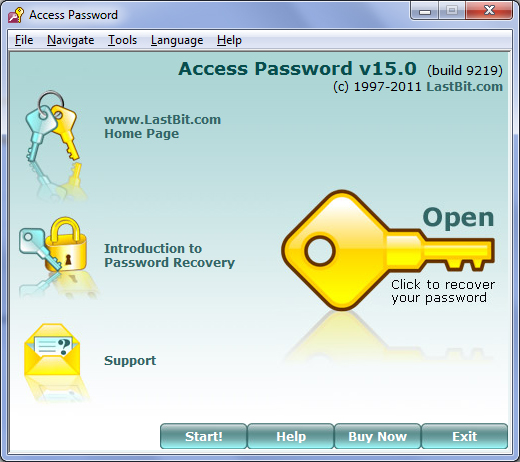 Complete password recovery solution for MS Access. Access Password can reveal both database and user passwords. Using Access Password, you can decrypt passwords for any Jet databases, not only Access databases. All versions of MS Access (from 2.0 through 2010) are supported. Database passwords for old Access databases (2003 and earlier) can be recovered instantly. Guaranteed Password Recovery Service for Access 2007.
More…
LastBit Act! Password Recovery
Version: 12.0.9123 | Demo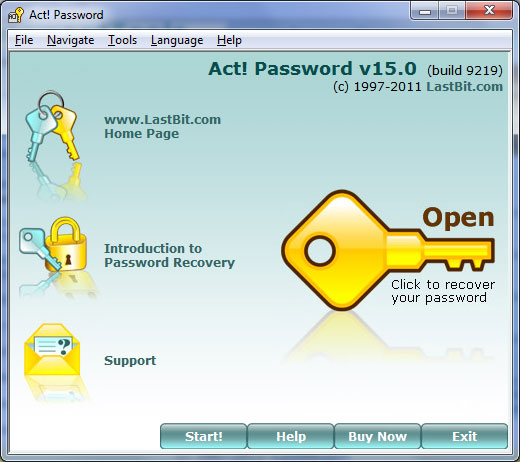 Act! Password is a tool to recover lost or forgotten passwords to password-protected Act! databases. User passwords are decrypted instantly in old Act! versions. In the new Act! version SQL database is used. Brute Force Attack or Dictionary Search are required to recover original password. This may take a lot of time. Fortunately it is possible to reset the password to a known one instantly. Supports all versions through Act! 2008.
More…
LastBit AOL Password Recovery
Version: 2.0.466 | Demo (EUR 29.00)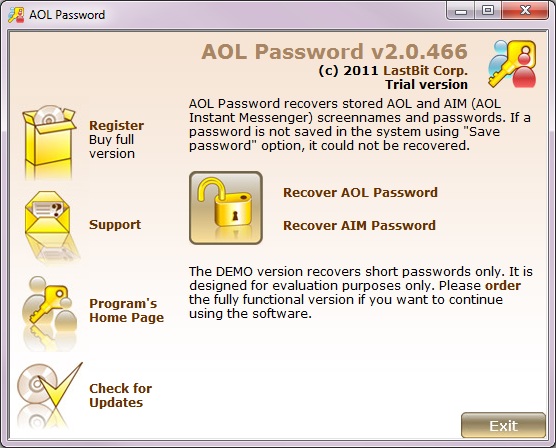 AOL Password is a tool to recover lost passwords for AOL Instant Messenger. Whenever you lose or forget your password for your AOL screen names. AOL Passwords supports both AOL and AIM (AOL Instant Messenger). AOL Password instantly obtains all stored passwords and screen names.
More…
LastBIt Backup Password Recovery
Version: 12.0.9123 | Demo (EUR 35.00)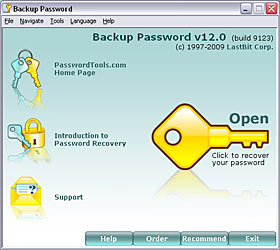 A program for recovering lost or forgotten passwords to backup files (*.qic) created with Microsoft Backup. All passwords are recovered instantly.
More…