Midi - Music - Designer
This programme is presented to you by:
Sergej Vinarski
Am Nonnenhof 33
60435 Frankfurt am Main
Deutschland / Germany
| | |
| --- | --- |
| Category: | Audio & Multimedia / Midi |
| Version: | 1.1 |
| Release date: | 2002-09-18 |
| Size: | 6.41 MB |
| OS: | Win 98 / ME / 2000 / XP |
| Languages: | German |
| Downloads: | 0 in May / 971 in total |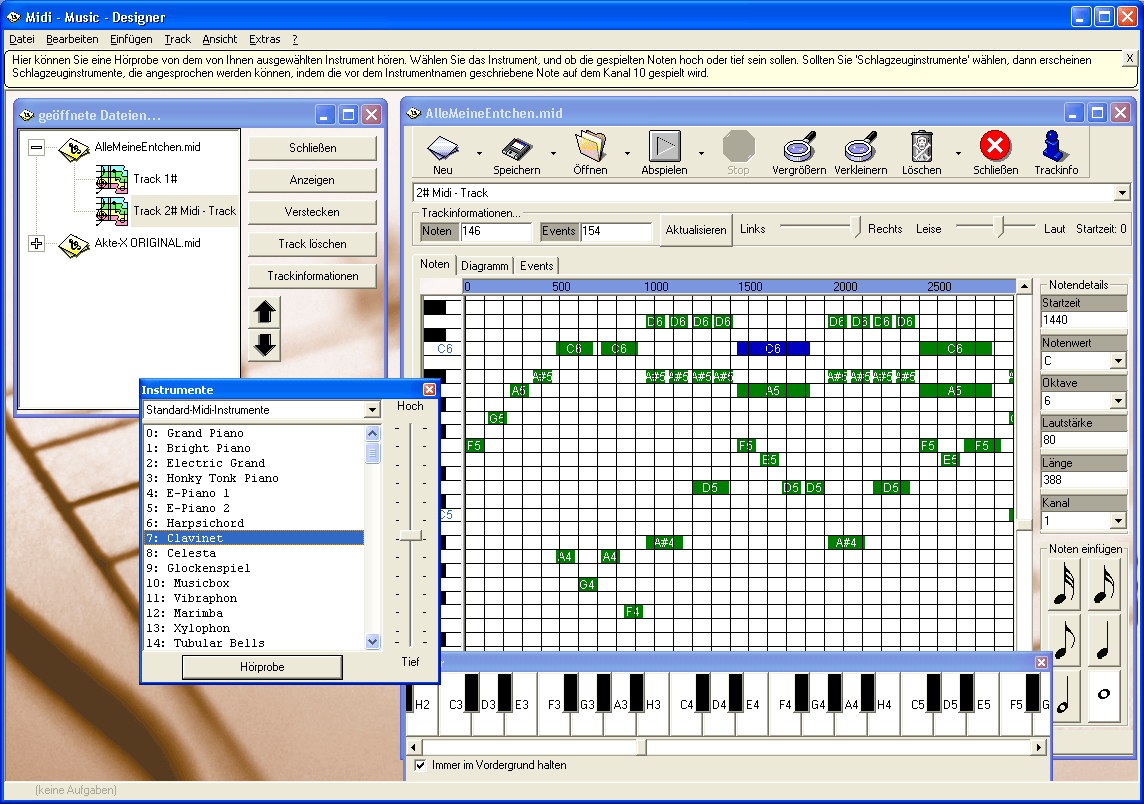 Sei es, weil Sie Windows den letzten Feinschliff verpassen, ihre Homepage aufpeppen, ihr Handy mit einem neuen Klingelton begl?cken, Dooms Hintergrundmusik selbst machen wollen, eine musikalisch-gest?tzte Pr?sentation planen, oder weil das wichtigste Konzert Ihres Lebens vor der T?r steht und auf Sie vielleicht eine gro?e Karriere als Musiker wartet: Midi-Music-Designer l?sst Sie nicht im Stich. Einfach, sekundenschnell und professionell erf?llt Midi-Music-Designer selbst Anspr?che auf h?chstem Niveau. Dank einer neuartigen Technologie f?r den Support ?on demand? stehen Ihnen automatische Hilfemeldungen zur Verf?gung, die das Einarbeiten in dieses digitale Musikstudio nahezu ?berfl?ssig machen.

Die dritte Geige aus Mozarts ?Eine Kleine Nachtmusik? kombiniert mit dem Song von
?Akte-X? und dazu den Rhythmus von ?Country Roads?, aber in C-Dur und ein bisschen flotter? Kein Problem! In wenigen Mausklicks wird das und vieles andere mehr m?glich: Importieren Sie Spuren aus anderen Musikst?cken, verschieben Sie diese auf der Zeitleiste, f?gen Sie ein paar sch?ne Effekte ein und fertig ist Ihr Meisterwerk! Jetzt nur noch mit Passwort sch?tzen, damit keiner Ihre Idee stehlen kann, und der Erfolg ist Ihnen sicher!

Haben Sie schon einmal eine Sinuskurve singen geh?rt? Oder das Tempo ihres Songs zu einem einzigen Auf und Ab gemacht? Oder soll das Vogelgezwitscher doch lieber aus der rechten Box kommen, w?hrend der linke Lautsprecher die Elektrogitarre ert?nen l?sst? ? Um Sie bei der Realisierung Ihres eigenen Songs optimal unterst?tzen zu k?nnen, bietet Ihnen Midi-Music-Designer neben vielseitigen Werkzeugen auch H?rproben von Instrumenten, Noten und Rhythmen, sowie drei umfangreiche Ansichten und zwei individuell anpassbare Entwicklungsumgebungen. Vielleicht m?chten Sie ja auch aus Ihrem Song einen Rhythmus machen? Oder nur mal h?ren, wie sich die Pfeife mit den Trommeln anh?rt, ohne das l?stige Klavier davor? Die Wahl bleibt Ihnen ?berlassen!
Here you can subscribe for the update infos for this programme. You will then receive an e-mail notice each time an update has been submitted for this programme.
In order to subscribe for the update infos, please enter your e-mail address below. You will then receive an e-mail with a link, which you need to click in order to confirm you subscription.
You can unsubscribe from the list at any time. For this purpose, you will find a link at the end of each update info e-mail.
This service is completely free of charge for you.
Comments on Midi - Music - Designer
There are no comments to this programme.
Write a comment