Kategorie Audio & Multimedia / Multimedia Creation Tools
MIDI to MP3 Converter for Mac
Version: 6.2 | Shareware (29,95 USD)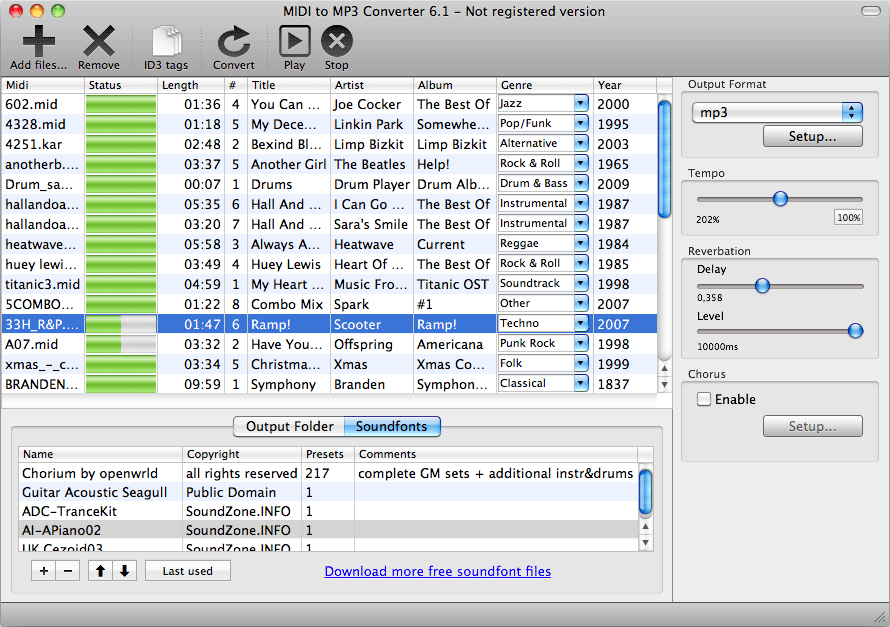 MIDI to MP3 Converter für Mac konvertiert Ihre MIDI Kompositionen in WAV oder MP3 Dateien. Im Unterschied zu MIDI können MP3 und WAV Dateien von vielen Software- und Hardware-Spielern wiedergeben werden. MIDI to MP3 Converter benutzt SoundFonts, um MIDI in MP3 schnell und effektiv umzuwandeln. Sie können auch mehrere SoundFonts gleichzeitig benutzen. Benutzerfreundliches mehrsprachiges Interface, eingebauter ID3-Tag-Editor.
Mehr…
Free Audio CD to MP3 Converter
Version: 1.3.12 | Freeware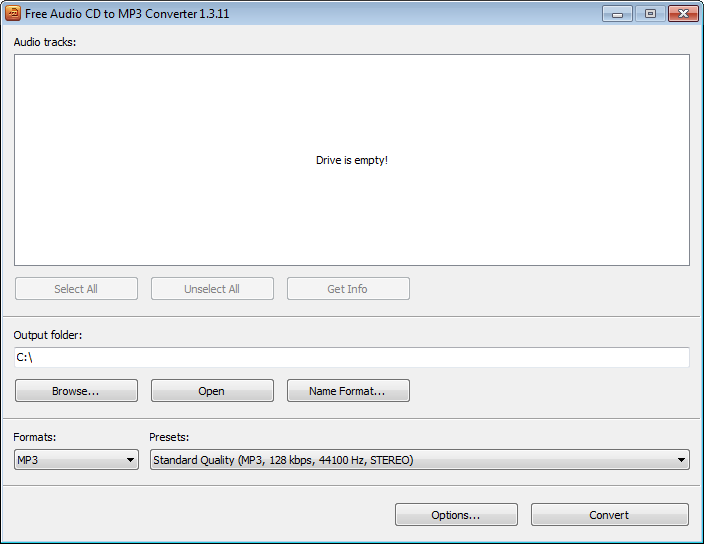 Kopieren Sie Audio-CDs zur digitalen Musik. Die Ausgabedaudios werden abhängig von Qualitätseinstellungen als MP3, AAC, OGG, WMA oder WAV (verlustfreies audio) auf Ihrem Rechner gespeichert. Free Audio CD to MP3 Converter füllt automatisch die Tags und den Artwork ein, die in iTunes, Winamp oder Windows Explorer-Ordner zu sehen sind. Dieses Programm enthält keine Spyware oder Adware. Es ist kostenlos und gefahrlos zu installieren und zu benutzen.
Mehr…
Bigasoft iPhone Ringtone Maker
Version: 1.9.5.4777 | Shareware (14,95 USD)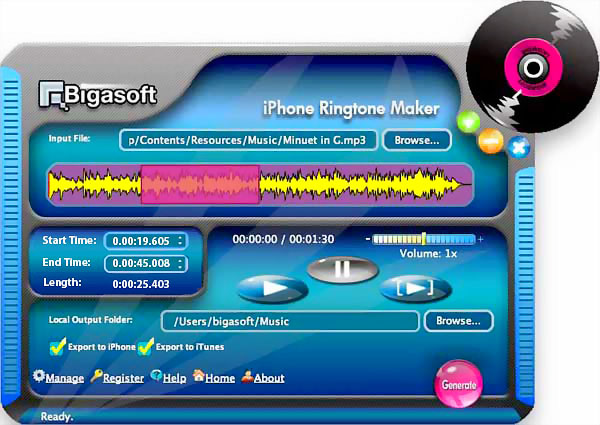 Bigasoft iPhone Ringtone Maker is an easy-to-use tool to make custom iPhone ringtone which can convert music like MP3 to iPhone ringtone M4R, even make custom iPhone ringtone M4R from your personal music/movie files including WMA, M4A, WAV, MP3, RA, AVI, MPEG, WMV, DivX, Xvid, MP4, H.264/AVC, AVCHD, MKV and so on, and sync to iPhone via USB cable automatically. Moreover, it can clip music and video segment you like as your unique iPhone ringtone.
Mehr…
X-Wave MP3 Cutter Joiner
Version: 3.0 | Shareware (14,19 EUR)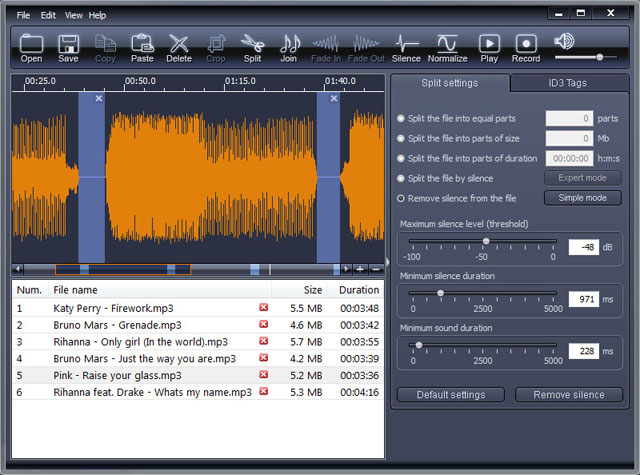 X-Wave Mp3 Cutter Joiner offers you an MP3 Cutter, MP3 Joiner, Mp3 Normalizer, Mp3 Recorder and Cue Splitter all in one great package! The built-in Cue Splitter and Silence Detector offer a quick way to split a large MP3 file into tracks. X-Wave MP3 Cutter Joiner perform all operations without conversion, which means without quality loss. It also supports WAV files.
Mehr…
Samplitude Music Studio
Version: 2013 | Shareware (99,99 EUR)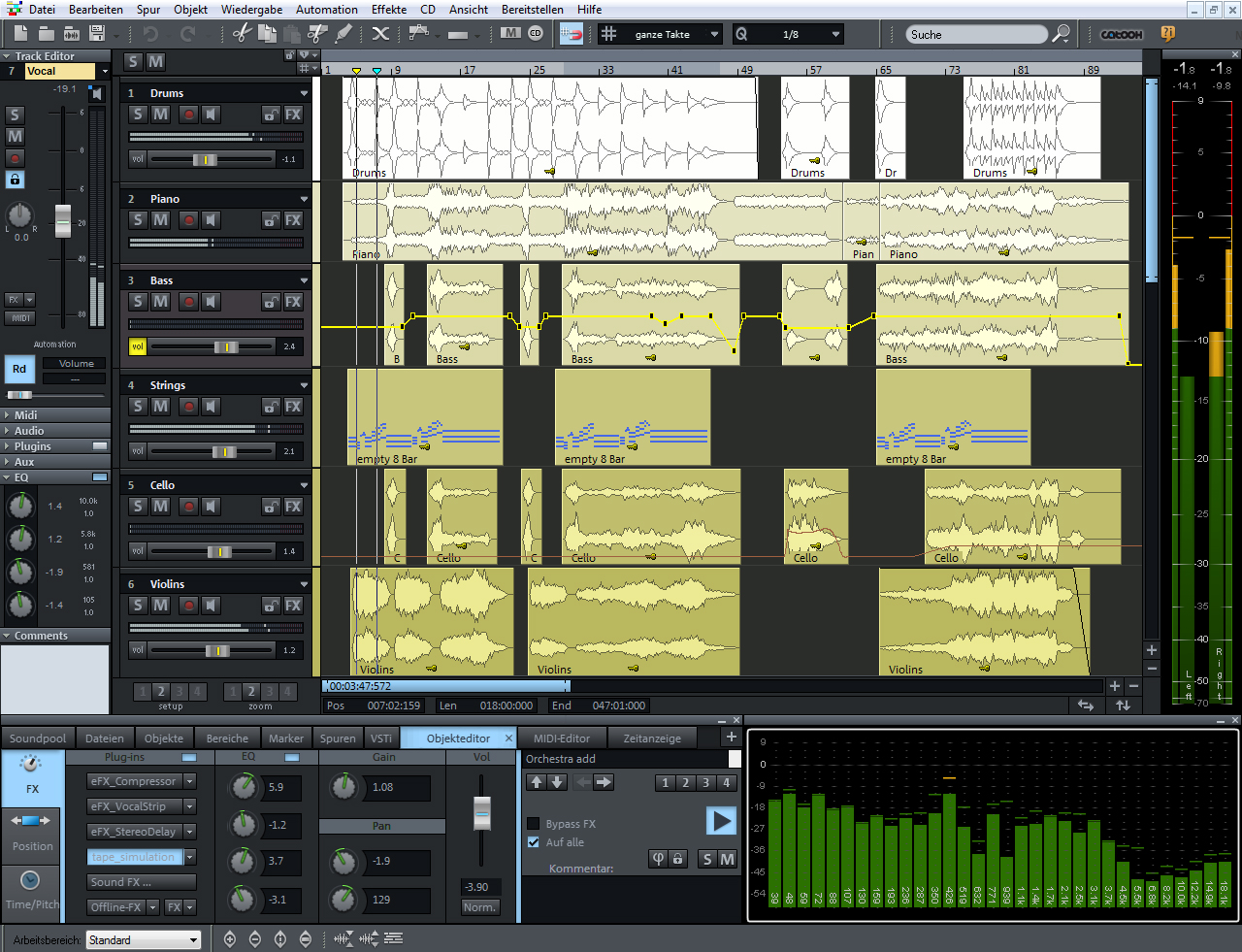 Samplitude Music Studio 2013 ist die umfassende Komplettlösung zur Erstellung eigener Musikproduktionen ? ohne langes Einarbeiten! Von der ersten Idee, über die professionelle Bearbeitung bis hin zur Veröffentlichung Ihrer Songs.
Mehr…
Bigasoft BlackBerry Ringtone Maker
Version: 1.9.3.4650 | Shareware (9,95 USD)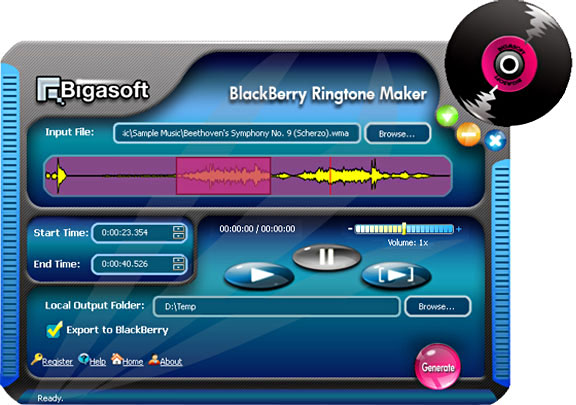 Bigasoft BlackBerry Ringtone Maker helps you to make custom BlackBerry ringtones with ease. The powerful BlackBerry ringtone maker can convert MP3, AVI, MPEG, WMV, DivX, MP4, H.264/AVC, AVCHD, MKV, RM, MOV, XviD, 3GP, WMA, WAV, RA, M4A, etc. to BlackBerry ringtones MP3, and transfer ringtones to your BlackBerry smartphone directly after converting. Moreover, it can clip any music and video fragment you like as your unique BlackBerry ringtone.
Mehr…
AquaSoft Earth Pilot
Version: 7.1.01 | Demo (19,90 EUR)
Kamerafahrten aus Google Earth? als Video in die AquaSoft DiaShow 6 importieren. Erleben Sie Ihre Reisen ein zweites Mal mit einem Flug über den Globus. Im Programm einfach Start- und Zielpunkt setzen, den Google Earth? Flugsimulator starten und ein Video erzeugen. Den Rest übernimmt Ihr AquaSoft Earth Pilot. So wird Ihre gesamte Show multimedial mit Fotos, Videos, Musik und Texten. Der AquaSoft Earth Pilot fliegt Sie sicher bis zum Ziel.
Mehr…
Wavepad Audio Editor for Pocket PC
Version: 4.27 | Freeware (79,00 USD)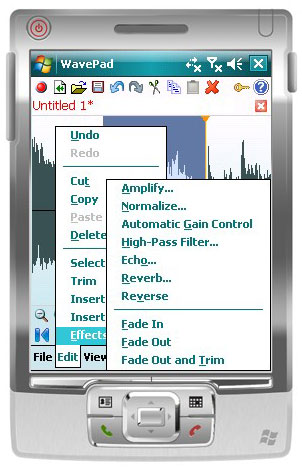 WavePad for Pocket PCs allows you to record, edit and apply effect to audio such as music, voice and outher sounds. Audio editing functions include cut, copy, paste, trim and insert while audio effects allow you to add reverb, echo, normalization and more. Record interviews and edit on the move, record sounds and apply effects for cool ringtones.
Mehr…
Screentime for Flash
Version: 4.0 | Demo (249,00 USD)
Screentime for Flash is the industry standard for creating professional, reliable Adobe Flash screen savers for Mac and PC. Screentime includes robust support for Flash features - scaleable animations, dynamic content, hyperlinks, XML, and interactivity. Screentime extends Flash with 50 custom desktop functions. Screentime is trusted by 10 out of the top 10 ad agencies and many other companies to promote 1000s of popular products and brands.
Mehr…
Reallusion iClone EX Edition (German)
Version: 3.2 | Freeware (189,00 EUR)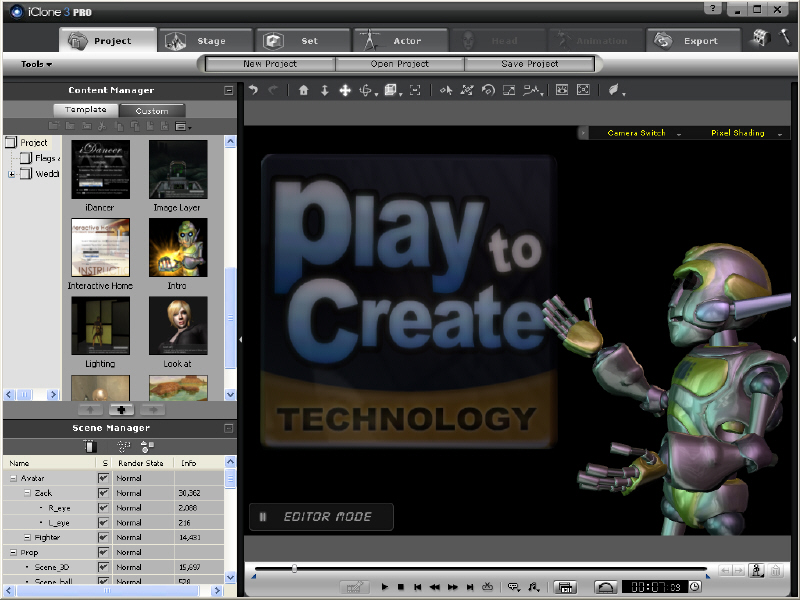 iClone3 ist die vollendete 3D Movie Machine. Erstellen Sie 3D-Darsteller mit benutzerdefinierten Gesichtern, Gesichtsanimationen, Bewegungen und Accessoires. Bauen Sie Szenen mit Requisiten, Architektur und natürlichen Elementen wie Himmel, Gelände, Wasser und Atmosphäre. Filmen Sie iClone Animationen in Echtzeit mit der erweiterten Puppeteering Technologie und steuern Sie Fahrzeuge mit der Tastatur (W,A,S,D) und Videospiel-artiger Maussteuerung.
Mehr…
AimOne AVI Cutter Joiner
Version: 1.01 | Shareware (24,95 USD)
AimOne AVI Cutter & Joiner is a powerful AVI(.avi, .divx, .xvid) edit tool. AVI Cutter allows you split/cut AVI/DivX/Xvid file into small files, or extract manually selected segments of an avi/divx/xvid file to new files. AVI Joiner allows you join multiple AVI/DivX/Xvid files into one "non-stop" file. Included direct stream cut/clone tech, so it is very fast.
Mehr…
Nero Classic
Version: 2017.1.10.0.6 | Shareware (99,99 USD)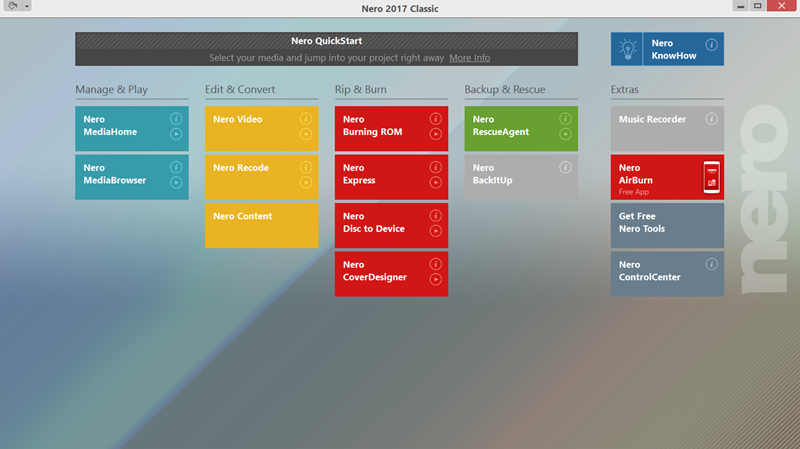 Nero 2017 Classic ist das Meisterstück für Ihr digitales Leben. Verwalten, bearbeiten, brennen, konvertieren, streamen und geben Sie Videos, Fotos und Musik jetzt noch einfacher wieder. Zahlreiche Effekte, das Abspielen Videos mit Untertiteln, der komfortable Videoschnitt, das neue SecurDisc 4.0 für mehr Sicherheit und die Unterstützung neuester mobiler Endgeräte machen das Beste aus Ihren Dateien und Discs!
Mehr…