Category Business / Order & Billing
KassEx
Version: 14.1 | Shareware (EUR 24.95)
Mit KassEx erstellen Sie im Handumdrehen Ihr Kassenbuch. Das Programm befreit Sie weitgehend von zeitraubender Schreib- und Rechenarbeit und l
More…
FAKTURA 5.100
Version: 5.1001801 | Shareware (EUR 99.00)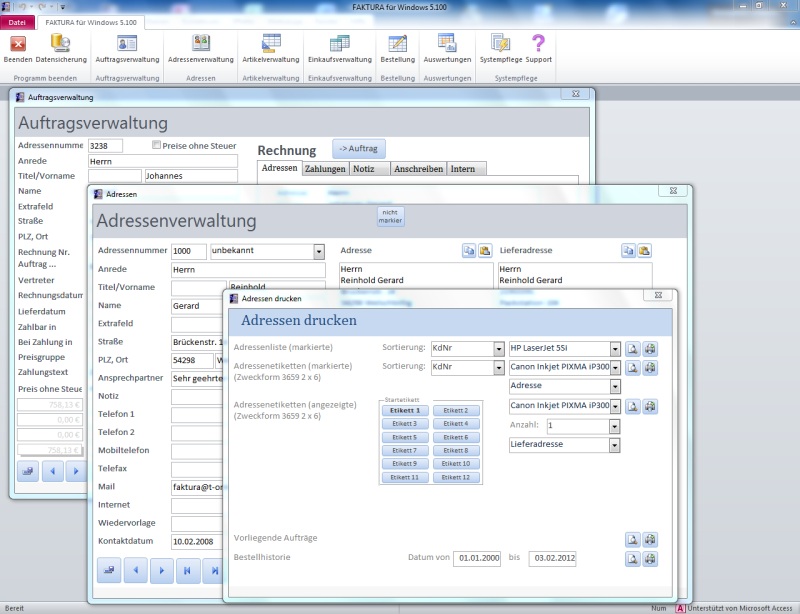 Vollständige Auftragsbearbeitung für kleine Firmen aller Art. Unterstützt alle Vorgänge vom Angebot bis zur Mahnung. Einschließlich Lagerverwaltung, Bankverkehr, Etiketten. Einkaufsverwaltung mit Umsatzsteuerauswertung. Vielfältige Adressenselektierung für Werbeaktionen. Keine Bearbeitungssperren, alle Daten können jederzeit korrigiert werden. Provision je Artikel. Direktfakturierung, Staffelpreise. Mandantenversion für mehrere Firmen.
More…
SmartVizor Variable Barcode Batch Printing Software
Version: 25 | Shareware (USD 395.00)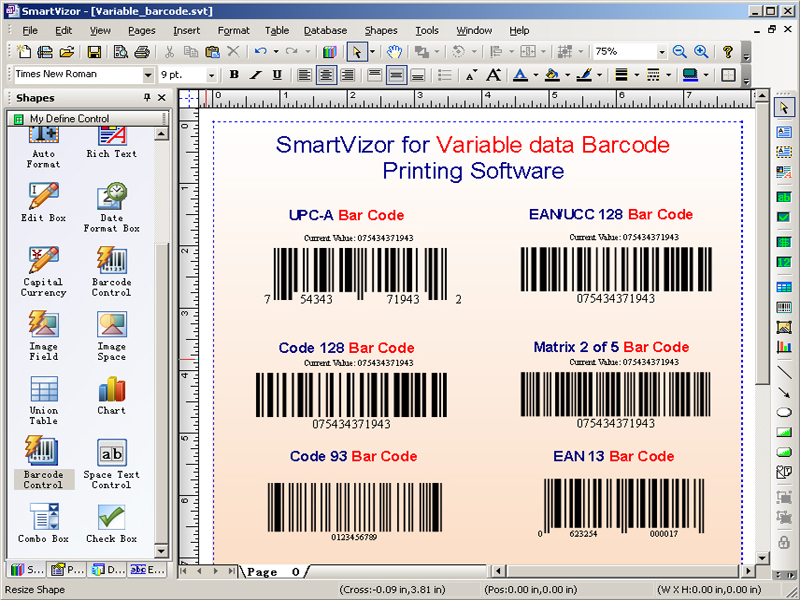 SmartVizor is a stand alone,powerful and extremely easy to use variable barcode print application. SmartVizor Suite is a software solution for creating personalized communications and professional one to one documents. It is one of the least expensive full-featured variable barcode print solutions available today.With SmartVizor Suite, merge any design with any database and print on any printer.
More…
DeLab32
Version: 2.9.144.172 | Shareware (EUR 295.12)
Abrechnungsprogramm f?r das Dentallabor mit der Bearbeitung von Auftr?gen und Voranschl?gen, Kulanzen
Rechnungen, Sammelrechnungen, Konformit?tserkl?rungen, Gutschriften
Erstellung der XML-Datei f?r den elektronischen Datenaustausch
Jumbos
StatistikTages-, Quartals-, Jahresstatistik
Arzt-, Techniker-, Laborstatistik
Gold- und Materialverbrauch
Beliebig viele Preislisten, Kunden
Datensicherungsfunktion
More…
FakturaDS.xls
Version: 4.1 | Shareware (EUR 29.00)
Das Excel - Fakturaprogramm dient der einfachen Erstellung und Verwaltung von: Angeboten/Kostenvoranschl?gen/Auftragsbest?tigungen, Lieferscheinen, Rechnungen (netto, brutto, kumuliert, Sammelrechnungen, zeitraumbezogene Abschl?ge), Quittungen, Gutschriften, Bestellungen, Lagerbest?nden (in Grundz?gen), Mahnungen und Schriftwechsel.
Die Belege erstellen Sie (zumeist wahlweise) aus Datentabellen, per Seriendruck oder von Hand.
More…
Rowi-Auftrag
Version: 3.5.5. | Demo (EUR 55.00)
Warenwirtschaft / Fakturasoftware - Kinderleichte Erstellung Ihrer Auftr?ge: Rechnungen, Angebote, Lieferscheine, Auftragsbest?tigungen, Mahnungen, Zahlungserinnerungen und Bestellungen. Kassenbuch, Vertreterverwaltung sowie Vertreterabrechnungen, Provisionsvergabe, Kunden- und Artikeldatenbank, umfangreiche Statistiken inklusive! Eigene Briefpapiere erstellen, integrierte Onlinebestellaufnahme, Sammelrechnungen, automatische Bestellvorschl?ge...
More…
myBill
Version: 1.0.0 | Shareware (EUR 79.00)
Rechnungsprogramm gesucht? Rechnungen, Angebote, Aufträge oder Barverkäufe erstellen? myBill ? einfach, übersichtlich, schnell! Mit nur wenigen Mausklicks haben Sie Ihre erste Rechnung geschrieben, gedruckt oder per E-Mail verschickt. Das gilt genauso für das Erstellen von Angeboten oder Aufträgen. Während der Bearbeitung sehen Sie sofort die spätere Druckversion! Schalten Sie auf Wunsch jederzeit auf einen reinen Barverkauf um!
More…
Orgasoft.NET Free
Version: 2.1 | Freeware
From ordering to incoming goods and to sales: Orgasoft.NET Free monitors your entire flow of goods and offers a closed inventory management cycle for free. Out-Of-Stocks thus belong to the past and your in inventory differences will be drastically reduced. Say goodbye to manual share investment. We deliver Orgasoft.NET Free including a fixed import format that allows you to import your products from an Excel spreadsheet into the merchandise
More…
Profit 2010
Version: 3.5.12 | Shareware (EUR 240.00)
Erzeugen und verwalten von Angeboten, Auftragsbestätigungen, Rapporten, Rechnungen, Gutschriften, Bestellungen und Mahnungen. Profit 2010 beinhaltet auch eine Kunden-, Lieferanten- und Artikelverwaltung inkl. Lagerverwaltung. Die integrierte Dokumentenverwaltung hilft Ihnen Briefe zu erzeugen und zu verwalten.
More…
KingBill
Version: 2015 | Demo
Warum KingBill 2015? Weil Sie es leid sind, mit Word- oder Excel-Dokumenten herumhantieren zu müssen. Weil Sie nicht bei jeder Ihrer Rechnungen die Kundendaten neu eingeben möchten. Weil Sie nicht jede Ihrer Rechnungen nachkontrollieren möchten, ob auch wirklich alle Beträge stimmen. Weil Sie nicht blind in irgendwelche Datenfelder eintippen möchten. Sie möchten zwar eine neue Software kaufen, aber nicht stundenlang Handbücher studieren. We
More…
Datenorientiertes Rechnungswesen
Version: 2.60.00 | Shareware (EUR 60.00)
Ein einfach konzipiertes Programm zum erstellen und verwalten von Rechnungen und Angeboten. Erstellen von: Rechnungen, Angeboten, Lieferscheine,Texten, Mahnungen. Erfassen von: Kundendaten, Firmendaten, Dienstleistungen fürs Rechnungswesen, Artikeldatenbank.Feststehende Dienstleistungen können als Makro [inkl. Preis oder AW] festgelegt werden. Artikel können aus der Datenbank in die Rechnung übernommen werden.
More…
RAPIDO
Version: 3.1 | Shareware (EUR 10.00)
RAPIDO ist eine Auftragsbearbeitung mit Adressen/Kunden, Artikel/Leistungs - Verwaltung. Sie erstellen Ihre Rechnungen für Endverbraucher, oder Rechnungen mit ausgewiesener UMST, in kürzester Zeit.
Durch die intuitive Benutzeroberfläche, die sich an herkömmlichen Rechnungsformularen orientiert wird das Arbeiten mit RAPIDO zum Kinderspiel.RAPIDO eignet sich besonders für den Einsteiger in eine Auftragsbearbeitung.
More…