Software Asset Management
This programme is presented to you by:
Softinventive Lab: network software
701 Fifth Avenue, Columbia Tower
98104 Seattle
United States
| | |
| --- | --- |
| E-mail: | submit-rs [at] softinventive [dot] com |
| Phone: | 1 888 447 2266 |
| Facsimile: | 1 888 447 2266 |
| Website: | www.softinventive.com |
| | |
| --- | --- |
| Category: | Business / Inventory & Barcoding |
| Version: | 3.2.0 |
| Release date: | 2015-09-08 |
| Size: | 28.52 MB |
| OS: | Win XP / Vista |
| Requirements: | RAM: 1 GB; 100 MB of free disk space |
| Languages: | German, English |
| Downloads: | 0 in July / 28 in total |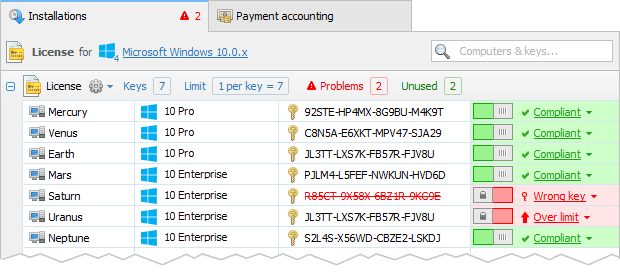 Software Asset Management 3 provides powerful tools for software inventory and license management.
All software from your Windows and Mac OS devices is gathered in a single place with comprehensive search and filtering capabilities. Browse, organize, and discover your software and installations, star important items, assign tags, add comments, and much more.
Store data on all the software licenses you own along with their parameters, license keys, expiration dates, prices, and all the accompanying documents, such as invoices and EULAs.
Make sense of all the critical data on software distribution and licensing in your network. See what software is currently licensed or not. Get exhaustive info about licensing problems.
Build fast and accurate reports on any aspect of your software and license inventory, such as a list of installations, a licensing summary, or a detailed description of all the licensing problems. Copy, export, or print your reports in a wide array of formats.
Track the software presence on specific devices. Merge different versions of the same software. Use regular expressions to improve search results. Discover the purpose of an application by jumping to Google search or straight to the developer's website.

Here you can subscribe for the update infos for this programme. You will then receive an e-mail notice each time an update has been submitted for this programme.
In order to subscribe for the update infos, please enter your e-mail address below. You will then receive an e-mail with a link, which you need to click in order to confirm you subscription.
You can unsubscribe from the list at any time. For this purpose, you will find a link at the end of each update info e-mail.
This service is completely free of charge for you.
Comments on Software Asset Management
There are no comments to this programme.
Write a comment