Gebührenzähler WT-Rate
This programme is presented to you by:
Mirko Böer Softwareentwicklungen
Malachitstraße 16
04319 Leipzig
Deutschland / Germany
| | |
| --- | --- |
| E-mail: | info [at] wt-rate [dot] com |
| Phone: | 0179 1317529 |
| Facsimile: | 0341 8632843 |
| Website: | www.wt-rate.com |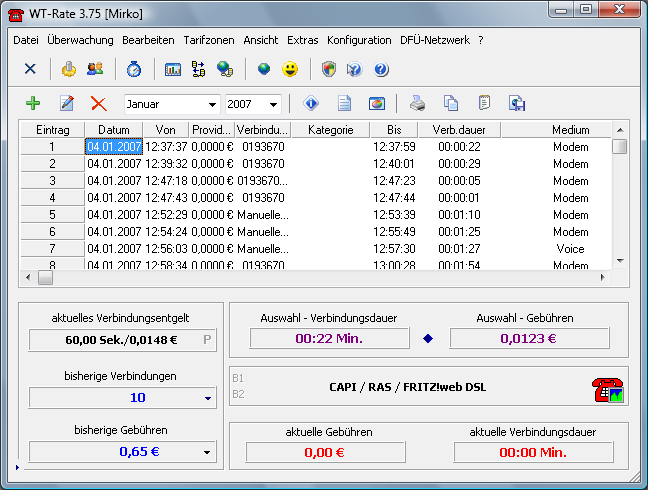 Mit dem Gebührenzähler WT-Rate behalten Sie Ihre Internetgebühren im Griff. Mit dem Programm werden die Telefontarife für Deutschland (über 100 Anbieter), Österreich und der Schweiz mitgeliefert. Aktualisiert werden diese über das Onlineupdate. Um die Gebührenzählung automatisch zu starten und zu beenden, überwacht es die TAPI, das DFÜ-Netzwerk, die CAPI 2.0 (inkl. AVM FRITZ!web), AVM FRITZ!web DSL, eine COM-Schnittstelle oder in Zusammenarbeit mit der Software RouterControl einen DSL-Router. Es kann auch ICS-Verbindungen erkennen. Weitere Funkt. z.B. das Überprüfen der E-Mail Postfächer, Abgleichen der PC-Uhr mit einem Zeitserver, Bestimmung des günstigsten Call-by-Call Providers mit der Möglichkeit die Verbindung sofort herzustellen... WT-Rate erkennt auch, als derzeit einziger Gebührenzähler, AVM!FRITZweb Verbindungen. Das Zusatzmodul 0190 Warner 3.x kann in die Software eingebunden werden, damit schützt WT-Rate auch vor 0190 Dialern!

Here you can subscribe for the update infos for this programme. You will then receive an e-mail notice each time an update has been submitted for this programme.
In order to subscribe for the update infos, please enter your e-mail address below. You will then receive an e-mail with a link, which you need to click in order to confirm you subscription.
You can unsubscribe from the list at any time. For this purpose, you will find a link at the end of each update info e-mail.
This service is completely free of charge for you.

Comments on Gebührenzähler WT-Rate
There are no comments to this programme.
Write a comment