Category Communications / Web | Video Cams (Filter: Freeware)
ManyCam
Version: 6.7.0 | Freeware
ManyCam is a free webcam software & video switcher that helps enhance your live stream and video chat experiences. Broadcast to Skype & Yahoo Messenger at the same time. Stream from desktop or iOS/Android device to any streaming platform, such as Facebook, Youtube & Twitch. Share screen, add video sources and pic-in-pic windows, easily switch between them, replace backgrounds with Chroma Key, to create professional live streams.
More…
ManyCam for Mac
Version: 6 | Freeware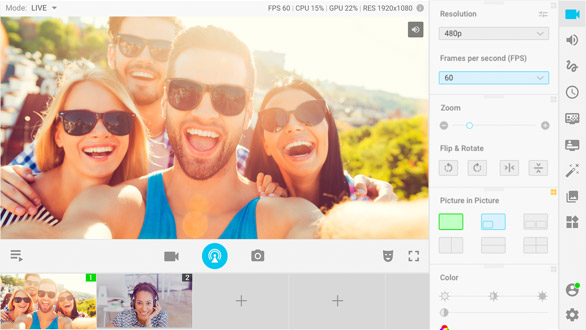 ManyCam is a free webcam software & screen recorder that allows you to enhance your live stream and video chat experiences. Broadcast to Skype, Google Hangouts & Yahoo Messenger at the same time. Stream directly from your desktop or your iOS/Android device on any streaming service such as Facebook, Youtube, Livestream. Easily switch between different video, audio, and image sources. Replaces background with Chroma Key. Add Pic-in-Pic window.
More…
Phonewebcam Publisher
Version: 3.6 | Freeware
The secure and easy way to publish your private webcam or network/WiFi IP camera to mobile phones. Simple to use setup wizard ensures quick start without requiring specialist knowledge. All relayed images are compressed and encrypted using a 128bit cypher and unique protocol. Designed to complement existing camera systems. Features include snapshot, skins, themes, customised sounds, offline image, text/image overlay, camera controls and help.
More…
Video Booth
Version: 2.8.2.2 | Freeware
Video Booth helps you add fantastic effects to your webcam and then take cool snapshots and video clips. Take a single snapshot or 4 quick pictures in succession using Continuous Shooting; record a video clip with your normal camera or by adding effects for fun. You can directly share your videos and pictures on Facebook! Video Booth is fairly easy to use and works perfectly with all webcams and all systems with a clean interface.
More…
Leawo Blu-ray Player for Win
Version: V1.9.3.5 | Freeware
Meanwhile, as free DVD player, it's not only a free DVD disc player, but also free DVD player to play back DVD folder and DVD ISO image file for totally free. It's also a free 4K video player to deliver extraordinary image and audio experience via 4K displays.
More…
TrueConf Server Free
Version: 4.3.7 | Freeware
TrueConf Server Free is used in more than 5000 companies over the world connecting tens of thousands of working places and conference rooms. The server is specifically developed to operate inside your corporate network and its implementation takes only 15 minutes! The TrueConf software-based server does not perform video streams recoding that is why it requires no expensive equipment.
More…
Download TOP Video cams chat Programs
Version: 7.3.3.3000 | Freeware
Free download now the latest versions in 2011.....free the most popular voice and video chatting programs and free phone calls programs through the internet (VOIP) with the best quality ever...just choose the required program or select all to download at the same time and with a very few mouse clicks...At this package you will find the best programs ever like Skype, Paltalk, Gtalk, Manycam and Camfrog. This package has a high compatibility .
More…
easycam Webcamtool
Version: 5 | Freeware
Webcamtool mit integrierter Wetterinformationen, freien Texten und integriertem FTP-Clienten. Durch die integrierte Wetterinformationen die aktuell in das Webcambild eingefügt werden informieren Sie Ihre Besucher auch über das Wetter. Auch das einfügen von Texten in das Webcambild lassen diese noch individueller aussehen. Und der integrierte FTP-Client erledigt das hochladen der Bilder automatisch für Sie.
More…
ASE Browsersteuerung
Version: 2.11 | Freeware
Fernschalten per Browser, Netzwerk oder Internet. Es muss nicht immer eine teure Ethernet Relaiskarte sein.
Mit der ASE Browsersteuerung werden Sensoraktivitäten und Relais einer ASE Relaiskarte per Web Browser erfasst und gesteuert.
Verschiedene Browser Anzeigen mit automatischem Refresh wählbar.
Ideal für Computer Netzwerke in Firmen, Schulen oder Behörden. Kein Internetzugang erforderlich.
More…
Phonewebcam Explorer
Version: 3.5 | Freeware
View thousands of public webcams from around the world with this lightning-fast PC based webcam viewer. Keep up to date by downloading the latest and Top 10 webcams, or add more you find yourself browsing the net. Free registration gets you a Phonewebcam account to log in and search the central Phonewebcam directory to find loads more webcams to view. Features include slideshow, autorefresh, fullscreen, zoom, snapshot, import/export and hotlinks.
More…