Category Databases / Access (Filter: Shareware)
Database Tour Pro
Version: 9.1.9.23 | Shareware (USD 97.00)
Database Tour Pro is a universal database tool with built-in report builder. It allows viewing, editing, and printing data, building SQL queries, building reports, controlling transactions, sorting and filtering data, viewing structure, searching and replacing text, importing and exporting data. There are special tools to work with MEMO, graphic, numeric, text fields. Command line is supported.
More…
Database Tour
Version: 9.1.9.23 | Shareware (USD 49.00)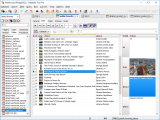 Database Tour is a universal database tool. It allows viewing, editing, and printing data, building SQL queries, controlling transactions, sorting and filtering data, viewing structure, reindexing, searching and replacing text, importing and exporting data (with format converting), special functions to work with MEMO, graphic, numeric, text fields.
More…
Advanced Hide Folders
Version: 4.6 | Shareware (USD 39.95)
Advanced Hide Folders is security solution for personal or publicly accessible computers. It is a program that ensures that only authorized people can access sensitive information on your computer. You can protect files or protect folders simply in one mouse click. What is more your hidden files can be locked. Lock folder feature allows to prevent access to confidential files via MRU feature (eg. list of Most Recently Used documents in MS Office)
More…
Export EDB to PST
Version: 6.5 | Shareware (EUR 225.00)
If you desire to repair corrupt EDB file without a trouble then makes use of PDS perfect Exchange EDB to PST export utility. Exchange mailbox recovery program enables to export EDB to PST with all Exchange emails and Exchange mailbox folders such as journals, tasks, notes, contacts, calendars and reminders etc. Application is compatible on all EDB versions and converts EDB to PST file.
More…
AdrXport für Access 97
Version: 3.2 | Shareware (EUR 15.00)
Per Maus-Klick erstellt AdrXport aus Ihrem Adress-Formular eine komplette Anschrift und Anredezeile und fügt diese in Ihr Worddokument ein.<br>
Sie brauchen weder Ihre Access-Formulare zu ändern noch eine Zeile zu programmieren. Sie konfigurieren lediglich AdrXport für Ihre Adress-Formulare. Die Position sowie das Format der Anschrift und der Anredezeile geben Sie, einfach durch zwei Textmarken, in Ihrer Word-Dokumentvorlage vor.
More…
Profit 2010
Version: 3.5.12 | Shareware (EUR 240.00)
Erzeugen und verwalten von Angeboten, Auftragsbestätigungen, Rapporten, Rechnungen, Gutschriften, Bestellungen und Mahnungen. Profit 2010 beinhaltet auch eine Kunden-, Lieferanten- und Artikelverwaltung inkl. Lagerverwaltung. Die integrierte Dokumentenverwaltung hilft Ihnen Briefe zu erzeugen und zu verwalten.
More…
StatWin Server Enterprise
Version: 9.0 | Shareware (USD 399.00)
With StatWin you can easily accomplish employee monitoring in the workplace by using the reporting and monitoring tools that the software provides. StatWin monitors PC activity in Windows and then organizes the data in a structure that allows you to easily select what you want to view. All of the data is gathered and then organized into data groups to allow you to filter the information by specific user, database, or viewing period.
More…
Access Database Maintenance Agent
Version: 1.60 | Shareware (EUR 99.00)
ADMA lets you define and schedule the tasks Database repair & compact and Database copy in a new file while users are in the database. ADMA lets you schedule and automatically perform these tasks multiple times
More…
Bilderverwaltung
Version: 1.5 | Shareware (30.00)
Verwaltung von analogen und digitalen Bildern mittels Access-Datenbank. Die Bilder werden in Themen strukturiert (z.B. Urlaub 2006, Weihnachten 2005, ...). Zusätzlich können alle auf einem Bild abgebildeten Personen erfasst werden. Danach ist die Suche und Auswertung über Personen oder auch Personengruppen möglich. Weiters kann eine beliebige Anzahl von Stichworten bei jedem Bild hinterlegt werden.
More…
PowerMindpro
Version: 9.30b | Shareware (EUR 39.00)
Ein professionelles Adressen-, Termin- Dokumenten und Korrespondenz-Verwaltungs-Programm.
für Büro, Privat, Verein und Freiberufler. Ein universelles Instrument für Marketing, Außendienst und Verkaufssteuerung sowie für die Verwaltung und die Kontaktpflege am Computer in Ihrem Büro oder auch Zuhause. Es ist voll mit Microsoft Office kompatibel und steuert oder verknüpft Word, Excel, Access, Internet-Explorer und Outlook Express direkt.
More…
AdressBuch mit Bilder- und Dokumentenarchiv.
Version: 2.5 | Shareware (9.95)
Bildern und eingescannte Dokumente können mit jeder Adresse verknüpft bzw. zugeordnet werden. Pro Adresse wird ein Bilder- und Dokumenten-Katalog erstellt der ausgedruckt werden kann oder einzelne Bilder und Dokumente können in A4 gedruckt werden.
Briefeditor, E-Maileditor, Geburtstags-Überwachung, Notizen, jeder Adresse können bis zu 20 verschiedene Gruppen zugeordnet werden, Telefon- und Faxnummern Ablage, Email- und Webadressen Ablage.
More…
DaWan - Datev Wandler
Version: 3.1 | Shareware
Mit diesem Programm kann eine DATEV-Buchungsliste eingelesen und in eine Access-Datenbank, Word/RTF-Datei oder einfache Text-Datei umgewandelt werden. Diese Text-Datei kann auch leicht in Excel eingelesen werden. Zusätzlich kann aber auch die Datenbank oder die Textdatei wieder in das Datev-Format zurück gewandelt werden. Einem eigenen Buchhaltungsprogramm mit DATEV-Schnittstelle steht also nichts mehr im Wege.
More…