PE Explorer
This programme is presented to you by:
Heaventools Software
PO Box 1234
V6H 4E4 Vancouver
Canada
| | |
| --- | --- |
| Category: | Development / Debugging |
| Version: | 1.99 R6 |
| Release date: | 2009-10-15 |
| Size: | 3.64 MB |
| OS: | Win 98 / 2000 / XP / 2003 / Vista |
| Requirements: | 16 MB RAM |
| Languages: | English |
| Downloads: | 0 in September / 315 in total |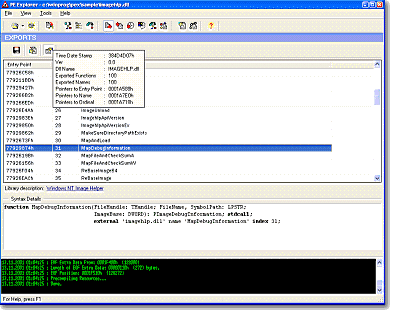 PE Explorer is the most feature-packed tool for inspecting the inner workings of PE files (EXE, DLL, ActiveX controls, and several other Windows executable formats). It offers a thorough look at PE file structure and all of the resources in the file, and tells you just about every little detail you could possibly want to know about a PE file.

PE Explorer comes with a Visual Resource Editor, PE Header Viewer, UPX, NsPack and Upack Unpacker, Exported/Imported API Function Viewer, API Function Syntax Lookup, Digital Signature Viewer, Dependency Scanner, and powerful Disassembler. The product allows you to peek inside Delphi applications and edit the properties of controls on Delphi forms within the PE file. Once inside, file structure can be analyzed and optimized, problems diagnosed, changes made and resources repaired.
Whether you are an advanced computer user just wondered what makes an executable file tick, or software developer suffered from hard-to-find program bugs, PE Explorer is the software solution that will make it easy to find the answers. With PE Explorer you can view, edit and repair the internal structures of PE files with the click of a button. It works with PE formats such as EXE, DLL, MSSTYLES, SYS, OCX, SCR and other win32 executables. Support for custom plug-ins. Use it for serious development projects, for restoring lost information, for keeping damaged files intact, for determination of the existence of viruses or malicious code in the programs, to reverse engineer projects with missing source code, to view the imports/exports of the standard dll's, or to simply reduce the numerous internal information sources of PE files into a more convenient viewing format and save your valuable time. The possibilities are up to you. PE Explorer gives you an easy to use point and click approach from which to operate. More info at http://www.heaventools.com

Here you can subscribe for the update infos for this programme. You will then receive an e-mail notice each time an update has been submitted for this programme.
In order to subscribe for the update infos, please enter your e-mail address below. You will then receive an e-mail with a link, which you need to click in order to confirm you subscription.
You can unsubscribe from the list at any time. For this purpose, you will find a link at the end of each update info e-mail.
This service is completely free of charge for you.
Comments on PE Explorer
There are no comments to this programme.
Write a comment