Accuracer Database System VCL
This programme is presented to you by:
AidAim Software
submit@aidaim.com
IL60035 submit@aidaim.com
United States
| | |
| --- | --- |
| E-mail: | submit [at] aidaim [dot] com |
| Phone: | +1-800-999-99-99 |
| Facsimile: | +1-800-999-99-99 |
| Website: | www.aidaim.com |
| | |
| --- | --- |
| Category: | Development / Delphi |
| Version: | 9.00 |
| Release date: | 2013-12-19 |
| Size: | 26.007 MB |
| OS: | Win 2000 / XP / 2003 / Vista |
| Requirements: | Delphi 5 - XE5 / C++ Builder 5,6,2006-XE5: 32-bit and 64-bit Windows |
| Languages: | English |
| Downloads: | 0 in May / 126 in total |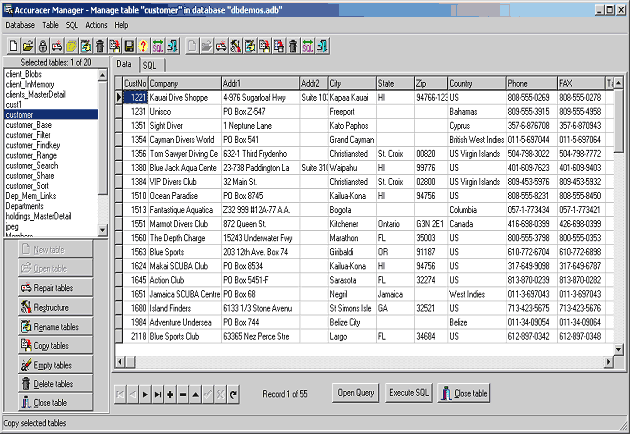 Accuracer is a compact, embedded, single-file, multi-user (file-server and client/server) cross-platform BDE replacement database with SQL support based on a new original BDE alternative database engine that supports the almost all TTable, TQuery, TDatabase, TSession, TBatchMove functions and provides some special ones to give you wide functionality and ease of use. Key features: Multi-user (both Client-Server and File-Server); Multi-thread access; Storing all tables inside the single database file; No BDE, no DLLs; SQL'92 (DML & DDL) support; Fully compatible with standard DB-aware controls; IProvider Support (ClientDataset); Small footprint and low memory usage; In-Memory tables support for the fastest data access; Varchar and BLOB field types with optional data compression; Referential Integrity support (SQL'99 compliance); Strong encryption with wide variety of algorithms and modes; Transactions support with READ COMMITTED isolation level; BatchMove component; Reverse engineering (tables to SQL script export); Backup and Restore database support; Capability of database embedding inside the executable file; ODBC Driver available; No royalties; Full source code available; Windows / Linux cross-platform database engine; Unmatched ease-of-use, comprehensive help, lots of demos and utilities with source code for Delphi/C++Builder and Kylix; No royalties; Full source code available. Accuracer is currently available for the Borland Delphi / C++Builder and Kylix development environments in Single-User (SU), Multi-User (MU), and Client/Server (CS) versions with full source code (Pro) or without one (Std).
Here you can subscribe for the update infos for this programme. You will then receive an e-mail notice each time an update has been submitted for this programme.
In order to subscribe for the update infos, please enter your e-mail address below. You will then receive an e-mail with a link, which you need to click in order to confirm you subscription.
You can unsubscribe from the list at any time. For this purpose, you will find a link at the end of each update info e-mail.
This service is completely free of charge for you.
Comments on Accuracer Database System VCL
There are no comments to this programme.
Write a comment