Category Games & Entertainment / Card
Trendpoker 3D - Texas Hold'em Poker
Version: 1.9 | Shareware (EUR 7.90)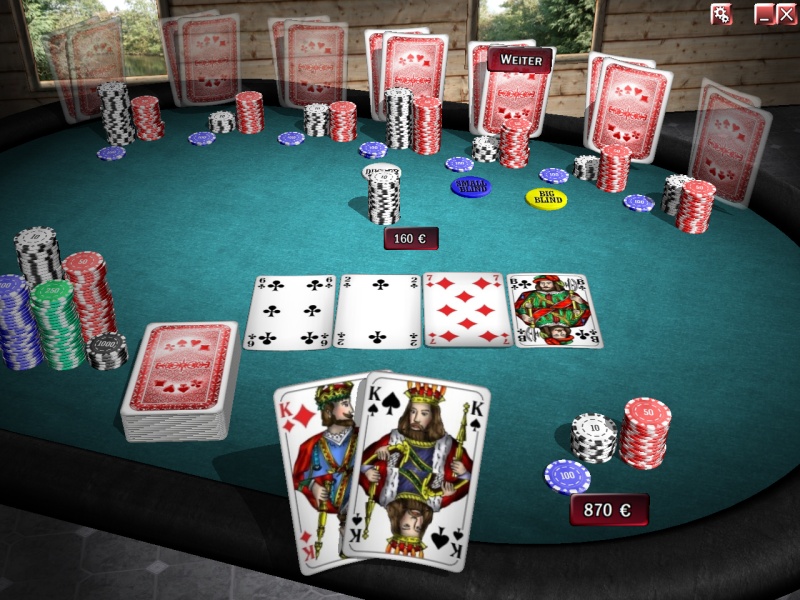 Egal, ob blutiger Anfänger oder gezockter Profi: Jeder Poker-Fan kommt hier auf seine Kosten! Doch Vorsicht! Überlegen Sie sich gut, ob Sie es gleich wagen wollen, in einem Turnier gegen gerissene Profis anzutreten - oder sich erst einmal im Einzelspiel gegen einen leichten Computergegner versuchen. Features: Alle Varianten No Limit, Pot Limit, Split Limit. Einzelspiel, Turnier, Netzwerkspiel und Internetspiel. Einstellbare Regeln und Tutorial
More…
Solitaire Wizard
Version: 2.1.0 | Shareware (USD 12.95)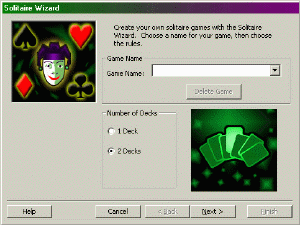 Solitaire Wizard is a solitaire game that includes the popular game Klondike (Windows Solitaire) and 15 other similar games. It features lush graphics, large easy-to-read cards, sound, and in-depth statistics.
More…
3D Skat
Version: 1.0 | Demo (EUR 14.99)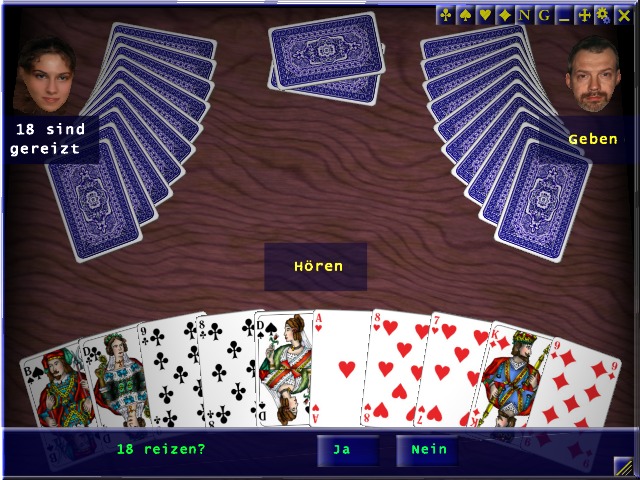 3D Skat bietet flexible und spielstarke Computergegner, tolle Grafik, Sprachausgabe und Einstellungsm?glichkeiten f?r eine Vielzahl von Spielvarianten. Von Null bis Grand mit Spitze ?ber Kontra, Re, Sub und Hirsch bis hin zur knallharten Bock- und Ramsch-Runde beinhaltet das Programm die ganze Palette des Skatspiels. Drei Schwierigkeitsstufen sind einstellbar. Das Programm verf?gt auch ?ber ein umfangreiches Tutorial und diverse Spielhilfen.
More…
SKAT 9 Peter Heinlein
Version: 9.5.1 | Shareware (EUR 14.00)
Lern to play Skat - become an expert - enjoy the game whenever you like. SKAT is the most popular german card game adapted for your computer.
More…
Gaps Solitaire
Version: 1.4.6 | Freeware
Fill in the blanks and arrange your deck! Your task in this game is to rearrange the cards so that each tableau pile contains cards of the same suit from 2 to K from left to right. When the game starts, 52 standard playing cards will be evenly distributed onto 4 tableau piles. Then the 4 aces will be removed and 4 gaps will appear. When a gap is located on the right side of a card, you can click and drag the immediately higher ranking card of the
More…
123 Free Solitaire
Version: 10.3 | Freeware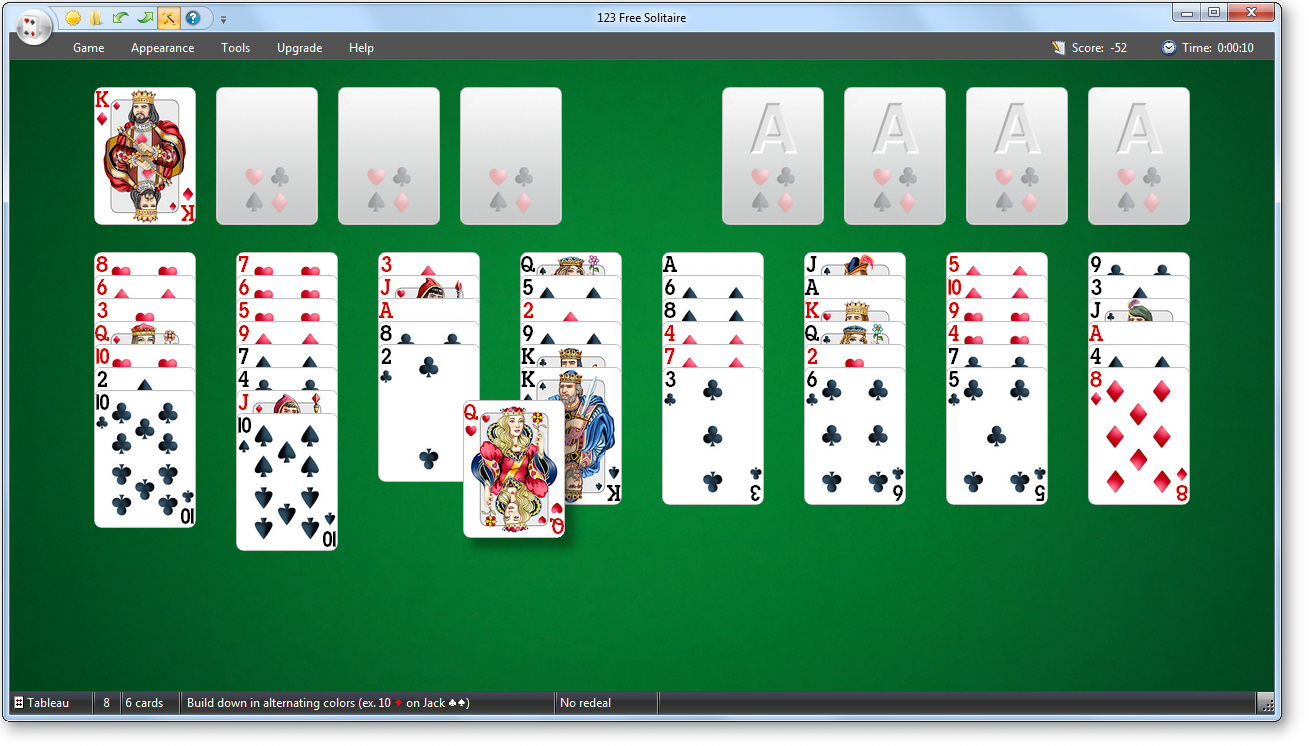 123 FREE Solitaire is an exciting collection of many different Solitaire Card Games that features good layout, fast game play, rich sounds, extensive options, and good help. 123 Free Solitaire includes twelve great solitaire games: Diplomat, Flower Garden, Forty Thieves, FreeCell, Golf A-K, Klondike, Klondike by Threes, Pyramid, Spider, Spider One Suit, Spider Two Suits and Yukon.
More…
Mao
Version: 1.0 | Shareware (EUR 10.00)
Sie kennen bestimmt Mau Mau. Dass man durch Hinzuf?gen von ein paar Sonderregeln aus diesem Spielprinzip ein spannendes und unterhaltsames Kartenspiel machen kann, haben nicht nur die Macher des Familienspiels UNO schon bemerkt.
Mao ist aber mehr als nur eine Mau Mau Variante.
Erreicht ein Spieler das Spielziel und wird alle seine Karten los, so bekommen die anderen Spieler die Punkte ihrer Karten als Minuspunkte angeschrieben.
More…
Schnapsen
Version: 1.7 | Freeware
In ?sterreich sehr bekanntes und beliebtes Kartenspiel f?r 2 Personen.
Zwanzig,Vierzig ansagen und Zudrehen.3 Spielst?rken,Franz?sische und
Doppeldeutsche (Altdeutsche)Spielkarten.Statistikfunktion.
More…
Aces Up Solitaire
Version: 1.6.3 | Freeware
Advance in the game and get the winning hand! Your target in Aces Up Solitaire is to remove all cards on the tableau piles until only the four aces are left. When the game opens, each of the 4 tableau piles at the upper part of the screen will be dealt 1 upturned card. The remaining cards will be downturned and place to the stock pile at the bottom right corner. When the topmost cards on two tableau piles are of the same suit, you can click to re
More…
Cheat Solitare
Version: 1.06 | Freeware
Winning Solitare just got Easier
This game plays just like Windows' Solitare with one exception. You can cheat.
If you are tired of playing solitare, try Cheat Solitare. Adding cheats makes Cheat Solitare more interesting with new strategies to win. It is a different solitare.
See and play face down cards. Unlimited undo and draw. Statistics. Never lose at Solitare again.
More…
Video Strip Poker Supreme
Version: 1.10 | Demo (USD 29.00)
Video Strip Poker Supreme is a strip poker PC game with interactive, speaking girls. The in-game video is state-of-the-art quality with high resolution big screen: no more small, low quality, video windows where you could hardly see the opponent. Hundreds of gestures to maximize the impression of playing against real sexy girls sitting next to you. You can play in 10 languages.
More…
Doko World
Version: 1.1 | Shareware (EUR 14.95)
Doko World ist eine leistungsstarke Version des beliebten Kartenspiels Doppelkopf für den PocketPC. Bei der Entwicklung wurde vor allem auf eine spielstarke KI (künstliche Intelligenz) und anspruchsvolle Grafik Wert gelegt. Umfangreiche Regeleinstellungen ermöglichen es dem Benutzer die Regeln nach seinen Bedürfnissen anzupassen.
More…