Crazy Pentomino
This programme is presented to you by:
Stoeckl Josef
Kundmanngasse 10/9
1030 Wien
Österreich / Austria
| | |
| --- | --- |
| E-mail: | info [at] crazybytes [dot] at |
| Phone: | 0043-(0)699-10669124 |
| Facsimile: | +43/1/7149215 |
| Website: | www.crazybytes.at |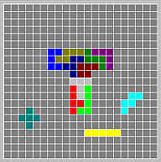 There are twelve ways to combine 5 squares, with the exception of rotations and turn arounds. These twelve ways give the twelve pentominoes. The point of the game is to make copies of given patterns, using the twelve pentominoes. If you succeed to find an unknown solution, your name is inserted in the solution list.
Here you can subscribe for the update infos for this programme. You will then receive an e-mail notice each time an update has been submitted for this programme.
In order to subscribe for the update infos, please enter your e-mail address below. You will then receive an e-mail with a link, which you need to click in order to confirm you subscription.
You can unsubscribe from the list at any time. For this purpose, you will find a link at the end of each update info e-mail.
This service is completely free of charge for you.

Comments on Crazy Pentomino
There are no comments to this programme.
Write a comment