Category Home & Hobby / Other
LigaChampion
Version: 7.5.1 | Shareware (EUR 24.00)
Professional program for soccer fan or manager. With Internet interface.
More…
Tournament Manager Pro / Turniermanager
Version: 3.1.2 | Shareware (EUR 49.00)
The Tournament manager is a very openly arranged program with a detailed documentation and this one makes smooth carrying out and evaluation of tournaments possible.The tournament manager is very well suitable for group matches, KO and DKO. The program makes an exact administration of the entry fee, the game equipment, the throw-in, the time frame and the referee as well as individual preparation of singles-/ team ranking lists possible.
More…
Pocket KamaSutra
Version: 2.0 | Shareware (USD 19.95)
The pursuit of love or pleasure is an important aspect of most people?s lives. So why not devote
your time to learning the ancient secrets of Love? Our plasticine characters do not resemble the
unfeeling porn actors. They are concurrently funny, charming, sexy and much more like real people. And they will help you naturally to find the keys to Sexual Harmony and the Art of Love.
More…
PC-KAL32
Version: 3.9 | Shareware (EUR 20.00)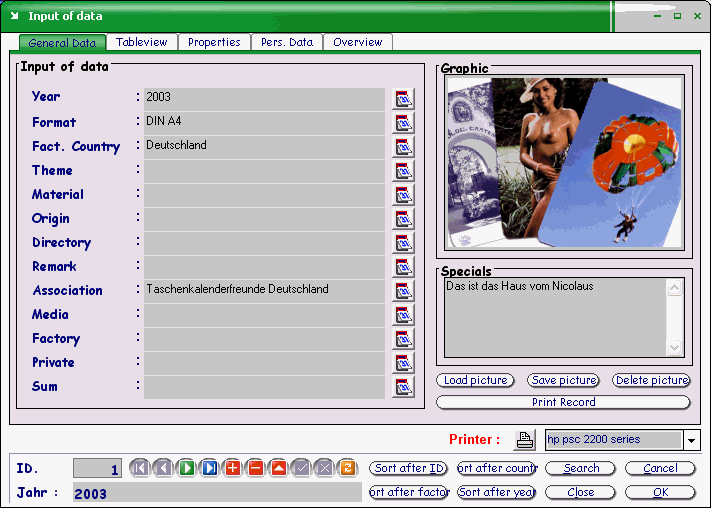 PC-Pocketcalendararchive for Windows32 multilingual with database for picture ( f.e. Calendarpicture ) and Calendardata, Searchfunktion, printpreview etc. With Onlinemanual and Onlinehelp. 70 different layouts (5 intern 65 extern).An absolutly must have for all some like specially pocketcalendar, or them some will be it. Fullversion US$ 20.--
More…
Sächsisch4ju
Version: 1.0 | Freeware
Sächsischor Mindestwortschadz fiehr dähn gehobnen Umgangsdon...
Um in Sachsen verstanden zu werden, benötigt jeder den gewissen Mindestwortschatz.
Dazu werden Sie bei Sächsisch4ju akustisch vom Kabarettist Eduard Sachsenmeyer begleitet. Von Ihm erfahren Sie auf Humorige Art was 'Bommsfridds' sind, wie man die bekommt und vieles andere mehr.
Ein Muss für jeden 'Nicht-Sachse'!
More…
Skat-Turniermanager
Version: 4.81 | Shareware (EUR 29.00)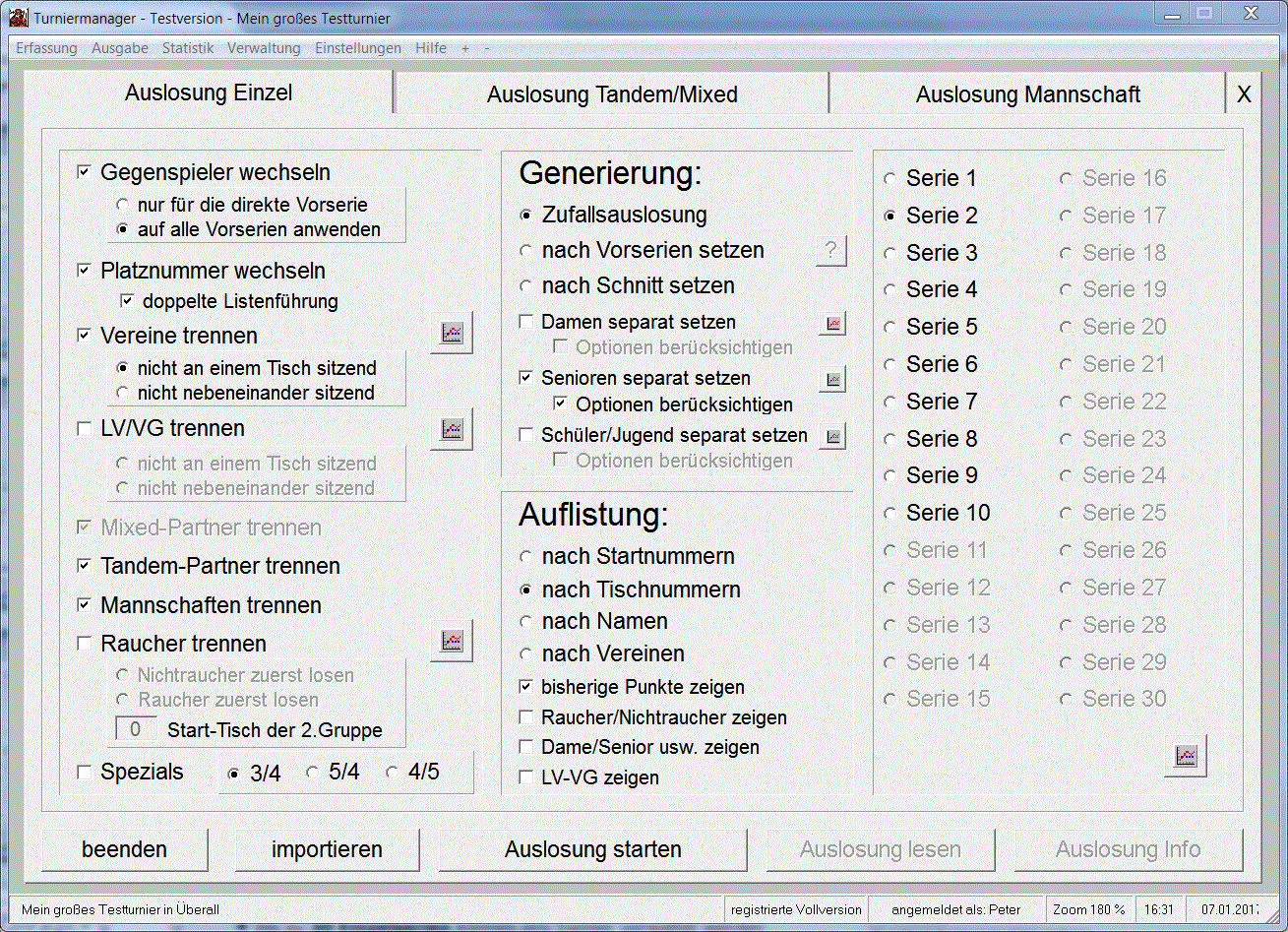 Now the planning and orientation of Skattournaments will be a piece of cake. Single competitions, Tandem, Mixed, Teams - especially simple operation - number of tournaments not limited - up to 30 individual series per tournament - price-money distribution by proposal of DSKV - Plausibility check during the input of results - chance drawing or placed - player data base for players which many times play along - clearly evaluations and statistics
More…
CwType morse terminal
Version: 2.20 | Freeware
The terminal program for CW-operators (amateur radio). You can transmit both from the keyboard and from the paddle connected to a joystick or LPT connector. While operating in paddle iambic mode sending (the memory of a unit of the symbol) is possible. The handle of the transceiver (PTT and CW keying) is made through one of the COM, LPT or USB ports. Can cooperate with RZ4AG AALog logger.
More…
MeerschweinchenPro
Version: 1.11-5 | Shareware (EUR 30.00)
Zuchtdatenbank f?r Meerschweinchen (Cavia aperea f. porcellus). Verwalten des Bestands, Zuchtpaar?bersicht. Erfassen und verwalten der Jungtiere, Berechnung des Inzuchtkoeffizienten. Stammbaumerstellung und -verwaltung. Abnehmer- und Herkunftserfassung. Verschiedene Statistiken in 2D-Diagrammen. Auftragsbuch mit Reservierungen und Anfragen. Datenausgabe, Abstammungsnachweis. Becken/K?fig-?bersicht, Rassen- und Farbschlagsmanagment. Kassenbuch
More…
OnCourt
Version: 5.5 | Shareware (EUR 38.95)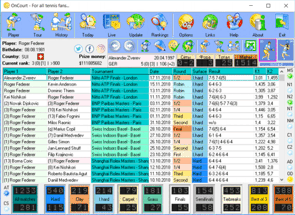 OnCourt is software for all tennis fans. It contains the results of more than 420 thousand tennis matches, played by the best players on the planet since 1990. The program includes both men's and women's tennis. With this program, you can view statistical information about any tennis player, any tennis tournament or histories of the head-to-head matches of any two players. New tennis results are added every day.
More…
PC-CHRONO32
Version: 3.9 | Shareware (EUR 20.00)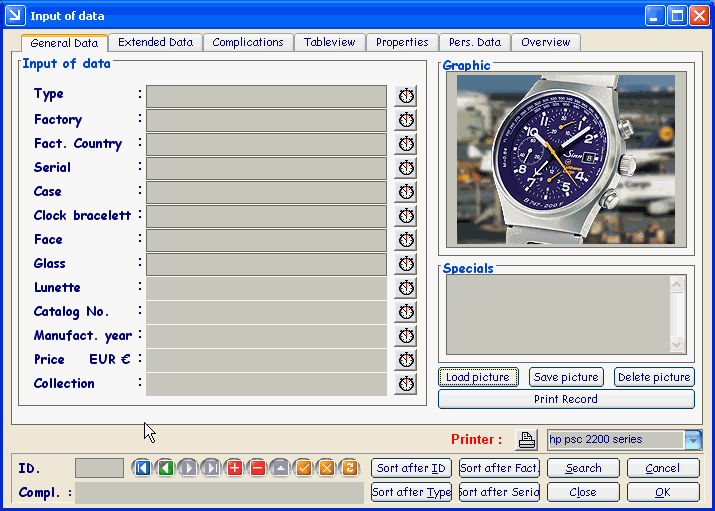 PC-Clockarchive for Windows32 multilingual with database for picture, technical Data, Dealer, Complications etc. with extendet properties, printpreview, Searchfunction, with extensive assistance Onlinemanual, Onlinehelp, Technical Information with explanation of every complications. It is a must have to all some like mechanical clocks. 70 different layouts Reduced Testversion. Full version EUR 20.-- US$ 20.--
More…
TURNIER-AKTUELL
Version: 3.78 | Demo (EUR 60.00)
TURNIER-AKTUELL ist ein Informationssystem, um den organisatorischen Ablauf von Fußballturnieren sowie den Informationsfluss für die Aktiven, die Zuschauer und den Veranstalter effektiver und werbewirksamer zu gestalten. Die leistungsfähige Software hilft optimal bei der Erstellung individueller Spielpläne und bei der Erfassung und Auswertung der Spielergebnisse. PC-Monitore, Beamer oder TV-Geräte dienen zur Anzeige für Zuschauer und Aktive.
More…
Kunigunde - die Vornamen-Datenbank
Version: 1.5 | Shareware (EUR 9.00)
Kunigunde ist eine Datenbank mit umfangreichen Informationen zu 10'800 Vornamen, wie sie hier zu Lande gebräuchlich sind, inkl. Angaben zu Sprache, Herkunft und Bedeutung . Das Programm hat 2 Hauptanwendungen, als Unterstützung bei der Wahl eines Namens für Nachwuchs und als Lexikon. Die Suche nach Namen wird gezielt unterstützt, z.B. durch eine Favoriten-Liste. Zahlreiche Vornamen-Hitparaden und ein Vornamen-Quiz runden die Sache ab.
More…