Category Home & Hobby / Recreation (Filter: Shareware)
LottoKat
Version: 22.0 | Shareware (EUR 10.00)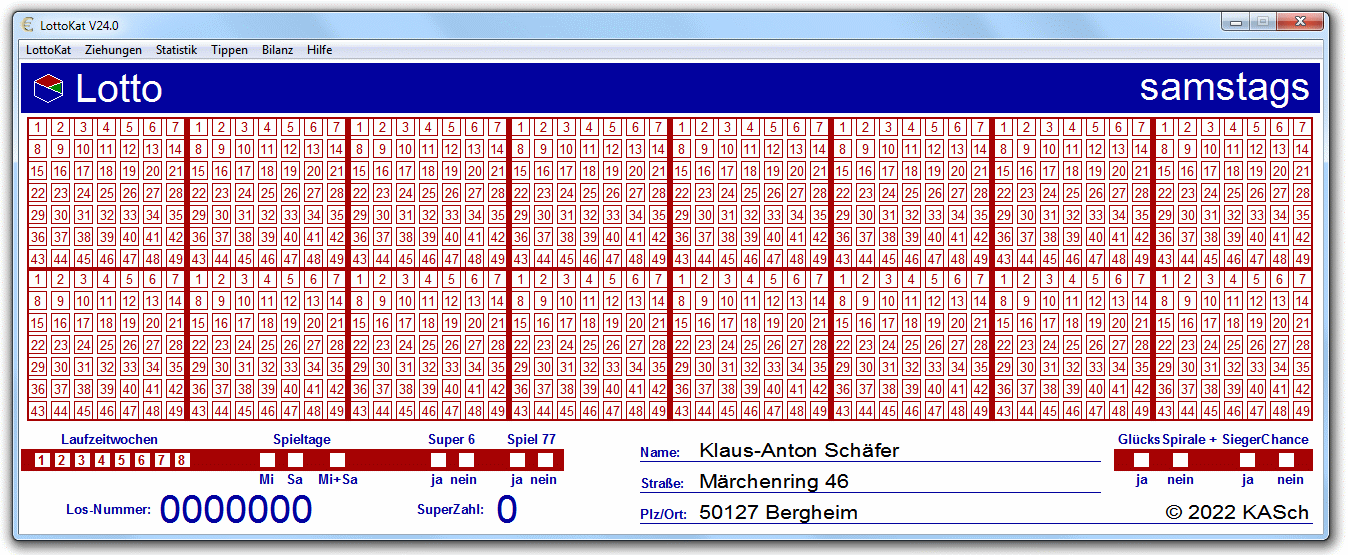 LottoKat ist unterteilt in einzelne Module fuer Samstags- und Mittwochslotto, Auswahlwette 6 aus 45, 13erWette, KENO, Oesterreichlotto, A-Toto+TorWette, Swisslotto, EuroJackpot und EuroMillionen. Tippscheine lassen sich direkt auf dem Bildschirm ausfuellen, bedrucken (Scheindruck) oder Online im Internet an den Ziehungen teilnehmen. Zahlreiche Statistiken, Zufallsgeneratoren mit G/U-Filter, Auswertungen und Analysen sind vorhanden. Fuer TGs geeignet.
More…
GESO Ern?hrungsberater
Version: 1.4b | Shareware (EUR 15.00)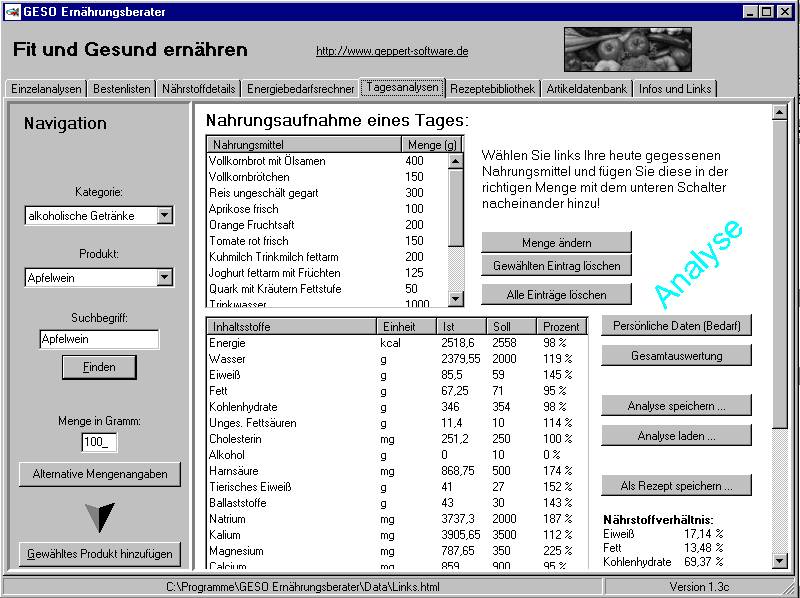 Software f?r Ern?hrungsberatung mit folgenden Features:
N?hrwerttabellen pro Lebensmittel, N?hrstoffbeschreibungen, Bestenliste von Lebensmitteln, Tagesanalyse, Tagesbedarf, Rezepte, Reduktionsdi?t, Kalorienbedarf, Artikel, sportliche Bet?tigungen
More…
Olive
Version: 1.0 | Shareware (EUR 15.00)
Oberfl?che f?r das Schachl?seprogramm Popeye mit folgenden Features:
Eingabe der Problemstellung in einer komfortablen graphischen Eingabemaske. F?r die M?rchenschachfiguren sind auch gedrehte Figurensymbole in den Farben Wei?, Schwarz und Neutral m?glich. Kopieren des Diagramms in die Zwischenablage und Weiterverwendung in Textverarbeitungen.Stellungsaustausch per FEN-Notation mit Fritz & Co. Und vieles mehr.
More…
ChessWorks
Version: 1.0 | Shareware (EUR 25.00)
Chessworks ist ein Programm zur Organisation von vollrundigen Schachturnieren. Es ist gut geeignet f?r die vereinsinterne Meisterschaft. Als Besonderheit, welche kein anderes uns bekanntes Programm bietet, kann das Programm die Paarungen nach dem Rutschsystem errechnen und ist damit das ideale Organisationsprogramm f?r Blitzturniere.
Alle Paarungen und Ergebnisse k?nnen nat?rlich jederzeit ausgedruckt werden.
More…
FantasyCardMaker
Version: 2.0 | Shareware (USD 30.00)
Fantasy CardMaker is a user-friendly software specially designed to create amazing personalized greeting cards and invitations: Birthday, Christmas, Mother's Day, Valentine's. Insert anything you want in any picture. Send your cards with your own personal touch.
More…
Notation Musician
Version: 3.0.5 | Shareware (USD 59.99)
Find your favorite music on the Internet and create interactive, printable sheet music. Sing or play along while following the notes on the screen. You control the tempo of the music and the volume of each instrument, while Notation Musician turns the pages and even repeats practice loops for you. You can add lyrics and display a sing-along screen to enjoy. Or practice your instrument while Notation Musician provides the accompaniment.
More…
New magic rituals: subconscious techniques
Version: 1.5 | Shareware (EUR 19.95)
New magic rituals: subconscious techniques. Interactive multimedia software for self-improvement and solving personal problems. This program uses the most up-to-date psychological techniques (neuro-linguistic programming, BSFF, aspectics, new code, reality transferring). It has a comfortable interface and interactive multimedia. Despite the magic environment of the program, it is not traditional magic at all. It is magic of a new level.
More…
Fahrtenbuch
Version: 1.0 | Shareware (EUR 24.90)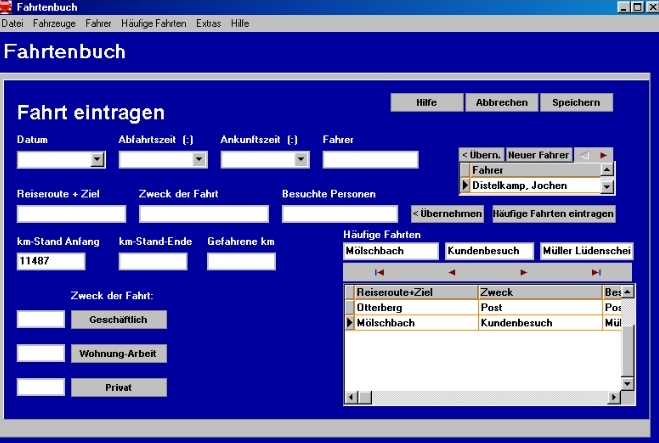 ?bersichtliches, leicht zu bedienendes Fahrtenbuch mit vielen Zusatzfunktionen.
Erfassung Ihrer privaten und gesch?ftlichen Fahrten.
Auswertungen f?r beliebige Zeitr?ume.
Druck des Fahrtenbuchs, zur Vorlage beim Finanzamt.
H?ufig genutzte Fahrtstrecken werden einmalig erfa?t und reduzieren so den sp?teren Eingabeaufwand betr?chtlich.
Umfangreiche Filter- und Suchfunktion.
Datenexport nach Excel und dBase
More…
Roulette-System-Tester
Version: 2.2a | Shareware (EUR 29.00)
Spielidee-Test f?r die Drittel-Chancen in tausenden Kombinationen von Signal-, Einstiegs- und Ausstiegs-Parametern.
In einem Fenster mit Tableau kann das Realspiel simuliert werden.
Archivierte und minutenaktuelle Permanenzen der Tische 1 bis 9 der Hamburger Spielbank k?nnen herunter geladen werden.
Eigene reale oder willk?rliche oder per Zufall gebildete Permanenzen k?nnen eingegeben und gespeichert werden.
More…
Roulette-Permanenzen-Checker
Version: 2.0 | Shareware (EUR 25.05)
Download und Analyse von Permanenzen mit Auswertung von Kesselsektoren. Pr?fung auf Wahrung der 3-Delta-Bereiche (s. Programm-Hilfe). Strategien k?nnen durch die Eingabe von bis zu drei Einsatzergebnissen leicht auf Tauglichkeit getestet. Die Figuren der einfachen Chancen werden durch Darstellung in verschiedenen Spalten offen gelegt. Strategien k?nnen durch die Eingabe von bis zu drei Einsatzergebnissen leicht auf Tauglichkeit getestet werden.
More…
TSTagtool
Version: 1.0.0.0 | Shareware
Zusätzliche Funktionen zur Bearbeitung von Tagebuchdateien und Chipkarten für Nutzer des Programms TSTagebuch 2002. Erzeugen von Backups von Tagebüchern/ Chipkarten, Wiederherstellen von Tagebüchern/ Chipkarten, Kopieren von Einträgen, Passwortändern, Reparieren bzw. Komprimieren von Tagebüchern.
More…
TSTagebuch
Version: 4.3.1.0 | Shareware (EUR 19.90)
TSTagebuch ist ein Programm zur Führung von privaten Tagebüchern, Logbüchern und Notizen aller Art. Dabei wird besonderer Wert auf die Sicherheit der Daten gelegt. Das gesamte Tagebuch ist dabei in zwei verschlüsselten Dateien abgelegt, die komprimiert mittels Rjindael (256 bit) und Blowfish verschlüsselt sind. Der Zugang zu den Tagebüchern kann auf verschiedene Arten erfolgen: Über Schlüsseldateien, direkt oder über Chipkarten
More…